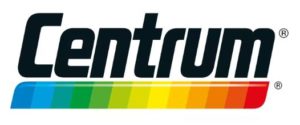 There are so many vitamin brands to choose from these days. A helpful filter for targeting down higher-quality supplements is to investigate a brand and find out where its products are made! We looked into Centrum Vitamins to answer this very question.
Centrum Vitamins has been around since the 1970s, originally founded by Dr. Leon Ellenbogen at a cancer research center in New York.
Currently, the products presented by Centrum are produced by Haleon, which is based out of the UK. This brand is the brainchild of a merger between Pfizer and GlaxoSmithKline (GSK). Though you may not have heard of them, Haleon is the largest business of this type in the world and holds the largest portion of market shares in the field.
From being managed by a UK brand, where does this leave their manufacturing and sourcing practices? We found out more about Centrum Vitamins below.
Verdict: Are Centrum Vitamins Made in the USA?
Yes and No. Centrum Vitamins are mostly manufactured in the US, though some are made in Canada or Puerto Rico.
You won't find much on the company's website. Even their About section is rather lacking. On specific product pages, there are no shared images of the back label of the bottles or information about ingredient sourcing or manufacturing. Within the FAQ section, there are only two references to our query; see below:


We reached out to their customer support email and received a confirmation receipt from their mother company, Haleon Consumer Relations. A visit to the Haleon website led us to their access portal for product Safety Data Sheets.
Taking a look at the data sheet for Centrum Chewables, we find information pointing to GSK, the mother company of Haleon. So, the grandmother company of Centrum? We're building a whole family tree here.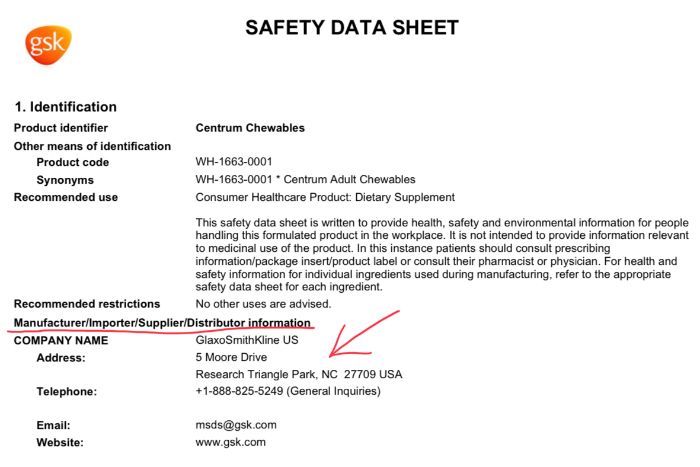 In this twenty-page document, all ingredients are listed, but it contains no information regarding sourcing. There are no individual ingredient safety data sheets available in the portal. Naturally, we called the contact number listed for GSK. Speaking with a pharmacist, they confirmed that the Centrum vitamins are no longer managed by GSK and pointed us toward Haleon.
Next, we turned to the bottles themselves. Here's a look at the label for the Centrum Multivitamin for Men:

We gave the listed number a call and spoke to a representative, who said they were from GSK. Here's the excerpt from that conversation:
AllAmerican.org: Hi, I'd like to ask a question about the Centrum vitamins. Can you tell me where they are manufactured?
GSK: that greatly depends on which vitamin.
AllAmerican.org: Are any made in the US?
GSK: Most of our vitamins are manufactured in the US, but I know that Centrum silver for women 50+ is manufactured in Puerto Rico. And I see that one lot was made also in Montreal, Canada.
AllAmerican.org: Ok, what about your ingredients – where are those sourced?
GSK: A large amount are sourced from the US but some are imported.
AllAmerican.org: How can I find out where a specific vitamin was made?
GSK: We would require the lot number on the product. Most are made in various places across the US, but some of them are made in Canada as well.
AllAmerican.org: Can I find that information on the back of each bottle?
GSK: Usually, but sometimes it isn't listed. I've had people call me to ask where their vitamins were made because it wasn't listed on the bottle.
Just to cover our bases, we followed up with that customer support email, and here is the response we received: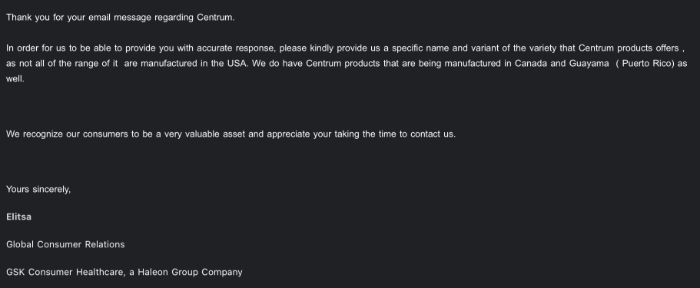 Concluding our investigation, most of the Centrum Vitamin products are made in the US with both US and imported ingredients. Some, however, are manufactured in Canada and Puerto Rico.
Popular American Made Centrum Vitamins
Centrum Daily Wellness Packs
Centrum Multivitamin Tablets
Popular Centrum Vitamins Not Made in the USA
Centrum Silver for Women 50+
Centrum Men
Centrum Chewable Multivitamin for Kids
Related Articles