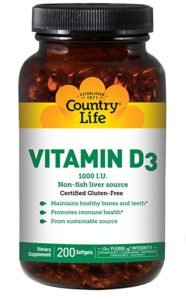 Since 1971, Country Life has provided Americans with health supplements that support the healthy function of bodies and minds. They were founded in Long Island, New York and have grown quickly since their early days in the 70s. They acquired Desert Essence in 1992 and Iron-Tek in 1999, which is now part of their Biochem brand.
Everything about Country Life's lineup of products is optimized to ensure the health and wellness of its customers. For example, every Country Life product is halal certified, kosher certified, vegan, non-GMO, gluten-free, certified USDA organic, and is the result of environmentally sustainable manufacturing and farming practices. Country Life pledges to provide the highest-quality ingredients possible in every product. But are they made and sourced in the USA? We dug in to find out. Our verdict is below.
Verdict: Are Country Life Vitamins Made in the USA?
Almost all Country Life vitamins are manufactured in the USA out of their Hauppauge, New York factory. However, Country Life manufactures a few products in other countries and sources some ingredients globally, although does work with a lot of U.S. suppliers.
This news is pretty standard in the vitamins and supplements industry. It's virtually impossible to find a brand that is sourcing 100% of its ingredients domestically, so the next best thing is to look for countries of origin (aka not China) and meaningful certifications that imply quality and safety (of which Country Life has many).
One area of concern that we have is Country Life's partnership with Kikkoman, a Japanese food manufacturer. They formed a joint venture with them in 2005, under which they would "utilize Kikkoman's world-class research and development capabilities and global distribution infrastructure." That doesn't sound like using their manufacturing capabilities or suppliers, but the terms of the deal and what has developed over the last 15+ years could be different.
I also don't love that Country Life isn't transparent at all about the country of origin for some of their major ingredients on their website. That information is nowhere to be found, so it's tough for American consumers to do research online. We have some pending notes out to the Country Life team to find out more about their ingredients sourcing.
Popular American Made Country Life Vitamins
Vitamin D3*
Coenzyme B-Complex*
Maxi-Hair*
Easy Iron*
Omega 3 Mood*
Glutamine Pure Powder*
*Uses some U.S. sourced ingredients and is manufactured here, but not all ingredients are domestic.
Popular Country Life Vitamins Not Made in the USA
Pending confirmation from Country Life's team
Related Articles