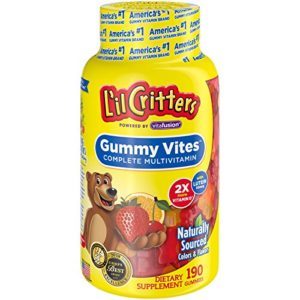 Lil Critters is a children's vitamin and health supplement brand owned and operated by Vitafusion, which is America's leading company producing multivitamins and gummies. Vitafusion is perhaps best-known for its adult-oriented MultiVites brand of gummies and once-daily vitamin supplements. With its Lil Critters brand, the company carries on its tradition of excellence in the health supplementation market.
The Lil Critters brand is dedicated to providing children with the best nutritional supplementation available. Every product produced under the Lil Critters label is formulated with children's unique health needs in mind. No matter how picky of an eater your child is, there is a gummy available by Lil Critters that will satisfy their appetite and won't give them an upset stomach. In fact, its gentleness on the digestive system is one of the best qualities of Lil Critters. But are they made in the USA? Here is our research and verdict.
Verdict: Are Lil Critters Vitamins Made in the USA?
Lil Critters Kids' Gummy Vitamins are all manufactured in the USA, however not all ingredients are sourced domestically. We found this out after a quick call with their support team.
While disappointing, this is pretty standard for the vitamins and supplements industry. There are some minor ingredients that are tough to source in the U.S. so brands are forced to find sourcing partners overseas.
Where I wish Lil Critters would improve is in their transparency on their website. They claim that "all products are made in the USA" – that statement should clearly have an asterisk next to it.

I will note that they are really careful about which ingredients they use, regardless of whether it comes from domestic or international sources. Below are some of their most popular vitamins.
Popular American Made Lil Critters Vitamins
Gummy Vites Daily*
Immune C Plus Zinc and Vitamin D*
Fiber Gummy Bears*
Lil Critters Melatonin*
*A few minor ingredients are sourced internationally
Popular Lil Critters Vitamins Not Made in the USA
Just a few ingredients sourced internationally, otherwise they are manufactured in the USA.
Related Articles