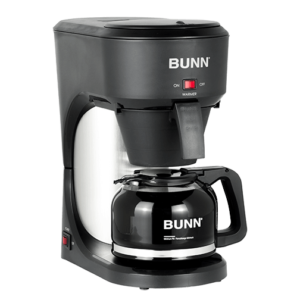 The Bunn-o-Matic Corporation, or BUNN for short, has been making coffee makers since 1957 and is headquartered in Springfield, Illinois.
BUNN gets its name from the company's founder George Bunn. George Bunn personally designed, built, and tested many different coffee maker ideas until he made the perfect prototypes that later became BUNN products. He was committed to creating high-quality products. The BUNN company continues to hold itself to the highest standards to this day, though the technology has improved drastically since the early days of the company.
BUNN has developed the BUNN Respect Earth initiative to assure that the company is following environmentally responsible business and production practices. Besides being environmentally responsible, the company also helps communities in developing countries where coffee and tea production is a large part of the economy.
BUNN creates products for both private and commercial use. Today, they now have a full portfolio rich with industry-leading customer-driven patented coffee solutions. It is a well-known brand with a long history and a good reputation for making quality coffee makers.
As a company that's been committed to manufacturing high-quality coffee makers since 1957, are their coffee makers still made in the USA? We've dug in, see our verdict below.
Verdict: Are BUNN Coffee Makers Made in the USA?
Every equipment model is designed and/or tested at BUNN headquarters in Springfield, Illinois. Many products are also assembled in their US facilities; however, components and materials for the coffee makers are sourced from overseas and not made in the USA.
As the company has grown significantly in this time, BUNN now has four other office locations in the United States. They also have offices and warehouses in Brazil, Canada, China, Germany, Mexico, UAE, and the United Kingdom.
BUNN is pretty transparent about which of their products are U.S. assembled. When you click into each coffee maker on their site, they have a 'designed and assembled in the USA' bullet point and/or a 'country of origin/manufacturing – United States' bullet point. Some products don't have either of these descriptors, implying they're not USA-made, however, they don't state where they are manufactured. BUNN is also an American distributor of other coffee maker machines.
There's a section on 'Designed and Assembled in the USA' on the BUNN 'Company' webpage, which explains exactly what that means. They explain that the majority of their commercial equipment models are assembled at facilities in the USA and some product components are also tooled in these same facilities.
However, BUNN also shares that they find it a necessity to source components and materials from third-party suppliers, but they ensure that they have strict monitoring systems so that their high safety and quality standards continue to be met.
So really, many of BUNN's products are designed and assembled in the USA, though none are entirely made in the USA with American-made materials.
Popular American Made BUNN Coffee Makers
None with close to 100% U.S. sourced materials
Popular BUNN Coffee Makers Not Made in the USA
SBS Speed Brew Select Coffee Maker*
CSB2B Speed Brew Elite Coffee Maker*
CSB2B High Altitude Speed Brew Elite Coffee Maker*
CSB3T Speed Brew Platinum Thermal Coffee Maker*
CSB3T High Altitude Speed Brew Platinum Thermal Coffee Maker*
GRB Speed Brew Classic Coffee Maker*
GRW Speed Brew Classic Coffee Maker*
BXB Speed Brew Classic Coffee Maker*
BT Speed Brew Classic Thermal Coffee Maker*
My Cafe Single Cup Coffee Maker
*Designed and assembled in the USA
Related Articles