All coffee drinkers, whether they enjoy those instant pods or not, know the name Keurig. A company with nearly $13 Billion in net sales surely earns its place in any well-known category. Launched in Massachusetts in 1992 by a pair of college pals, the brand originally marketed its brew machines and k-cups to office settings.
Over the years, their single-serving coffee maker evolved. It became lighter and more compact. The name Keurig was influenced by the Dutch word for excellence, as the company strived to perfect a machine that could make just one cup of coffee.
After shifting focus to home use, Keurig rose in popularity and, in 2018, merged with the Dr. Pepper Snapple Group to create the current mother brand, Keurig Dr. Pepper. Astonishingly, it is now the third-largest beverage company in North America.
However, winning a popularity contest doesn't tell us anything about their manufacturing origins. Though the dream started in the US, we need to know if manufacturing remains here today.
Verdict: Is Keurig Made in the USA?
Nope, Keurig coffee systems and most of their pods are not made in the USA. They are made in China, Indonesia, and other countries.
This information was not clearly stated on their website. An email request went unanswered and a phone call proved to be similarly challenging. You'd think such basic information would be readily available to consumers, but after spending 20 minutes chatting with customer service on the phone, we're still left slightly confused.
Here is an excerpt from that conversation: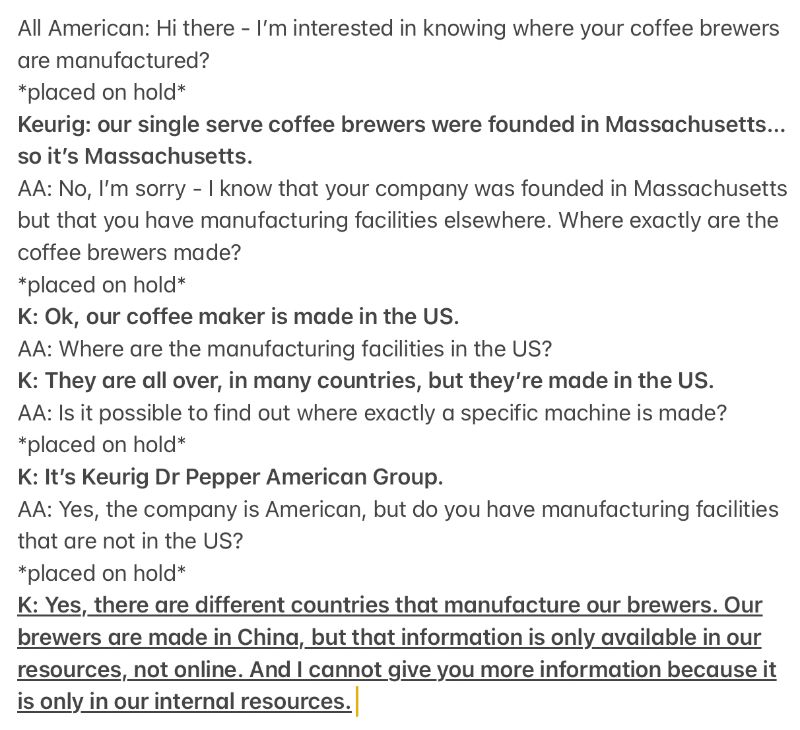 Like pulling teeth, figuring out where the Keurig brewing systems are manufactured was difficult, albeit deceiving. Finally, it was confirmed by the company that the brewing systems are made in China.
Some K-cups are made in the US, but Keurig mainly purchases its coffee from countries in Latin America, Africa, and Asia. Those K-cups that are made stateside are not directly from the company and usually come from separate companies that make compatible pods. There is no filter on Keurig's website to search for US-made products.
Seemingly a pattern among brands that parade as American, yet are not so, the About section on the Keurig company website offers no information of substance. Perhaps they would like you to congratulate them on their Net Sales? That's about all you will learn from their About Us page.
Aside from tucking away the truth about its manufacturing location, Keurig also faces significant backlash about its severe lack of sustainability. Those single-use pods create a catastrophic wave of waste and even influenced an awareness movement with the hashtag #KillTheKCup. What can you say, people like to know where their stuff comes from and that brands are responsible.
Popular American Made Keurig Products
Intelligent Blends K Cups
Popular Keurig Products Not Made in the USA
K-Cafe SMART Single Serve Coffee Maker
Keurig K-Classic Coffee Maker
Breakfast Blend Coffee
Related Articles
YouTube Video: Checking Where Keurig Is Made