At-home fitness has never seen a higher interest than now. NordicTrack is one of the most popular cardio equipment brands on the market and has certainly benefited from that rise in interest.
Founded in 1975, NordicTrack began with the intention of training cross-country skiers indoors. From a garage in Minnesota, a new exercise machine was born. Starting with the ski machine, NordicTrack continued to engineer home cardio equipment like ellipticals, bikes, and incline treadmills.
Today, NordicTrack remains headquartered out of Logan, Utah, and services countries worldwide. There are NordicTrack headquarters in the following locations: USA, France, Spain, Germany, Mexico, Canada, and the UK. The brand continues to see tremendous growth and popularity.
These treadmills have received multiple awards and "Best in Class" ratings. But for us, we care about where it is manufactured. So, we dug in. Let's find out if NordicTrack has supported American manufacturing through all this growth they have had.
Verdict: Is NordicTrack Made in the USA?
NordicTrack manufactures some machines in the US, but others are made in China.
We reached out to their Chat team to get started on collecting information. Initially, our basic question was answered right off the bat. Some machines are made in the US, and some are made in China.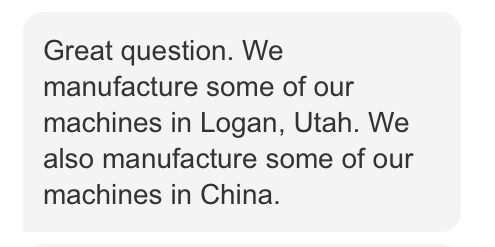 But, of course, we need a bit more detail than that. It doesn't help to know that "some" machines are made in the US. When you're shopping exclusively for American made goods, clearly, you need to know exactly what products fit that label.
Although informed, the agent couldn't provide specific manufacturing information for every category of machine. He stated that the incline trainers are the only machines that are assuredly US made.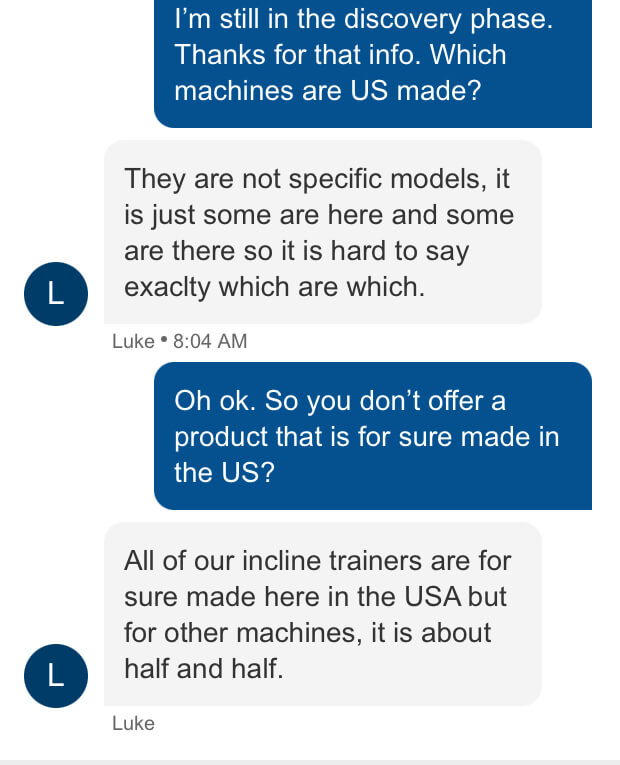 After its founding in 1975, the NordicTrack machines were manufactured in the US throughout the 1980s. We've seen it before: when growth occurs, brands outsource their production overseas. The same happened with NordicTrack and likely occurred in the 1990s after iFit Health & Fitness acquired the brand.
Some of the manufacturing remained stateside at their headquarters in Logan, Utah. But the only machines we know for sure are US made are the Incline Trainers, an iconic product offered by NordicTrack. So unless you're shopping for an incline trainer, the manufacturing location of any other product is a toss-up.
Popular American Made NordicTrack Products
Commercial X22I Incline Treadmill
Commercial X32i Incline Treadmill
Popular NordicTrack Products Not Made in the USA
S27i Studio Bike
FS14i Elliptical
Fusion CST Studio Strength Machine
Related Articles