We all know the iconic deer head silhouette logo. It's a telltale sign of a hunter or outdoorsman that wants you to know they are a hunter or outdoorsman. The logo belongs to Browning, a manufacturer of firearms and related products.
Browning was founded in 1878 in Ogden, Utah, by John Moses Browning. John Moses was a prolific inventor well known for his skills in the US. He designed many models of firearms that are still in use today. 
In the company's early years, Browning had an alliance with Winchester Repeating Arms Company. John Moses' patents were used to manufacture and sell firearms under the Winchester name. The partnership dissolved in 1902, but Browning continued to evolve and expand.
They went into contract with Fabrique National, a Belgium manufacturer, at the turn of the 20th century. Although the company was founded in Utah, mass manufacturing was initiated overseas in Belgium. Manufacturing in the US also continued to develop alongside production abroad.
The company has a history of manufacturing both in the US and overseas. Where do they make their products today?
Verdict: Is Browning Made in the USA?
Browning manufactures both in the United States and outside of it in countries like Japan, Belgium, and Portugal.
Consider the company's mass production origin abroad. Brands typically sustain the location of their main manufacturing. This is the truth with Browning as well. However, they do produce some of their products here in the US. 
Here is an email we received back from customer service:

All handguns are produced at the Browning factory in Salt Lake City. They also stock accessory items made in the US, such as knives, gun safes, oils, and more. A search for "Made in USA" on the website yielded 268 product results: a mix of the abovementioned accessories, clothing, and handguns.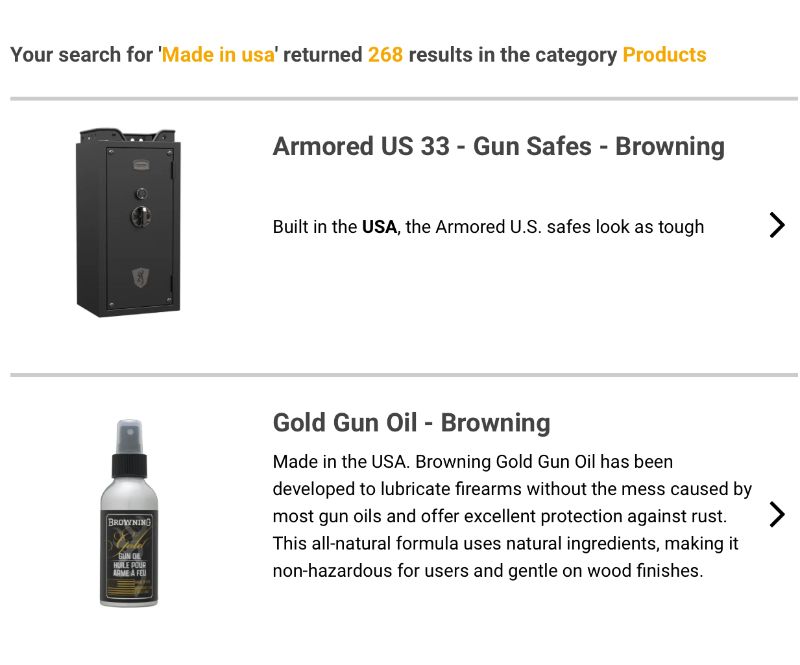 The web search is accurate and a good indicator of what items are made in the USA. 
The following information from the Buck Mark Hunter 5.9 product page: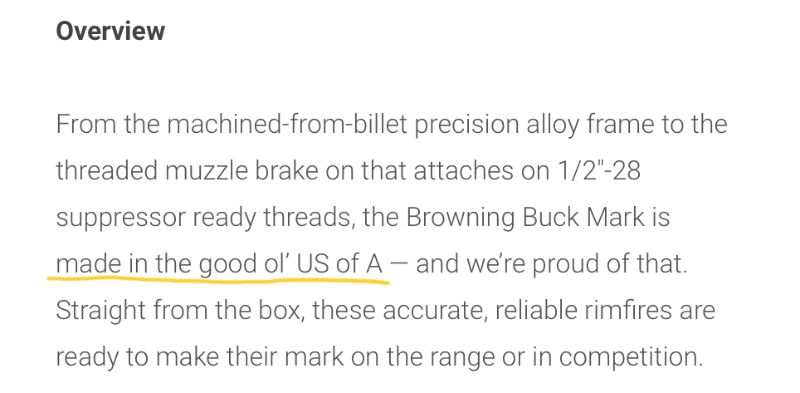 Non-handguns sold by Browning are manufactured abroad in locations such as Belgium, Portugal, and Japan. The Fabrique National factory still used in Belgium is the same one that manufactured Brownings over 100 years ago.

It's easy to find out where a Browning was manufactured. You can find the information straight from the barrel of the gun. A helpful customer service rep provided the following general manufacturing details:
Bolt action, level action, break action shotguns: made in Japan
Semi-automatic: made in Belgium, assembled in Portugal
Handguns: made in the USA

Popular American Made Browning Products
Guide Series Folder – Hunting Knife
1911-22/1911-380 Kydex Holster
Super Puffy Parka – Hunting Clothing
Popular Browning Products Not Made in the USA
A5 – Auric
Citori Composite
X-Bolt Target Max
Related Articles