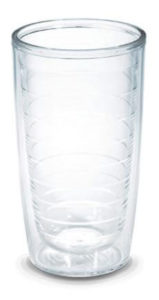 Known for creating the world's first insulated tumbler, two engineers from Detroit Michigan, Frank Cotter, and G. Howlett Davis used the last three letters of both their last names to create 'Tervis'. Their invention of creating a double-walled tumbler that kept drinks hot and cold for longer was revolutionary.
It was soon taken over by outdoor enthusiast and entrepreneur, John C. Winslow in the 1960s where production was moved to Venice, Florida. Suiting the Floridian lifestyle and weather conditions, the Tervis tumbler, which kept drinks nice and cold, quickly rose to popularity. During this time, the company increased the size of its tumbler which increased its demand.
In the 1980s, Norbet Donelly and his son, Rogan lead the company into massive expansion by creating personalization options on the tumbler, and by teaming up with several college campuses throughout the country. This led to huge licensing agreements of branded drinkware, including all four of the major American sports leagues (MLB, NBS, NFL, NHL), nearly all major NCAA colleges and universities, and the United States Armed Forces.
The age of the internet meant that in the late 2000s, Tervis allowed customers to personalize their tumblers online from the comfort of their homes. 2010-2020 saw Tervis increase its product range, and launch an initiative to #takeyourtervis around with you, encouraging users to refill their drinks in order to avoid single-use plastic. Tervis has certainly developed and innovated a lot throughout its over 70-year history, but are its products still made in the USA? We did the research to find out. Read our verdict below.
Verdict: Is Tervis Made in the USA?
Tervis products are split into two. Its classic insulated products made from plastic are all made in the USA, and its products made from stainless steel are all made in China.
Tervis sells three products as part of its classic plastic range, the original tumbler, water bottles, and mugs. All are made from a BPA-free double-walled insulated construction and feature the classic transparent look with graphics printed on them. There are now hundreds of variations of these products, with many different sizes, designs, and brand collaborations including Disney, Marvel, NFL, Star Wars, and Harry Potter.
The tumblers, water bottles, and mugs each state on their product pages that they're 'proudly made in America and backed by a Lifetime Guarantee so you can buy with confidence.' Watching their 'about us' video shows their huge factory in Florida, which employs hundreds of Americans, and shows footage of the manufacturing process behind these products. The video shows items that they make there and states that they 'design, test, build and hand decorate' their drinkware at their Florida site.
However, Tervis now has a range of stainless steel products, which include tumblers, wide-mouth bottles, steel slim bottles, wine glass containers, and can coolers. All of these products are listed as 'made in China, supplied from Venice, Florida', with a couple of these products (tumblers and wine glasses) being made in China, printed in Florida.
Tervis is transparent about this on their product pages, with each one clearly listing where it is manufactured. Items made in China only come with a 5-year guarantee in comparison to their American-made products which have a lifetime guarantee. Their accessories pages (straws, lids, handles, etc.) don't list where they're manufactured, which is interesting considering all of their other pages do. Their video suggests that products made from the classic BPA-free materials which are manufactured using ultrasonic welding are what they produce at their Florida factory. As the accessories aren't made from this material, this suggests that these are also made in China.
Popular American Made Tervis Products
Classic tumblers
Water bottles
Mugs
Popular Tervis Products Not Made in the USA
Stainless steel tumblers (made in China, printed in Florida)
Stainless steel wide-mouth bottles (made in China, supplied from Florida)
Stainless steel slim bottles (made in China, supplied from Florida)
Stainless steel stemless wine containers (made in China, printed in Florida)
Stainless steel can coolers (made in China, supplied from Florida)
Accessories (not specified)
Related Articles