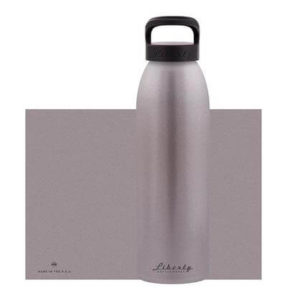 Liberty Bottleworks is much younger than many competitors in their industry, founded in 2010 by co-founders Ryan Clark and Tim Andis. With more than 60 million plastic water bottles ending up in landfills or incinerators every day, Liberty Bottleworks wanted to create reusable high-quality aluminum bottles.
Based out of Union Gap in Washington, in 2018, Liberty Bottleworks was purchased by California manufacturer, Olympia Tools. At this time, founders Andis and Clark left the company. Olympia Tools provided the company with some much-needed capital to expand its product range and escalate production. They are now named 'Liberty Works'.
The company is committed to helping charitable causes, with 1% of their sales going to aid these. Sometimes Liberty Bottleworks also run separate time-limited charitable campaigns, where proceeds of a particular bottle collection will raise money for a specific cause.
So, after being bought out in 2018 and its founders leaving the company, we ask – is Liberty Bottleworks made in the USA? We did the research, let's dive into the results.
Verdict: Is Liberty Bottleworks Made in the USA?
The Liberty Originals aluminum bottles are made in the USA, all of their other bottles (insulated, tumblers, and canpadres) are made overseas by their sister site in China.
When it originally began, Liberty Bottleworks prided itself on making entirely USA-made recyclable aluminum bottles. They'd even garnered a little reputation for this, resulting in several TV show cameos and representing Washington State at the White House at a 'Made in America event' in 2017.
Despite this, Liberty Bottleworks was unable to compete with bottles made overseas and was unable to raise funds to launch or develop new products. This resulted in the company being bought out in 2018.
Once Olympia Tools owned Liberty Bottleworks (now Liberty Works), they launched a new line of products, which are manufactured outside of the US. Though the artwork for these bottles and engraving are still done at the Liberty Works factory in Union Gap.
Liberty Works does reference that their insulated products are imported, however, this takes a little digging and the face of their site is a little deceiving to customers.
For example, their homepage features two types of water bottles. For the description of the Liberty Insulated bottle, it says, "we powder coat design & decorate them in the USA, using food-grade US sourced materials."
They mention 'USA' twice in four lines, which at a glance may make readers think they're USA-made. However, these are imported from overseas and only designed in America, which is a little misleading. A lot of their product pages do this too, listing items as 'engraved in the USA', but not where they are manufactured.
In some instances, the difference in where these products are manufactured is a little more obvious. On the 'Personalize' page, it lists its four products, with only Liberty Originals being listed as 'lightweight and 100% made in the USA', the others don't say anything about where they're manufactured.
There is a video on their homepage where they mention that their insulated bottles are imported. In addition, on Liberty Bottleworks' FAQ webpage, it says "the insulated Stainless Steel bottle is imported from our sister company in China. The facility is highly regulated for human rights and labor issues. The reports are outstanding in every manner. These reports are done by a 3rd party reporting agency."
General Manager of Liberty Bottleworks, Aaron Collier, says that they hope to manufacture the 'Venture' products in the US as well, but that it will take some time to figure out.
The artwork and engraving for all bottles are still done at the Union Gap site in Washington and though they now have products manufactured overseas, since being bought out, Liberty Bottleworks now hires 30 people at its Washington site, more than the 18 that worked there previously.
Popular American Made Liberty Bottleworks Products
Popular Liberty Bottleworks Products Not Made in the USA
Liberty Insulated
Liberty tumblers
Liberty canpadres
Related Articles