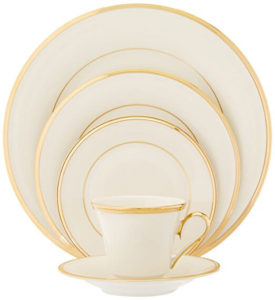 Lenox is one of the most popular bone china manufacturers in the country. In fact, the American government owns (and shows off) many pieces, and you'll even find Lenox china in museums in the United States.
And while Lenox offers many high-end china products, they also have an everyday line to stock your tableware and stemware cabinets. Plus, they have plenty of experience in all facets of the kitchen experience—and each piece is timeless.
Whether you're shopping to outfit your first home, looking for wedding tableware, or seeking a gift to begin a family heirloom tradition, Lenox has a ton to choose from. The company also manufactures gifts and trinkets like Christmas tree ornaments and keepsakes, serving dishes, kitchen tools, candles, and everything else your household may need for the holidays.
Lenox began in 1889 and focuses on craftsmanship and artistry in all its products. Hand-painted china was Lenox's first offering, and by 1918, President Wilson was commissioning over 1,700 pieces for use in the White House. Fast forward to the 21st century – is Lenox china still made in the USA? We dug in to find out. Our verdict is below.
Verdict: Is Lenox China Made in the USA?
No, Lenox china is sadly no longer made in the USA. However, you can still purchase American made Lenox china from several retailers online.
Lenox has been bought and sold several times during its lifetime, which typically means a topsy turvy ride for where manufacturing takes place, and they are no exception. Lenox manufactured a lot of their bone china in Kinston, North Carolina in a 218,000 square foot facility that employed hundreds of American workers.
Sadly, Lenox was forced to close their doors on its last American manufacturing plant in April 2020. Later that year, Lenox was acquired by a private equity firm, Centre Lane Partners, and announced that they would resume their bone china production overseas.
This is certainly tough news to take, especially with Lenox being one of the last remaining American bone china manufacturers. However, as I mentioned above, you can still buy some of their existing American made inventory from several retailers, which I've rounded up a few options below.
Popular American Made Lenox China That You Can Still Buy
Amazon, holiday mugs – The design features hand-painted holly with incredible detail, and the 24-karat gold banding only adds to the festivity. Whether it's a Christmastime tea or a Thanksgiving toast, the 10-ounce mugs are a staple for your table.
Etsy, vintage china collections – Etsy has a lot of great old Lenox china sets sold secondhand.
TIAS, individual china pieces – The Internet Antique Store (TIAS) is also a great place to find American made Lenox china.
Popular Lenox China Not Made in the USA
Any new items produced past April 2020. Everything is clearly marked as "Imported" on their website.
Related Articles