YETI sells premium coolers, drinkware, duffel bags, and some other miscellaneous items. They've gained significant popularity over the past decade (along with other rotomolded cooler brands like RTIC) and are typically known for their coolers's ability to retain ice for several days at a time, often lasting north of a week (much longer than your typical Igloo or Coleman cooler). They have a wide variety of products that are each manufactured in different areas, so let's dive right in and detail where each product line is made.
Verdict: Is YETI Made in the USA?
No, not many of their products are fully made in America. YETI states that they make their popular Tundra series coolers at facilities in Minnesota, Wisconsin, and the Philippines. They don't state what percentage of the coolers are made in each location, and there are no markings on their products to indicate those details either. Their drinkware, soft Hopper coolers, and most of their smaller accessories are made in China.
Here's a photo from one of their popular tumblers that I took when investigating some of their products: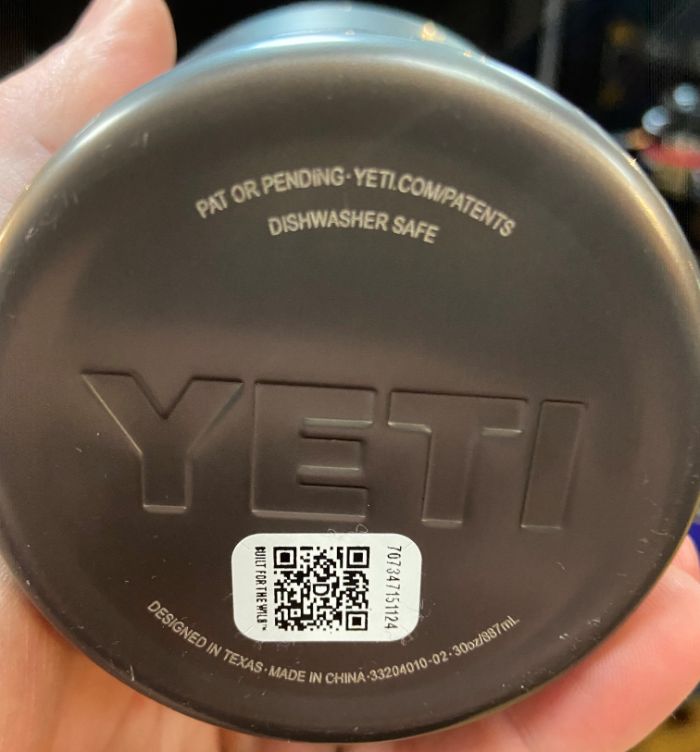 As you can see, they try to get you with "designed in Texas," but it is clearly made in China.
YETI actually doesn't own any of their manufacturing facilities, which is normal – other large U.S. brands do the same thing. They have a third party company make their product parts for them. Some of the U.S. companies that they are working with: Plastics Professionals, Centro Incorporated, Solar Plastics, Dutchland Plastics, and Hedstrom Plastics.
If you really want a U.S. made YETI cooler, they say to give their support department a call at (512) 394-9384 and they'll place the order for you. Unfortunately, if you want a non-cooler product of theirs made in the USA, seems like you may be out of luck.
Popular American Made YETI Products
LoadOut 5 gallon bucket – South Carolina
Popular YETI Products Not Made in the USA
Tundra series coolers – Minnesota, Wisconsin, Philippines
Hopper coolers – China
Panga duffel bags – China
Rambler drinkware – China
Better Alternatives