St. Croix has been in the fishing business since 1948 when brothers Bob and Bill Johnson designed and built the first collapsable, multi-section bamboo fishing rod. Because of their innovative thinking, they found a way to transport long fishing poles more easily. This seemingly simple invention launched St. Croix and started the fishing industry.
Since its founding, St. Croix has continued to lead the industry with fresh innovations. It was one of the first to introduce fiberglass products, and as time has gone on, it keeps improving its products, making ultra-light rods with original triple fiber content and then all graphite. The company strives to embrace new technologies and produce some of the best products in the world.
In the 60s, however, St. Croix was struggling. The company had lost direction and began to suffer financially. Nevertheless, an entrepreneur in Park Falls by the name of Gordon Schulter saw an opportunity and invested in the company. He rebuilt the St. Croix business and expanded its brand.
From there, St. Croix began to focus on engineering and streamlined manufacturing. In 1979, the company innovated a new, more secure assembly technique called Ferrule-s fit. The process reduced the number of metal components required and made for a better performing rod. With less metal to worry about, St. Croix was able to cut back on the potential for corrosion, which has led to higher quality products overall.
St. Croix has since continued its tradition of high-performance products, with some of the latest innovations, including Advanced Reinforcing Technology. This exotic carbon fiber material prevents ovaling and adds ten times the strength to the rod blank without increasing its diameter or weight. They've also recently put out a new line of rods specifically designed for bass fishing, called the Mojo Bassline, which has been one of their most successful product launches. But are all St. Croix rods made in the USA? We dug in to find out. Our verdict is below.
Verdict: Are St. Croix Rods Made in the USA?
Only some St. Croix fishing rods are made in the USA, primarily produced in their Park Falls, Wisconsin factory. Some of their rods are manufactured in Fresnillo, Mexico as well.
St. Croix rods have long been manufactured at their Park Falls, Wisconsin facility. It wasn't until recently that the company opened up "St. Croix South," a carbon-copy of their Wisconsin manufacturing plant in Fresnillo, Mexico.
The good news is that St. Croix is pretty transparent on their website about where each rod is made, so you should be able to pick out the domestically made ones pretty easily. They tell you whether it's made in Wisconsin or Mexico in the product description (example below for the Victory Casting Rods).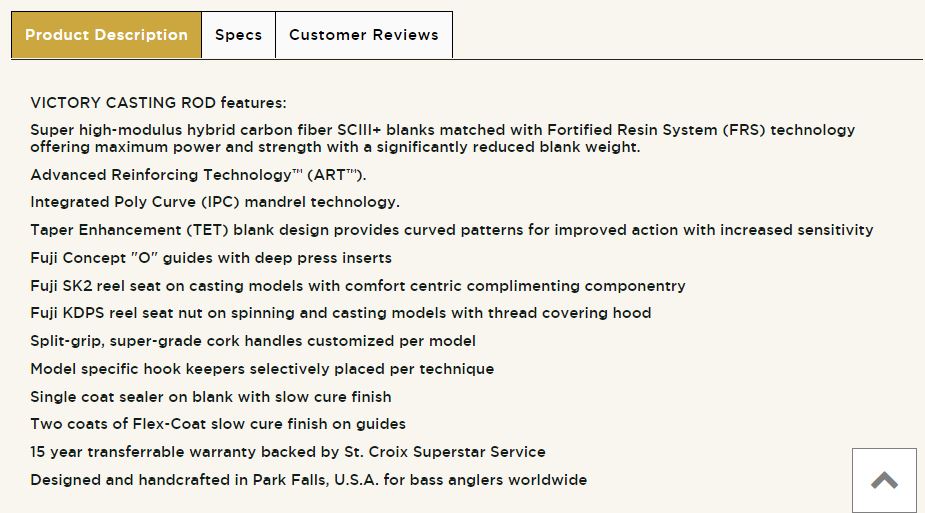 We'll see if St. Croix "holds their ground" with their U.S. manufacturing footprint or slowly starts to shift more production to Mexico. In the meantime, we still have a lot of great choices for St. Croix rods made in the USA. Here are some of them and the popular models that are made in Mexico.
Popular American Made St. Croix Rods
Legend series
Avid series
Mojo series (some)
Victory series
Popular St. Croix Rods Not Made in the USA
Mojo series (some)
Bass-X series
Triumph series
Eyecon series
Panfish series
Trout series
Related Articles