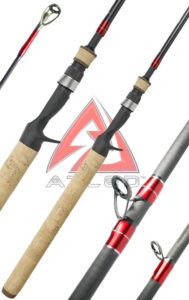 Cajun Rods is a United States-based fishing rod manufacturing company that was founded in 2007. They specialize in carbon fiber fishing rods, produced in small batches to ensure the highest quality. Carbon Rods stands apart from the rest as they design, engineer, and manufacture the fishing rod blanks in their own factory.
Each fishing rod from their selection contains multiple layers of 30, 40, or 50-ton carbon fiber. By sourcing some of the best fishing rod components on the market and combining them with high-strain carbon fibers and the perfect resin blend, Cajun Rods can create some of the finest fishing rods on the market today.
Cajun Rods crafts their small bach rods for freshwater fishing, inshore, and offshore saltwater fishing. Within this selection, they offer several series of models from light tackle and kayak rods to jigging and heavy-duty rods. But are they made in the USA? We dug in to find out. Our verdict is below.
Verdict: Are Cajun Rods Made in the USA?
Yes, Cajun Rods are made in the USA in their Jacksonville, Florida manufacturing facility.
They have a pretty cool process for making each of their rod blanks, which you can view in their video here.
Each part of the process from the wrapping, epoxy, and the cutting of the carbon fiber is geared towards engineering the fishing rods for maximum performance. The way they blend their resin allows for specific actions and tapers of the rods. At the same time, their carbon fiber cutting powers endow the rods with the necessary power, sensitivity, and durability that can only be expected from a US-based fishing rod manufacturer.
Popular American Made Cajun Rods
Alted inshore rods
Black Bayou freshwater rods
Cajun Coastal kayak rods
Hella-Bomb saltwater rods
Revenant series
Savannah bass rods
Trigger tackle rods
Valor saltwater rods
Popular Cajun Rods Not Made in the USA
Related Articles