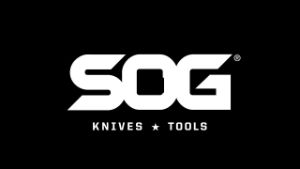 The history of the SOG Specialty Knives brand is a uniquely American one. Inspiration from a special ops unit in the Vietnam War led to the birth of the brand in 1986 by designer Spencer Frazer.
That Vietnamese-era knife was named the Vietnam SOG Bowie, and Frazer started replicating its design. The brand formed upon this initial prototype was aptly named the Studies and Observations Group, or SOG. At the start, SOG's only product was the Bowie knife.
Today, the company sells a wide line of products for all different uses, from law enforcement to military and personal use. According to SOG, "We design essential gear to provide enhanced capabilities for human potential." They aim to enhance humans worldwide.
Drawing inspiration from the American military and producing a single item to get started, where has the success of this company led? We leaned in to find out where SOG is making their knives these days.
Verdict: Are SOG Knives Made in the USA?
SOG only has a few knives left that are made in the USA. Most of their knife manufacturing happens in Japan and China today.
Right off the bat, it's clear that SOG is open about their manufacturing relationship with Japan. They consider these knives of a special degree, though, as they also readily advertise their USA-made products as well. As far as their other countries of manufacturing…crickets.
Here's a snippet from one of their blog posts about how they got started partnering with Japanese knife makers: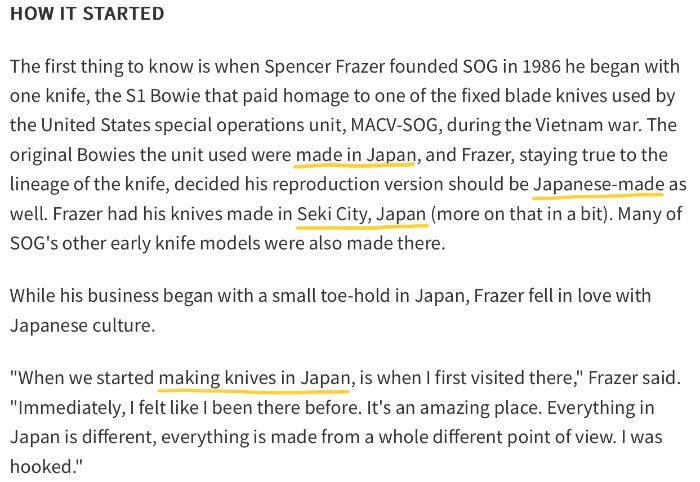 The article is descriptive, upfront, and transparent. SOG is proud of their alliance with Japanese makers. And consumers love to read a story. Let's touch base on the American products first:
A website search for "Made in USA" reveals 49 products, mostly knives with some rapid rescue devices. US-made items are clearly labeled, as they should be.
The following information from the Seal XR – USA Made Knife, which also features USA-made steel: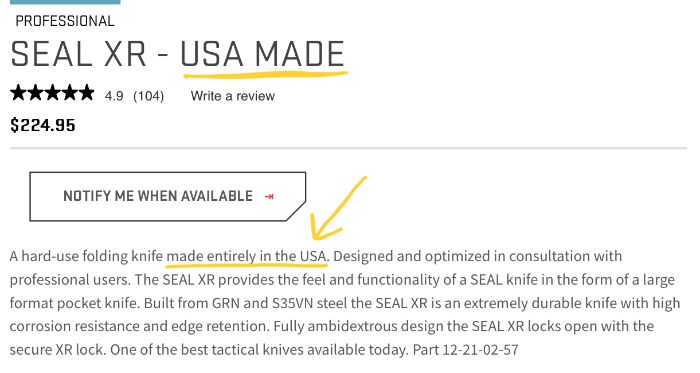 We know some other notable knives from the company are made in Japan. A website search for "Made in Japan" yields mixed results of Japanese and American made blades. However, within specific item descriptions, SOG is upfront about a knife being made in Japan, as this is a 'desirable' partnership they market openly.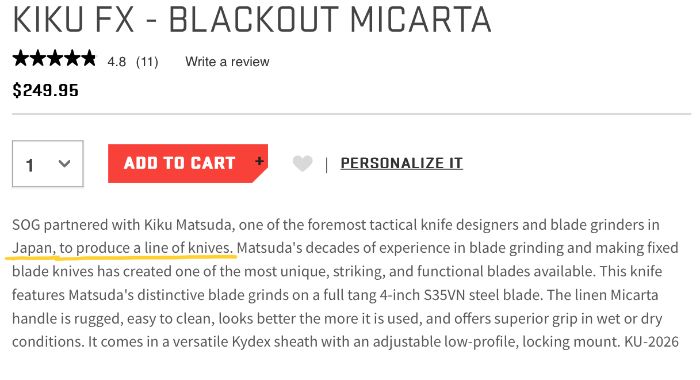 What becomes questionable is when a product description doesn't reveal its country of origin. If SOG is so upfront about American and Japanese made products…why isn't the manufacturing location mentioned on every product? This can't be good news, especially when every product without an origin demarcation is remarkably cheaper.
We emailed their customer support, waited a few days, but got nothing back. So, we turned to the phones. A ring up to their Contact number, and we were connected to a rep. Here's that conversation:
All American: I see that you have US made knives and Japanese made knives. Are your other knives also made in the US?
SOG: No. Only if it's labeled USA-made is it made in the US.
AA: Ok, can I ask where the other knives are made?
SOG: We have a few diff man plants overseas, a few in Japan and a few in China. I think we only have a few knives made in the US right now.
Of the SOG lineup, if it isn't labeled as US or Japan made, it's made in China. So, if you're in the market for a knife from SOG, be sure to filter down to their USA made line, or you might end up purchasing a lesser-quality model.
Popular American Made SOG Knives
Seal XR – USA Made Knife
Seal FX – Tanto
Pillar Stonewashed
Popular SOG Knives Not Made in the USA
Kiku FX – Blackout Micarta
Camp Axe – OD + Black Stonewash
Jungle Primitive Machete
Related Reading