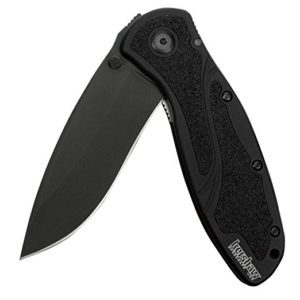 Kershaw Knives, based in Portland, Oregon, is a popular knife manufacturer. Started in the mid-1970s by knife salesman Pete Kershaw, they became a subsidiary of the KAI group in 1977. Today, Kershaw Knives is one line of products under Kai USA Ltd. and is responsible for sport and pocketknife models.
Kai USA Ltd. has two other product lines running parallel to Kershaw Knives. Shun Cutlery is a series of handcrafted Japanese kitchen cutlery, and the Zero Tolerance consists of a selection of premium and professional knives. Together, the three brands boast multiple awards, including several "Knife of the Year" honors.
Over the years, Kershaw partnered with several designers, including Ken Onion. The former United States Marine is known for developing the "SpeedSafe" assisted opening mechanism for Kershaw Knives. The demand for Onion's knives contributed to Kershaw Knives' expansion in the late 1990s and early 2000s.
Kershaw Knives boasts more than 6,000 knives in stock, competitive pricing, and options to customize your purchase. They also sell camping and survival gear, sheaths, and sharpeners. With all that expansion and being owned by a larger parent company, it's easy to think that manufacturing has shifted too. So, are Kershaw knives still made in the USA? We dug in to find out. Our verdict is below.
Verdict: Are Kershaw Knives Made in the USA?
Only some Kershaw knives are made in the USA. Most of their knives are made in China and Japan.
First off, let's state the obvious – Kershaw has been owned by KAI Group since 1977 – a Japanese company headquartered in Tokyo, Japan. So, right off the bat, their image is a bit tainted in our eyes. During the early days of Kershaw, nearly all of their knives were manufactured in Japan.
However, they can still support American workers by setting up manufacturing facilities here, which they've done in their "home" state of Oregon where they were founded. Kershaw has a large facility in Tualatin, Oregon where they produce some of their premium pocket knives. Most other knives are made in Japan and China.
In terms of steel sourcing, Kershaw sources most of its high-end steels from the USA (CPM-S30V, CPM-20CV, CPM-154, CPM-D2). All of those steels are made by Crucible. Some of their knives use Sandvik 14C28N which is Swedish steel. And Kershaw also has some dealer exclusive knives that use Böhler M390. Böhler is Austrian steel that merged with Uddeholm, a Swedish steel producer, in 1991.
Unlike a lot of other companies, Kershaw is pretty transparent about the country of origin for each of their knives, which is refreshing. You can find those details for most models in the product specs on their website, as shown below for the new Platform knife, which is made in China.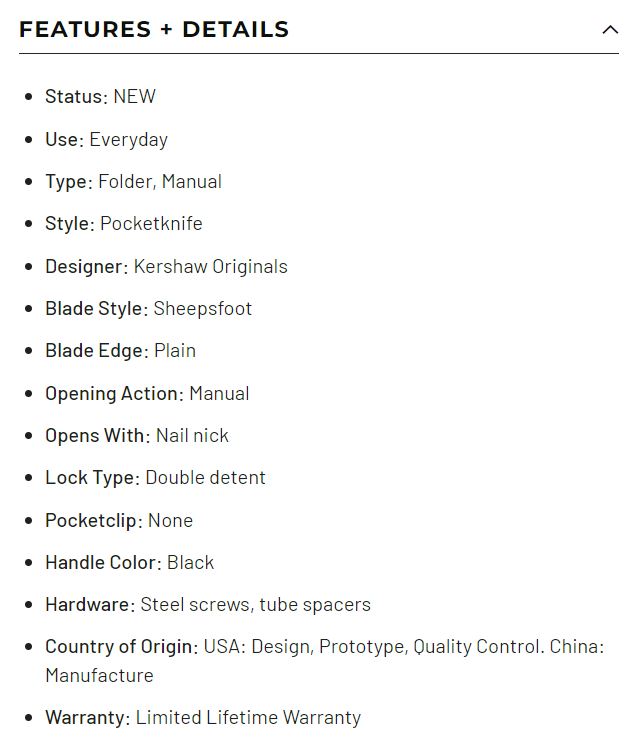 They try and disguise it a bit, as shown here, saying that the knife is designed in the USA, but make no mistake, it is made in China.
What we don't appreciate at all is that Kershaw has a "USA Made" section of their website where you think they would have only their U.S. manufactured knives featured. However, Kershaw includes all knives that are designed in the USA and manufactured in other countries in this section as well, like the Platform knife shown above. Just an absolutely mind-blowing move that we are pretty furious about.
We looked through every single product page in this "USA Made" section on their site. There are 309 products featured in this section and 175 of them mention China or Japan in the product details (172 China, 3 Japan). Watch out, folks. These guys are out to trick you.
Anyways, if you are set on getting a Kershaw knife made in the USA, just make sure to look hard at the product details before buying.
Popular American Made Kershaw Knives
Federalist
Launch
Lucha
Leek
Blur
Popular Kershaw Knives Not Made in the USA
Deschutes – China
Manifold – China
Flatbed – China
Jetpack – China
Inception – China
Esteem – China
Clearwater Filet – Japan
Related Articles