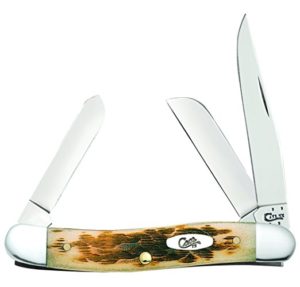 You can trace the roots of Case back to 1989 when a dedicated family of brothers founded the company. The devoted team of brothers Jean, John, William Russell, and Andrew Case set out to sell handcrafted knives in upstate New York. They were fully committed when they packed the back of their wagon with their valuable products and journeyed throughout the state to deliver meaningful solutions.
The company prides itself on bringing products to market that are diligently crafted with the highest quality materials. All the Case products go through a meticulous testing process as it cycles through the process twice for durability. Its products are also famous for being smaller pocketknives that contain multiple blades and can satisfy many different uses.
Today, the Case company is owned by Zippo Manufacturing, which is another family-owned business committed to bringing careful thought and detail to its products. Case knives have been carried in every major US war effort and were even used on Apollo 11 when astronauts first walked on the moon. Its unique tang stamp dating system used since the very early days has made Case one of the world's favorite collectible brands. Not only have they been admired by country music legends, former presidents, and renowned bull riders, but their popularity has led to one of the largest known knife-collecting associations, the Case Collectors Club, which has over 19,000 active members.
It's clear that careful consideration of quality and craftsmanship has been front of mind for Case products for decades, but are their knives still made in the USA? We've dug a little deeper to find out, our verdict is below.
Verdict: Are Case Knives Made in the USA?
The majority of Case knives are manufactured in the USA from their factory in Bradford, Pennsylvania, it's only their new brand of Tec X knives that are made in China. Materials used for the knives are both domestic and imported.
Case clearly takes great pride in being a long-standing icon of American craftsmanship and that their knives have become a piece of American heritage. This is evident throughout their site where every knife product page has incredible detail about its specifications, ideal usage, materials used, and usually a video with more information too.
They're quite transparent on their site, with all product pages listing when knives are made from USA-sourced materials, or made with both 'domestic and imported materials', though they never appear to go into more detail about where other materials are sourced from. However, this is not surprising considering their knives are made from a whole host of materials, from aluminum to synthetic materials to stag antlers to cattle bone. Their 'FAQ' answers questions on where their knives are made too, though once again, no specifics.
Case's commitment to creating premium hand-crafted knives designed to stand the test of time and be passed down generations is evident on their 'About us' YouTube video. It breaks down the full knife-making manufacturing process and we gain insight into their Pennsylvania factory. Though they admit that some materials are not sourced in America, they ensure that all materials are made to their high-quality standards. This is clear in their video that shows each knife being hand-crafted, sharpened, polished, quality checked, and tested in their factory by clearly dedicated people.
Popular American Made Case Knives
Anodized Aluminum Black Marilla®
V-42 Military Commemorative Knife
Anodized Aluminum Blue Kinzua®
Case 6.5 BoneStag® Copperhead
Popular Case Knives Not Made in the USA
Vintage Flag Natural Bone Color Wash Large Stockman*
BSA® Red Synthetic Standard Jig Medium Stockman*
Pocket Worn® Gray Bone Crandall Jig Canoe*
Burnt Cream Bone Barnboard Jigged Medium Texas Toothpick*
Red G-10 Smooth Trapper*
Leather 6″ Skinner Hunter with Leather Sheath*
Amber Bone Sawcut Jig Russlock®*
*All are made in Bradford, PA USA from both domestic and imported materials.
Related Articles