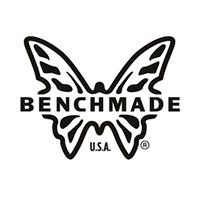 The Benchmade Knife Company is pretty synonymous with pocket knives in the U.S. They got started in 1979 as Bali-Song, then later changed their name to Pacific Cutlery Corporation before finally becoming Benchmade. The company began in California, but similar to their name changes couldn't really settle on a headquarters, so they moved to Clackamas, Oregon in 1990 before landing at their current headquarters in Oregon City, Oregon in 1996. There, Benchmade set up a 144,000 square foot production factory that served as the home base for their meteoric rise over the next few decades. They are best known for their butterfly knives and balisong-style knives, but also produce a wide variety of hunting and fishing knives, switchblade knives, utility knives, and knives for our military and law enforcement. But are they still putting that huge Oregon production facility to good use? We dug in to find out if they are still making their knives in the USA. Our verdict is below.
Verdict: Are Benchmade Knives Made in the USA?
Yes and no. All Benchmade knives are assembled in their factory in Oregon City, Oregon. However, not all knives use U.S. steel. We estimate that about 52.3% of Benchmade knives are made in the USA with domestically sourced steel.
Benchmade is pretty transparent about which knives are clearly made in the USA (with U.S. steel) on their product pages. If the knife isn't labeled as made in the USA in the product details, it is safe to assume that the steel is sourced internationally. We verified this assumption with the Benchmade customer service team. So, we did an analysis of their entire product catalog, which contains 172 knives and other products as of now.
52.3% are labeled as made in the USA
1.7% are labeled as made in the USA with imported steel
46% are not labeled as made in the USA
While we are disappointed that they aren't sourcing all of their steel domestically, we are encouraged that all Benchmade knives are assembled at their headquarters. This hasn't always been the case for Benchmade though. After they were founded, they pretty quickly moved manufacturing overseas to China and Taiwan, but in 2010 moved back their knifemaking to their headquarters in Oregon City. This transition back to the U.S. is pretty rare, we don't see many companies reverse course like that, but we are sure glad that Benchmade did.
When Benchmade moved back to the states, they still had some knives in their Red Class, HK, and NRA series produced in China. However, they have since discontinued all of those product lines.
Below are some of the most popular pocket knives from Benchmade and where they are made and sourced.
Popular American Made Benchmade Knives
173 Mini SOCP
CBK 175BK Push Dagger
9400 Auto Osborne
9070SBK-1 Claymore
551BKOD-S30V Griptilian: If you're looking for an American-made, smooth, versatile, single-handed knife, you could do much worse than Benchmade's Griptlian 551. Factor in the durability of the blade's edge, and it's easy to understand why this model remains a popular choice for everyday use.
Popular Benchmade Knives Not Made with U.S. Steel
15500 Meatcrafter
535-3 Bugout
15002 Saddle Mountain Skinner
4170BK Auto Fact
945 Mini Osborne
Related Articles