The modern women's wear company, Madewell, began in 2004. Its origin story isn't exactly one of American entrepreneurship. Instead, the brand started when J. Crew purchased the name Madewell from its then-founders.
The history of the name, Madewell, goes a little further back than 2004. The brand originally began in 1937 as a manufacturer of American workwear. When J. Crew snatched the brand name, it transformed to cater to modern women and did not offer men's or children's clothing. 
Madewell opened their first store in 2006 and has been seeing success ever since, even when J. Crew has struggled. Today, Madewell continues to make clothing and accessories for women.
They readily offer a Do Well report describing their annual sustainability, certifications, waste reduction, and more. You can even resell your Madewell clothing to the website to improve circularity. But before that, let's find out where these clothes are coming from in the first place. 
Verdict: Is Madewell Made in the USA?
Madewell has abandoned American manufacturing. Madewell carries some items made in the USA, but most items are imported from countries like Indonesia, India, and China.
There's a clear sign that answering this question will be a little complicated. When you visit a company's About page, it doesn't share any "About" information to humanize the brand. Instead, there is a smattering of generalized statements about sustainability or quality. 
We got in contact with customer service through the website's Chat function. Here is that conversation: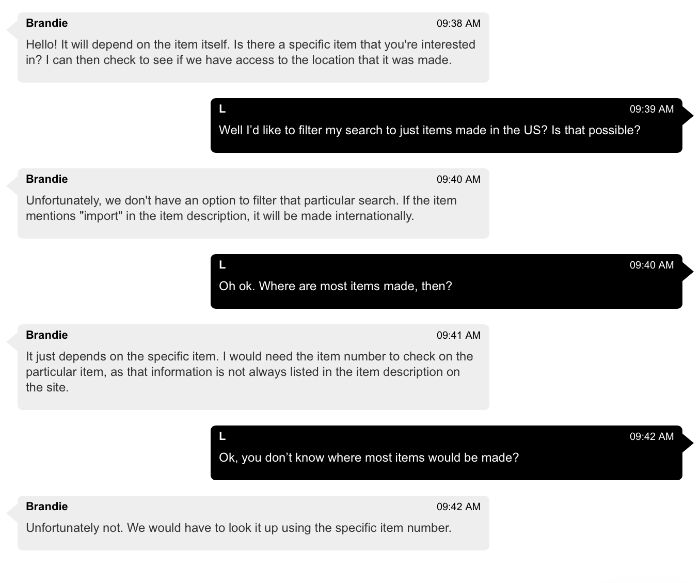 We very often find ourselves here when investigating large brands like Madewell. Customer service representatives are so hesitant to answer this basic question. Instead, they want to force you into choosing an item, to which they'll tell you only where that item was made. It's not helpful to get a bigger picture, and it's bottom-line manipulation. 
You are doing business wrong if you don't know where most of your products are being made. Even more disappointingly, after doing a website search for "Made in USA,"…we actually found some items. Even some with "Made in USA" in the actual product name. So why couldn't the customer service rep have pointed us to those in the first place??
Following information from the Made in USA Boxy Tee:

The following information from the Madewell x Jade Swim Lana String Bikini Bottom:

Many of the products made in America come from collaborations with brands like Frankies Bikinis, La Réunion, or New Balance. 
However, if the item is not made in the USA, Madewell seems to clearly label that on their website, despite how unhelpful the customer service rep was. Just about every item we looked into had a country of origin listed under the product details.
The following information from the Layton Midi Slip Dress:

The following information from The Signature Oxford Crop Shirt:

Although their transparency is to be applauded, Madwell's origin is questionable. Have a read of this article for how the brand came to be to make your own judgments about the brand. 
All in all, most items sold by Madewell are not manufactured here in the US. Still, a website search for "Made in USA" yields relevant results, and nearly every item is labeled with an accurate country of origin.
Popular American Made Madewell Clothing
Made in USA Boxy Tee
Madewell x Jade swim Lana String Bikini Bottom
New Balance 990v6 Sneakers
Popular Madewell Clothing Not Made in the USA
Layton Midi Slip Dress
The Essential Bucket Tote
The Signature Oxford Crop Shirt
Related Articles