Have you ever thought about where your toothpaste is made? It might be the last thing you consider when it comes to shopping in America. It's a great query to have, and we're here to help answer it! We begin our toothpaste survey with Crest.
The Crest brand was formed out of a Procter & Gamble research program in the 1940s. On a quest to find ingredients to reduce tooth decay, they did just that and launched the Crest line nationwide in 1956.
In 2017, Crest toothpaste received the American Dental Association Seal of Protection against Acid Erosion. They state that they're still the only toothpaste to have this merit. Today, they are based out of Cincinnati, Ohio.
Crest continues to be one of the most popular consumer dental care product providers in the US. Yet, a question remains, are Crest products manufactured in the US as well? Let's find out.
Verdict: Is Crest Toothpaste Made in the USA?
Crest manufactures most of its products in Mexico and the US, with a few items made in Canada. Considering toothpaste, specifically, most are made in Mexico. There are two products that are the exception, and they are manufactured in the USA with imported ingredients.
The Crest website is inclusive as far as ingredient information goes, but is not exhaustive when it comes to manufacturing and sourcing. We called their customer service line to ask a few questions. Here is that conversation:
All American: I would like to know where your toothpaste is manufactured?
Crest: it depends on which product you're looking at. We have multiple plant locations.
All American: Ok, I don't have a product now, but I'm looking for one that is made in the USA.
Crest: We have two toothpastes that are made in the US. Crest 3D White line and the Gum and Breath Purify. Our toothpastes are either made in Mexico or Greensborogh, North Carolina – it will say on the box.
All American: And where are your raw ingredients sourced from?
Crest: All ingredients are imported from out of the US with high standards. I don't have any specific information where an ingredient came from but everything is from approved sources.
According to their customer service, the easiest way to find out if a Crest product is made in the US is to check the packaging. Sure enough, it's here that you'll find either a "Distributed by Procter & Gamble" notation or a "Made in Mexico/Canada" label.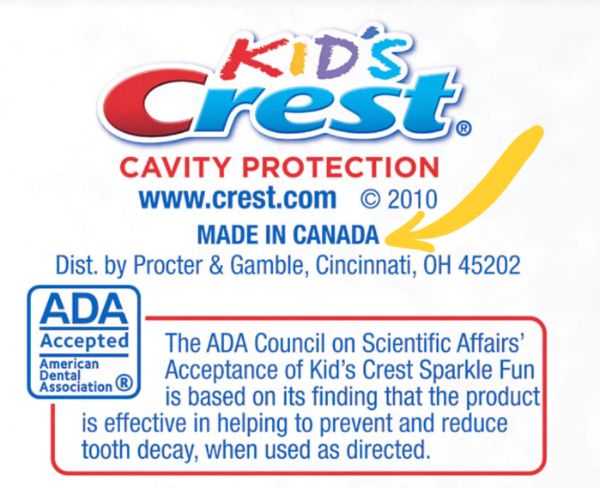 We wanted a bit more information than this, so we doubled up and also reached out to their service squad via email. Here, we received a much more exhaustive list of US made products – though keep in mind, not all of the below is toothpaste.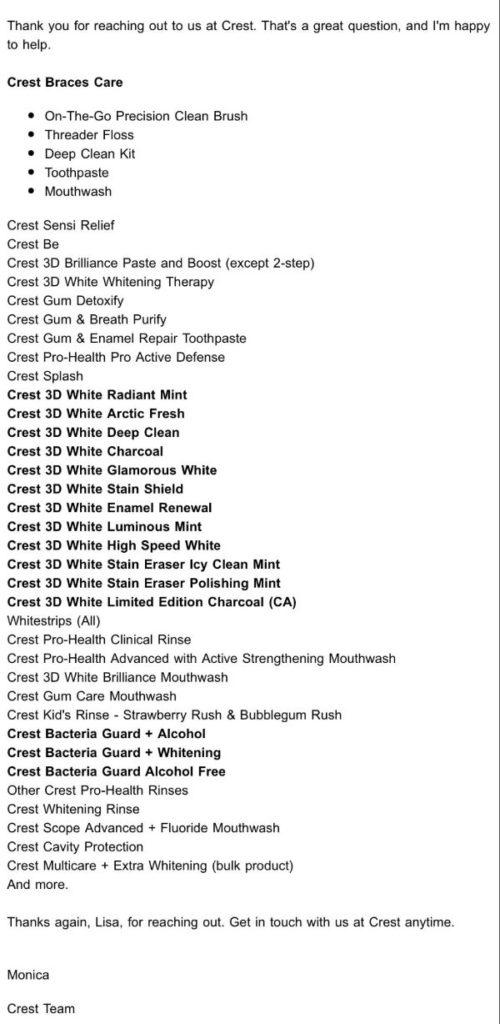 It's a hefty list! You could certainly shop for all of your dental hygiene needs from the products above. However, it's likely that these items are US manufactured, yet include ingredients that are sourced from abroad. The ingredient lists are rather complex, as is expected from traditional big-box toothpaste brands.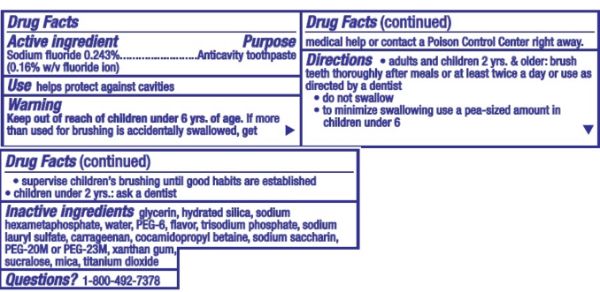 You'd probably need to obtain an access pass to gain entry to their lab for ingredient sourcing info. So, unless you have a chemistry degree, you might have to settle for "made in the US with imported ingredients." That, or switch to using baking soda or one of the natural toothpaste brands we found in our research linked below.
Popular American Made Crest Products
Crest 3D White Brilliance and Boost
Gum and Breath Purify
Crest Whitening Rinse
Popular Crest Products Not Made in the USA
Crest Braces Care Toothpaste
Crest Fresh & White Toothpaste
Crest Kids Toothpaste with Fluoride
Related Articles