We do a lot of research on different types of shoes that are made in the USA. Everything from sneakers to boots, sandals, and everything in between. When we looked into both sneakers and casual wear shoes, we noticed a trend – Softstar shoes kept popping up on our radar. We tried their RunAmoc minimalist running shoes and immediately knew they had something special brewing.
So, we reached out to the Softstar team to learn more about their story and how their great American made shoe company came to be. We had the pleasure of hearing from the Softstar CEO, Tricia Salcido, who had the same reaction about Softstar that we did when she first walked through the doors of their facility. Today they operate out of a vintage 1950s roller rink! We talked with her about Softstar's history, their American manufacturing process, their team, their shoes of course, and a lot more. Below is our conversation! Our questions are marked with "AAO" and Tricia's responses have an "SS" next to them. We hope you enjoy their story as much as we did!
A Look Inside Softstar Shoes
AAO: Give us a look inside the history of Softstar. How did y'all grow up into the company you are today?
SS: Softstar was founded in the fall 1985 by newlyweds Tim and Jeanie Oliver. Unable to find soft, comfortable shoes for their baby daughter, Jeanie learned how to make leather baby shoes from a local artisan. Tim was infatuated with their tiny beauty and healthy design, and together they started the fledgling business – making patterns, cutting leather and stitching leather moccasins with soft sheepskin soles. That first summer they traveled to Jeanie's native town of Laguna Beach, California for the Sawdust Art Festival where they quickly sold out of shoes. With a pile of cash, they returned to Wimberley, Texas and converted an old bus into the first official Softstar workshop.
In 1990 the Oliver family moved to Corvallis, Oregon selling Softstar shoes to children's boutiques via mail order.
In 2005, Tricia Salcido came across the Softstar workshop. The prospective business owner was also a new Mom and knew instantly that the beautifully crafted, soft baby shoes were special. Together with her friend Larkin Holavarri – they both quit their jobs as Manufacturing Engineers and purchased the business. Tim stayed on to manage shoe production while the new owners focused on growing the business. Their first priority was building an ecommerce site and growing online sales with a compelling brand story. From 2005 to present Softstar sales grew more than 20X, transitioning from a wholesale model to 100% DTC.
Salcido and Holavarri also explored new ways to encourage Softstar's core value of walking lightly on the earth, solar panels were installed on the workshop's roof and all power was sourced from renewable energy. Other sustainable measures include composting, reusable towels, a workshop recycling program, donating leather scraps for crafts and providing incentives for employees to bike to work.
Recognizing early on that healthy feet were not just for children, the duo launched minimal running moccasins for adults in 2008. High follow-up demand meant constant expansion of their adult line which now represents the majority of sales and includes soft, barefoot-like sandals, loafers, slippers, sheepskin boots, casual wear and the world's most comfortable ballet flats.
Today the company operates out of its newly restored and eco-friendly 12,000 sq. ft. facility – winning awards for the historic preservation of a vintage 1950s roller rink and green design. The company's culture of sustainability, transparency and joy is evident in the headquarter design complete with an employee garden, setup for customer tours and its giant green slide.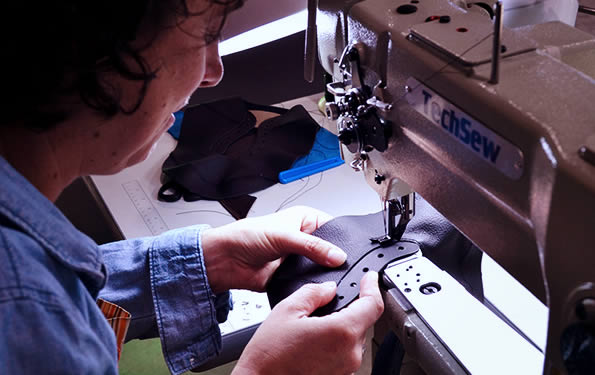 AAO: What made you want to get started?
SS: My initial drive was to build a company that made beautiful products. I have always loved manufacturing. There is an immense sense of pride and satisfaction at the end of the day in a job well done. I am a very visual person and get passionate about things I can see, touch and create. Growing up in a family of business owners, I aspired to be one myself. I respected how hard my grandparents and parents worked and their independence. Softstar was a junction of beautiful product and ownership that was a natural fit for me.
AAO: How many U.S. based employees do you have and in what locations?
SS: We currently have 33 employees. All of our shoes are handcrafted at our workshop in Philomath, Oregon. We sell our products solely online and in our local showroom.
Our Favorite Softstar Shoes
AAO: Below are some of our favorite shoes from Softstar along with a few details from Tricia on what they are all about.
Primal RunAmoc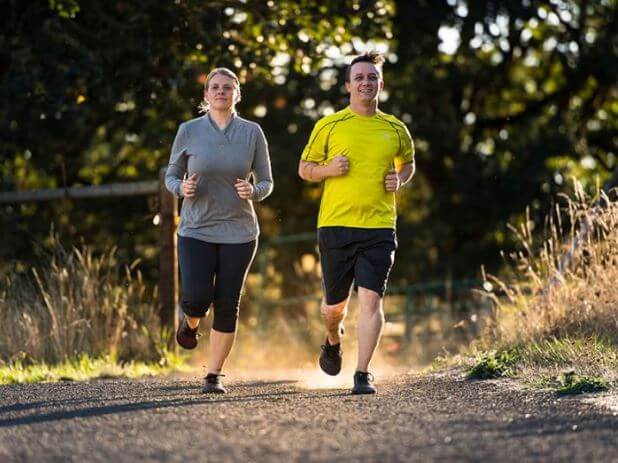 SS: Our Primal sole shape is widest at the toes for the ultimate in free movement and natural toe splay. The Primal RunAmoc is highly versatile with a flexible zero-drop Vibram outsole, spacious toe box, and a rubber toe cap for extra durability.
Ballerine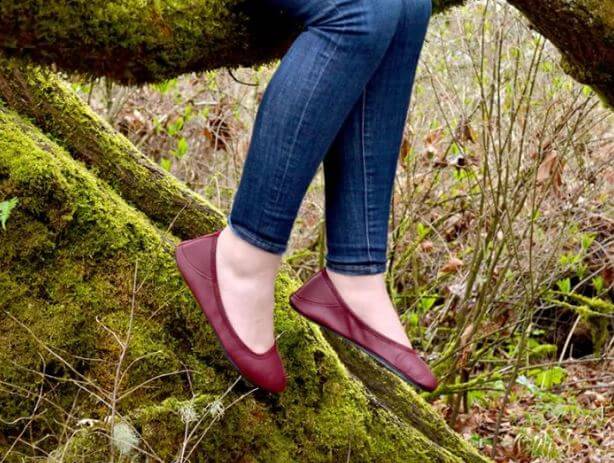 SS: The Ballerine is a soft leather ballet flat that is as classy as it is comfortable. This style has a minimal zero-drop outsole and soft leather uppers that mold to the shape of the foot.
Fireside Slipper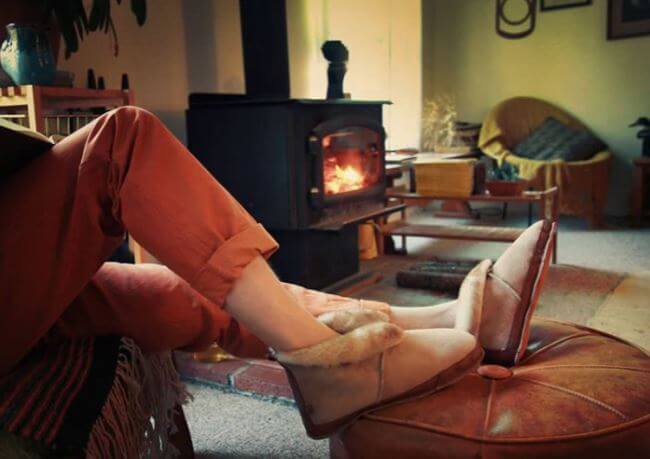 SS: The Fireside Slipper is an impossibly cozy house slipper fully lined with plush sheepskin. The Fireside is feather light and features brushed suede soles and an adjustable cuff for ultimate comfort.
Made By Real People With a Personal Touch
AAO: What do your customers love most about Softstar and your products?
SS: Our customers love to connect with us as the real people who make their shoes! They also love the option to customize their own shoe colors and the personal touch of our shoes being handmade in the USA.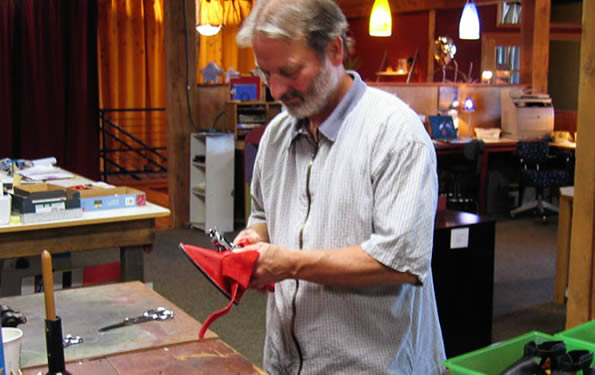 AAO: What makes your products unique vs. the competition?
SS: A few things:
Minimal designs – Softstars fit like gloves for your feet, allowing for natural movement and healthy foot strength. They are also wide, breathable and zero drop.
Premium leather and sheepskin construction with Vibram soles.
Customizable – Customers choose from hundreds of colors and motifs.
Made to order in the USA in 2-10 days!
The Future
AAO: What gets you excited about the future of Softstar? Where are you headed?
SS: What gets me excited about the future of Softstar is the unexpected fork in the road en route of better health and balance! A company's culture grows and matures as its own entity as the sum of all the efforts of its employees and the experiences and feedback of its customers.
I never anticipated fifteen years ago that this adorable leather children's shoe brand would grow into a wildly healthy, eco-friendly natural shoes brand crossing the finish line at Leadville 500?!
Softstar meets the needs of individuals wanting to re-wild their feet and regain their natural form/balance. The designs have unfolded organically in response to our customers needs and it has been like watching seedlings grow into an orchard with a wide variety of fruit – and we are still learning every day!
Many footwear designers have unlimited access to modern construction techniques at hand. At Softstar, because we began with such primitive resources – we were limited to making shoes the way they were done hundreds of years ago – one at a time and on basic sewing machines. Ironically, this limitation forced us to make radically simple designs that were healthier and more comfortable than designs that had to go through modern production soling machines. We unexpectedly had an advantage in the minimal market by not having the traditional fabrication processes readily available to us.
Our dedication to making things ourselves is what makes our product consistently excellent and a perennial customer favorite.

It was great hearing from Tricia and the team at Softstar. We hope you enjoyed their story and we wish Softstar the best of luck!