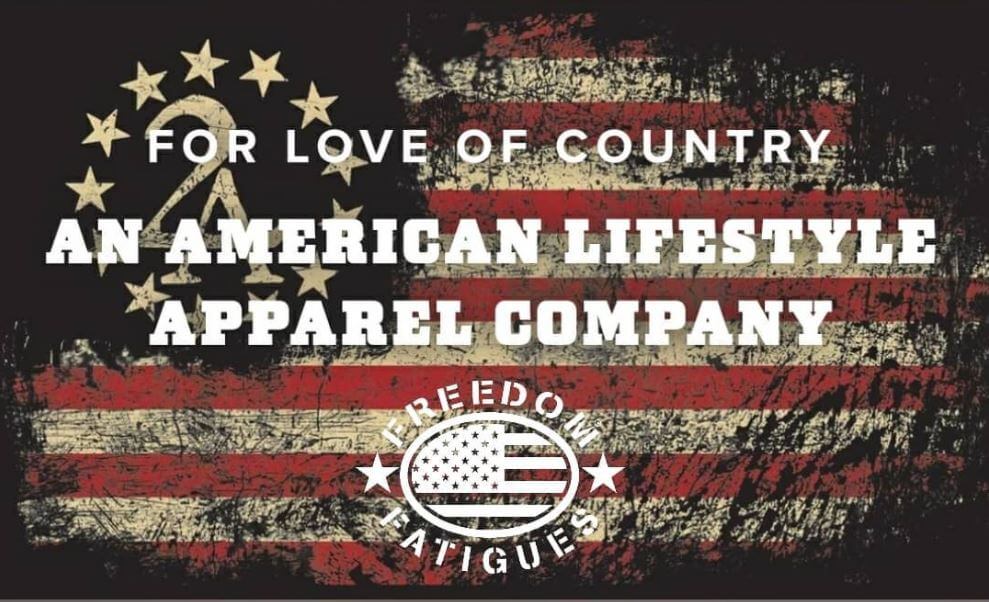 Use our exclusive code ALLAMERICAN15 to get 15% off your entire order of regularly priced apparel and gear.
When we're doing our research for great companies that are dedicated to American manufacturing, we love finding brands that are incredibly mission driven as well. While doing some research on clothing and t-shirt companies made in the USA, we stumbled upon one apparel company that really stuck with us – Freedom Fatigues.
Not only did their apparel look great, I found out that they are big supporters of veterans and first responders, raising awareness on important causes and donating a portion of their revenue to non-profit organizations. I immediately ordered some gear from Freedom Fatigues to test it out (my unboxing video is below too) and was really impressed with the quality of their products.
I knew right after I unboxed their gear that I wanted to learn more about the Freedom Fatigues story, so I reached out to Chris Vargo, their founder and CEO. Chris runs the company with his wife, Ryann, and is a U.S. military veteran and retired police officer.
Below is our conversation with Chris and the story behind Freedom Fatigues. Our questions are marked with "AAO" and Chris's responses are marked with an "FF" abbreviation. We hope you enjoy their story as much as we did!
A Look Inside Freedom Fatigues
AAO: Give us a look inside the history of Freedom Fatigues. How did y'all grow up into the company you are today?
FF: The concept of Freedom Fatigues began in 2018 as I was healing from my 3rd spinal surgery following a head-on collision while on duty and responding to a call in my patrol car. Coming to grips with the fact that life was forever changed for me and my family, I was looking for a way to stay busy but still connected to my first responder/veteran community and decided patriotic shirts might be a good place to start.
After convincing my wife, FF was born with the goal in mind of creating pro-America, pro-first responder and military apparel and giving back to nonprofits committed to helping these communities. We began as a drop-shipping company printing on demand but quickly realized this was not the direction for us. We shut down for 8 months, regrouped, rebranded and launched in August of 2019 as a 100% American made company, screen printing all apparel, building custom hats from the ground up here in the US, and sourcing gear made locally and across the country.
Every item has a story – from where it's made to whom it's made by. We try to support fellow small businesses, often family owned, rather than purchasing from large corporations.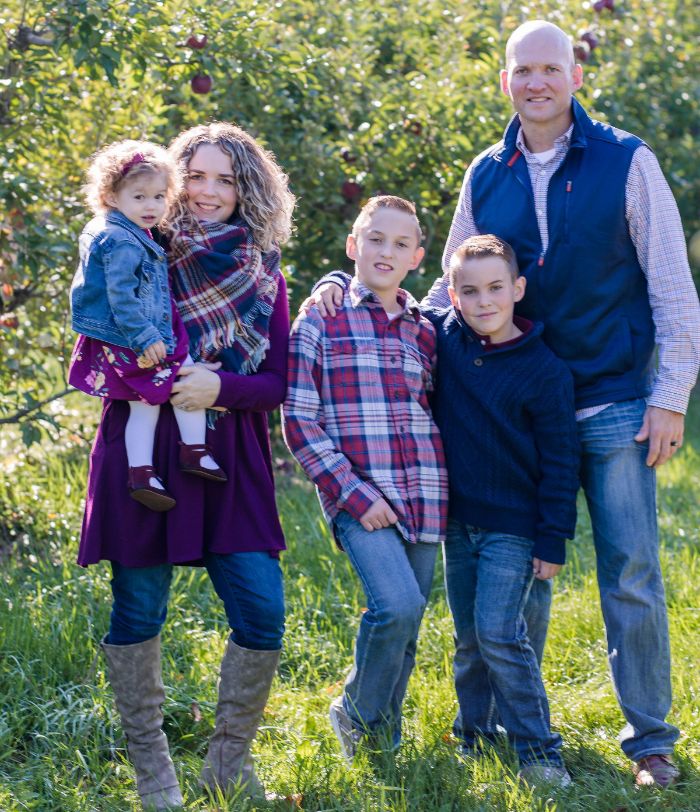 AAO: What made you want to get started?
FF: As I mentioned, the idea really was birthed out of a desire to remain active and connected to fellow patriots, first responders, and military and to be able to give back to nonprofits that make it their mission to help with PTSD and suicide awareness.
AAO: How many U.S. based employees do you have and in what locations?
FF: 100% of our "employees" are based here in Michigan – It's just myself and my wife, Ryann! We run the day to day operations, pack and ship orders, design and test products, provide customer service support, and handle all aspects of marketing. We partner with a print shop to produce our apparel and source all of our products from small businesses here in the US. As we continue to grow, we hope to bring on board crew members that also share our passion for our country and its servicemen and would love to staff fellow veterans and retired first responders.
AAO: Why do you choose to manufacture in the U.S.?
FF: It was important to us to build a brand that exclusively offered products made right here in the US in order to support fellow American small businesses and workers. They may cost us more to produce or purchase, but it's worth it in our eyes. We don't sacrifice quality or our principles for higher margins and profits. There are many apparel companies that attempt to mislead consumers by stating "designed, printed, and shipped in the US." We do all of that…and make them here. It costs more, but it just makes sense to print patriotic apparel on American made products.
Our Favorite Freedom Fatigues Products
AAO: We asked Chris to tell us about some of his favorite Freedom Fatigues gear. Personally, I have a: hat, beanie, t-shirt, hoodie, and belt, all of which I love and wear regularly.
Freedom Fatigues Hats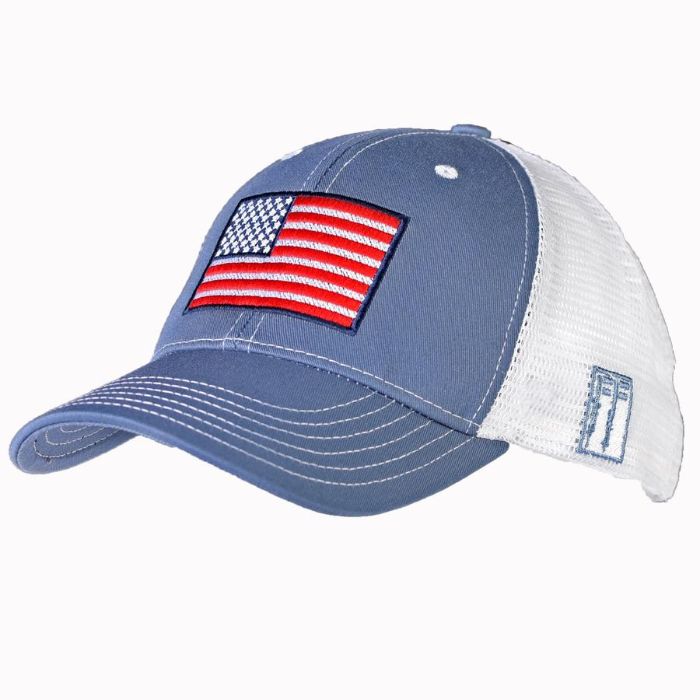 FF: Unlike most other online retailers, we actually build our hats from the ground up and do not simply embroider on pre-produced blanks. We work with a multi-generational, family-owned business who produces each one of our hats by hand and to our own specifications. The process can take upwards of 10 weeks to complete from sample to finished product. The result is a one-of-a-kind hat you can only find here.
Blue HELP Collection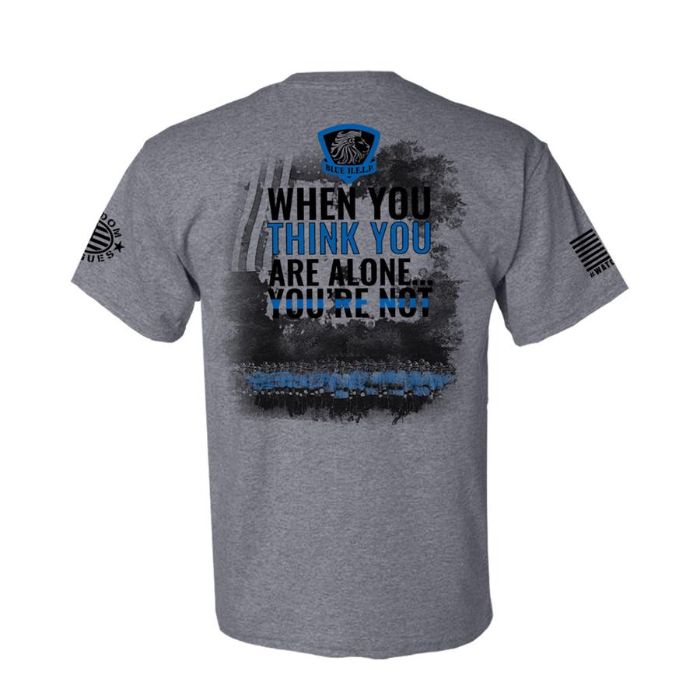 FF: It is the mission of Blue HELP to reduce mental health stigma through education, advocate for benefits for those suffering from post-traumatic stress, acknowledge the service and sacrifice of law enforcement officers we lost to suicide, assist officers in their search for healing, and to bring awareness to suicide and mental health issues. We have partnered up with Blue HELP to produce their apparel and host their product sales on our site in order to help them raise funds for their mission.
"22 A Day" Shirts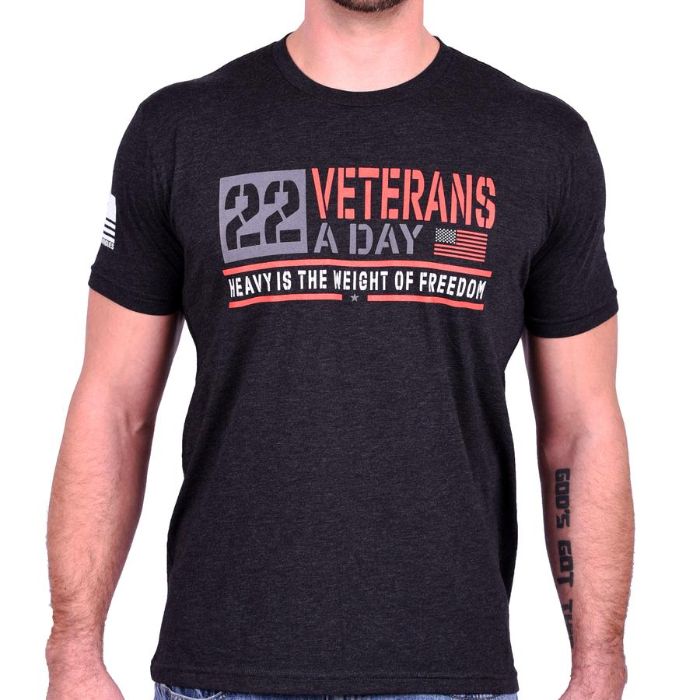 FF: On average, every day approximately 22 veterans take their own life. We believe this is unacceptable and more needs to be done to address and mediate this crisis. All profit generated from the sale of our "22 A Day" shirts is donated to help combat and bring awareness to veteran suicide.
Mission Driven & Treating Their Customers The Right Way
AAO: What do your customers love most about Freedom Fatigues and your products?
FF: What we hear most often is:
1. Having truly American made products – and not just some but everything – that are relatable and reflect the everyday patriot's American lifestyle and values.
2. Supporting and giving back to a number of different nonprofits that support military and first responder causes, specifically PTSD and suicide awareness, with every purchase made. We also partner with Blue HELP and host their apparel on our site, passing along the vast majority of profit to them and keeping only a small portion for ourselves to cover costs and expenses.
3. Our story – A family run business with police and veteran ties.
AAO: What makes your products unique vs. the competition?
FF: I think our brand is unique because it's exclusively American made and veteran/LEO owned and operated. We also pride ourselves on excellent customer service and treating our customers the way we would want to be treated. We are small enough to still be able to provide that connection with our customers and the small-town, homegrown feel of our brand. When you email our customer service, you aren't communicating with a robot or someone overseas – you are dealing directly with myself or my wife.
The Future
AAO: What gets you excited about the future of Freedom Fatigues? Where are you headed?
FF: We are grateful for every order – every order gets us excited. We pour out our hearts and energy into our brand, and we hope that comes across to our customers in the end. We are still very new on the scene, less than a year and a half old as a company, but we have seen our business steadily grow month over month in this time and never dreamt we would be where we are in just 16 short months. Our goal is to continue growing and adding on to our line with custom cut and sew products as well as bringing on board an American made fitted hat collection. We'd also love to continue giving back to the veteran and first responder communities by eventually employing staff that have served in either capacity.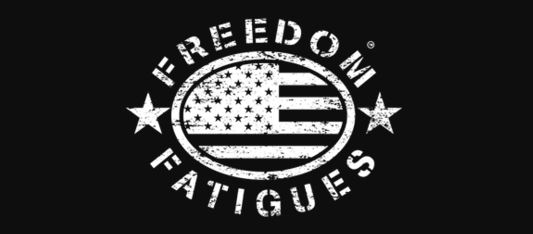 It has been such a pleasure to get to know Chris, Ryann, and the Freedom Fatigues story – we wish them the best of luck going forward! And here's the unboxing video for the gear I ordered from them (before asking for an interview).