There are a few household names when it comes to food storage. One of those is Rubbermaid: They manufacture all sorts of household items like containers, trash cans, baskets, and more.
Over 100 years ago, Rubbermaid was founded by a group of businessmen. Back then, it was known as the Wooster Rubber Company, named after the town where it began. After merging with a mom-and-pop business by the name of Rubbermaid, the new company took on the name it has today.
Rubbermaid is now owned by Newell Brands, which also includes many other companies like Coleman, Mr. Coffee, Sunbeam, and more. Today, it is worth over six billion dollars. If anything, the household goods business is certainly lucrative.
In the beginning, Rubbermaid items were manufactured in the US. We want to know if they are still made here today. Let's find out.
Verdict: Is Rubbermaid Made in the USA?
Rubbermaid sells items that are both made in the USA and abroad. Categories primarily made in the US include garbage cans, mop buckets, mop heads, mop handles, and storage sheds.
We began our investigation with a website search for "Made in USA." It only yielded one product: the Microfiber Twist Mop with Built-in Wringer. But there isn't any manufacturing information listed on the product page…not even an "imported" detail.
After no luck on the website, we turned to customer service. The phone line left us on hold for way too long. How many people are calling Rubbermaid?? Also, that hold music is a bit too frantic – LooneyTunes, if you ask us.
Finally, we got through and were able to speak to a representative:
All American: I'd like to know where your products are made?
Rubbermaid: Rubbermaid is a very large company and we make different products all over the world.
AA: do you have anything made in the USA?
R: Yes, most of our garbage cans, mop buckets, mop heads, mop handles, storage sheds are all made in the USA.
Things that are not made here: food storage, containers with pull-off lids that are consumer grade, wire shelving, utility carts where the plastic is made in the US, but the hardware is maybe made overseas.
AA: ok, great. Is there a way to find this information on your website?
R: go to rubbermaidcommerical.com – you can find the country of origin on all commercial products. But I don't know of any resource where you can find country of origin for our consumer products.
Talk about a helpful representative! And they didn't miss a beat. After our question, he dove right into the US-made categories and directed us to the commercial website to find information on the country of origin.
The following information is from the Slim Jim Container: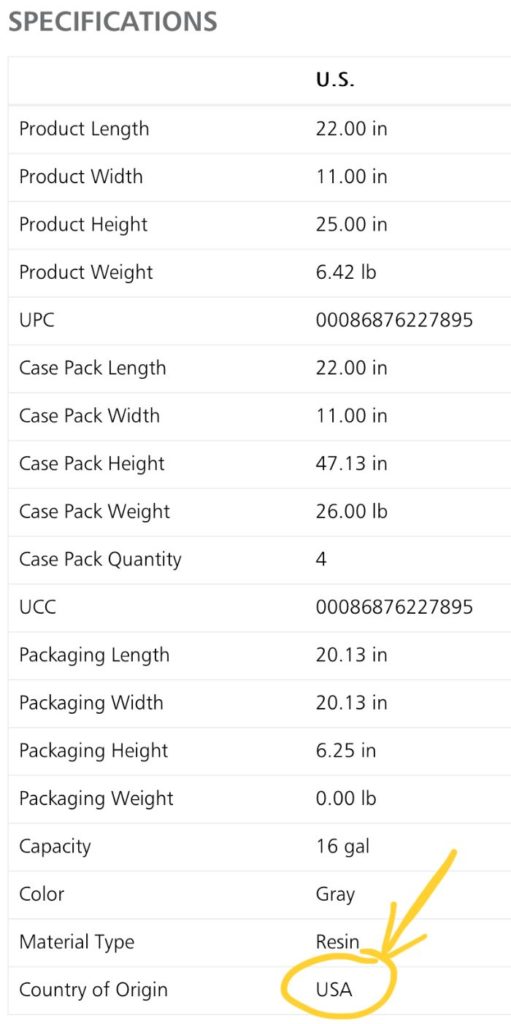 Unfortunately, as the employee we spoke to noted, only the commercial products website lists a country of origin.
However, the representative was very helpful and stated that if you find a product within those US-made categories he listed, you can always inquire directly with customer service to ask about the source for specific items.
On each product page, you can also ask questions and see the questions that other shoppers have posted. This would also be a helpful place to ask about manufacturing information on specific items.
Popular American Made Rubbermaid Products
Slim Jim Vented Container
Storage Shed
Roughneck Square Cleaning Bucket
Popular Rubbermaid Products Not Made in the USA
Brilliance Pantry Cereal Keeper, 18 Cup Airtight Cereal Container
Rubbermaid DuraLite Glass Bakeware, 4-Piece Set with Lids
Modular Canisters, Food Storage Container
Related Articles