At the back of every American household cabinet is a stack of Tupperware. It's practically an institution. Without Tupperware, the family gatherings of yesteryear would look very different. What's Thanksgiving without that plastic-lidded dish filled with strange gelatinous goo?
You know it well, as does every other family on the block. Your grandmother probably still has her Tupperware from decades ago. It all began in 1946 when a fellow named Earl Tupper invented a plastic material for containers that could seal tightly.
With a product so innovative, it took a while for it to become mainstream. The force behind Tupperware's soon-to-be nationwide popularity was entrepreneurial genius, Brownie Wise. She took Tupperware to the housewives of America and created a seller's network that allowed them to earn an income from home.
Tupperware parties popped up everywhere. As the backbone of the country, women led the way for the brand. Now, beyond the US, Tupperware is a global company with sales in the hundreds of millions.
The women of America propelled the brand. What about the products – Are those made in America? Let's flip through the history books to find out.
Verdict: Is Tupperware Made in the USA?
Yes and no. Tupperware manufactures its products globally, including in the USA. They also manufacture in China, Brazil, Belgium, France, Greece, India, Japan, Korea, Mexico, Portugal, and South Africa.
The Tupperware website isn't very informative when it comes to manufacturing locations. No product pages display any details about where the items were made or imported from.
There aren't any highlights or articles about working conditions or supporting partnerships in manufacturing facilities. The only ethical topic you can find on their website is about supporting National Parks. It's humorous that Tupperware, a company that produces plastic pieces by the truckload, is talking about saving the planet.
Take a look at the bottom of your Tupperware containers, and you'll find a "Made In.." label. See this photo here: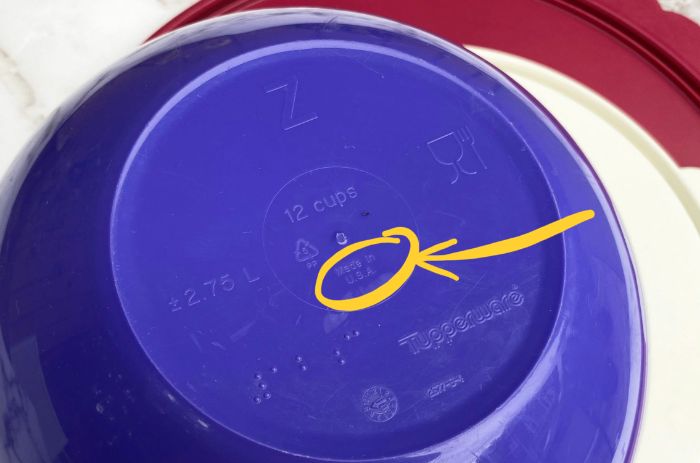 If you can read the label above, it says "Made in USA," but don't get excited; not all Tupperware is American made. We reached out to the customer care team to learn more about manufacturing locations. Here is what they had to say: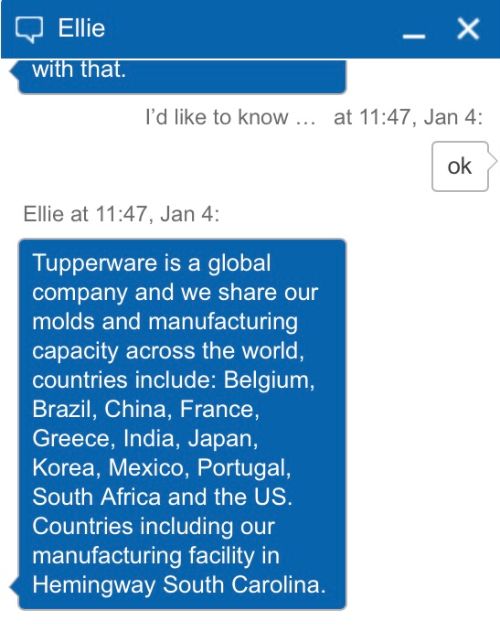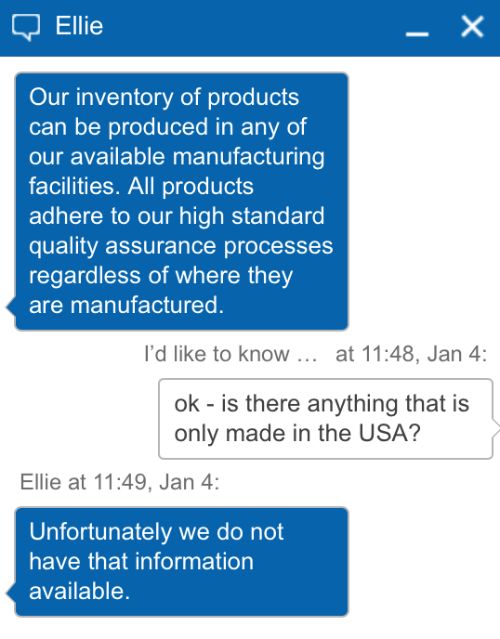 So, although Tupperware has its own manufacturing facility located in Hemingway, South Carolina, no specific products are made there. According to this representative, all Tupperware products can be produced at any of the facilities. Whether or not something is made in the USA is likely based on demand and spreadsheets.
Tupperware is primarily sold through their own website or single-person resellers like those you'd find at a market or a friend throwing a "Tupperware Party." You may be able to find Tupperware products at a few larger retailers like HomeGoods and Target, but it isn't guaranteed.
In any case, if you're shopping for Tupperware in person, tip that container over and check the bottom label to find out where it was made.
Popular American Made Tupperware Products
Popular Tupperware Products Not Made in the USA
Tupperware Round Container
THATSA Large Bowl
Wonderlier Bowl 3-Pc
Related Articles