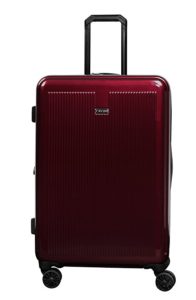 Based in New York City, Revo stands for 'revolution', a concept the company stands by in its commitment to innovative products. Starting in 2006, the goal was to create a modern luggage brand to a high standard.
Now owned by Olivet International, their team of engineers strives to enhance their luggage, from the quality of the exterior materials to the design of the suitcase's interior. All of their products are designed to a unique set of specifications, with each of them going through rigorous quality control testing to ensure its customers enjoy their luggage for years to come.
Revo has focussed on creating just a handful of high-quality products, including four types of luggage as well as a collection of backpacks, duffel bags, and luggage organizers. With a 10-year warranty covering manufacturing defects, you can travel with peace of mind thanks to these sturdy, contemporary pieces designs to fit your style and purpose. They're headquartered in New York but are their products still made in the USA? We updated our research to find out. Our verdict is below.
Verdict: Is Revo Luggage Made in the USA?
Some Revo luggage used to be made in the USA, but now the majority of their products are made overseas. They're now owned by Olivet International which has factories in the USA, China, and the Philippines.
Revo used to pride itself on creating American-made products, with a dedication to bringing manufacturing back to the United States and creating jobs for Americans by returning the country to the vast production levels it achieved in the 20th century.
However, now there is very little on the Revo website that says where its products are made. Though it states that all products are designed in their New York City office, there's nothing about where they're manufactured. Now that they're owned by Olivet International, we confirmed with their team that Revo luggage is now made in China or the Phillippines.
Revo used to sell two collections of luggage, the Revo Luna and Revo Hardside, which were both made in the USA, but now these are both discontinued. It's a huge shame that Revo products are no longer made in the USA, considering the business was incredibly passionate about supporting American jobs, and a little frustrating that they're not at all transparent about manufacturing or location.
Popular American Made Revo Luggage
Popular Revo Luggage Not Made in the USA
Revo Speed Light
Revo Velocity
Revo Seven
Revo Limited
Related Articles