If Apple invented a suitcase, it would be Away Luggage. Their sleek cases are modern, smooth, and come in a variety of sophisticated colors. Loved by celebrities and the average-folk alike, they're quickly monopolizing the travel scene. Also to note are the literal thousands of reviews the products have.
The company was founded in 2015 by two entrepreneurial business women. Similar to many modern consumer brands, the product range is mainly available through their online retail website. Away also has shops IRL (in real life) in Austin, Boston, Toronto, and other locations. 
The world needed a classy, yet durable, suitcase with features like interior compression, 360-degree wheels, and TSA-approved personal locks. If you've ever traveled with a hand-me-down soft side carry-on, you recognize the value in a suitcase that can carry its own weight. Aside from its flexing hard shell and expandable zipper, you can also personalize your case or add a custom ID tag. 
Products include hard case carry-ons and checked bags, soft cases, totes, and accessories. Away's intention is to build a suitcase that can take the rough and tumble of standard travel. Some recycled materials are used in production, but that's about as far as it goes for climate impact. 
Let's find out if all the hype is really worth it. Where are Away suitcases manufactured?
Verdict: Is Away Luggage Made in the USA?
No, Away Luggage is not made in the USA. Although designed in New York, the products are manufactured in various countries located in Asia.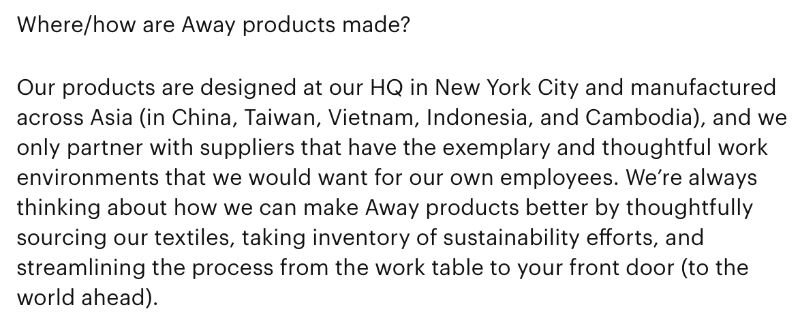 The brand isn't all that transparent about these facts. Yes, they are locatable via the FAQ section, but that is the only place you'll find a mention of manufacturing location. There are no details to be found on any product page or even the About page. This is surprising from such a new and modern company. Apparently, you can surf the wave of popularity from celeb-appeal and not have to worry about explaining your process.
For a brand so centered around travel, location, and the journey, we'd appreciate learning more about their origin. Where you come from is just as important as where you are going, especially for consumers who care about where products are manufactured. Their website introduces us to their US corporate crew, but whoever is actually building their products is thoughtfully forgotten.
Things haven't been as easygoing as the luxe travel lifestyle the brand displays in their marketing. In 2019, Away received a good deal of scrutiny for harboring a toxic workplace. Eventually, the CEO was asked to step down. 
Yes, these suitcases are fire. You will look very dashing and elite rolling down the terminal with your 360-degree wheels and streamlined hard shell. But…it won't be American made.
Popular American Made Away Luggage
Popular Away Luggage Products Not Made in the USA
The Travel Neck Pillow
The Carry On
The Large
Related Articles