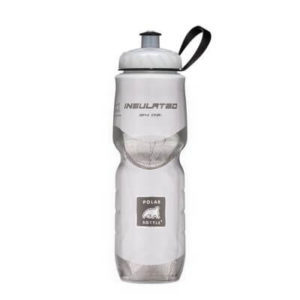 Polar Bottle started in 1994 with a simple vision: to offer people the delight of a cool, pure, drink of water–anywhere. The most interesting part? It began with two enthusiastic cyclists, Robert Heiberger and Judy Amabile, inside a garage located in Boulder, Colorado.
Polar Bottle places their pride in the fact that they were the original insulated sports bottle, which allowed them to find early popularity in biking and outdoor communities. They were tired of drinking warm water on long rides and were eager to find a solution.
Their bottles are sold through thousands of retailers in the United States and 42 countries around the world. They're also an officially licensed product of the Olympics and Paralympics Team USA.
Over twenty years later, they still adhere to the practice of innovation and product quality. Their bottles are made from BPA and phthalate-free materials, and their headquarters are still located in Boulder, Colorado (although they've since upgraded from their garage).
So, Polar Bottle has stuck to its Colorado roots for over twenty years, but does that mean that its bottles are still made in the USA? We've done the research to find the answer.
Verdict: Is Polar Bottle Made in the USA?
All Polar Bottle products are made in Colorado using materials sourced from Denver, Colorado, and Garden City, Missouri. All products are shipped directly from their office in Longmont, Colorado.
Polar Bottle is very transparent on their site about where their products are manufactured and where materials are sourced, which is fantastic to see, considering they're not required by US law to do so.
They are clearly committed to supporting local jobs and their local economy by sourcing materials from businesses based in Colorado and a nearby state, Missouri. They are very passionate about remaining local and reflecting its Colorado roots by promoting clean living and respecting nature. Every year, Polar Bottle donates thousands of dollars worth of products to conservation groups.
They also aim to reduce their environmental impact by manufacturing and sourcing materials locally. This in addition to the water bottles being refillable and having a lifetime guarantee to help keep more plastic out of landfills is to be applauded.
Popular American Made Polar Bottle Products
Insulated bike bottles
Mountain bike bottles
Insulated sports bottles
Kids sports bottles
You can browse their inventory here.
Popular Polar Bottle Products Not Made in the USA
Related Articles