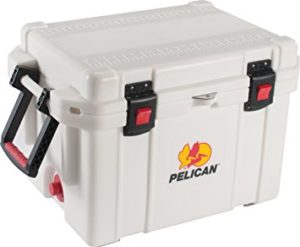 Created by scuba diver enthusiast, Dave Parker from his garage in Torrence, California in 1976, Dave set out to create innovative safety products for fellow divers. Following his brainchild, the 'Pelican Float' which he used to mark locations for divers, Dave then looked to create sturdy, durable waterproof cases. Initially meant to hold first aid kits, this soon grew into creating high-performance temperature-controlled airtight cases.
Designed to be roughed around, submerged, and heavily used, Pelican cases are used in many industries including military, firefighting, and law enforcement. Their product range includes cases for guns and ammo, cameras, vehicles, travel, everyday, and accessories. They also offer portable lights, bags, drinkware, and coolers.
Pelican is so sure of the durability and performance of their products that they provide a lifetime guarantee with their hard-sided coolers. But after 45 years of creating these products, we ask – are Pelican coolers made in the USA? We did the research to find out.
Verdict: Are Pelican Coolers Made in the USA?
Most Pelican coolers are made in the USA, however, they do have some that are not. These are typically soft-sided coolers.
Their product pages clearly list ones that are American-made with a 'Made in the USA' stamp under the product description or on the image of the top of the cooler. No further detail is given about the manufacturing, materials, or where the materials were sourced, which we're following up with their team about.
Some of their cooler product pages don't have the 'Made in the USA' stamp, suggesting that they're not. However, they don't specify where these products are manufactured or where the materials are sourced.
This is also backed by their 'Made in the USA' products having a lifetime guarantee on them. Ones that don't have this stamp do not have this guarantee. The AAR team has reached out to Pelican to find the specific country of origin for these products.
Though Pelican can still be found in Torrence with its 200,000 square feet of manufacturing space, Pelican is now a multinational company, operating globally with 11 manufacturing facilities, 23 international sales offices, and multiple service centers around the world.
It's great that many of their coolers are still made in the USA, though it would be helpful if they were more specific about where their other products were made and where materials are sourced.
Popular American Made Pelican Products
20QT Elite Cooler
30QT Elite Cooler
45QW Elite Wheeled Cooler
50QT Elite Cooler
70QT Elite Cooler
80QW Elite Wheeled Cooler
95QT Elite Cooler
150QT Elite Cooler
Popular Pelican Products Not Made in the USA
Dayventure Sling Cooler
Dayventure Backpack Cooler
14QT Personal Cooler
Related Articles