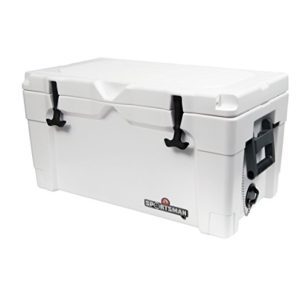 Igloo is a staple American brand when it comes to coolers. They got their start in 1947 producing metal water coolers for construction workers. They merged with Production Tooling Company in 1960 and changed their name to Texas Tennessee Industries (TTI) and began to manufacture what we know them for best today: ice chests. Their first all-plastic version was born in 1962 and it was off to the races from there. Today, Igloo produces over 500 cooler-related products and is headquartered in Katy, Texas. But are their coolers still made in the USA? We did the research to find out. Our verdict is below.
Verdict: Are Igloo Coolers Made in the USA?
Only some Igloo coolers are made in the USA and manufactured in their facility in Katy, Texas. The rest of their coolers and other accessories are made in other countries like China.
This news isn't shocking to us given the size of the Igloo Products company today. They have over 1,200 employees and have passed through the hands of numerous private equity firms over the years. Westar Capital purchased them in 2001, followed by J.H. Whitney & Company in 2008, and then ACON Investments in 2014. Typically, when large companies get bought and sold like that a lot, the new owners try and cut costs as much as possible. While we've definitely seen a lot of that at Igloo, it's nice to see that some of their products are still made in the USA. Looking at their plastic coolers in particular, 95% of them are still made in Katy, TX according to the Igloo representative that we spoke to.
We analyzed Igloo's online store and found 70 product SKUs that are made in the USA, which are clearly labeled on the product details as seen below.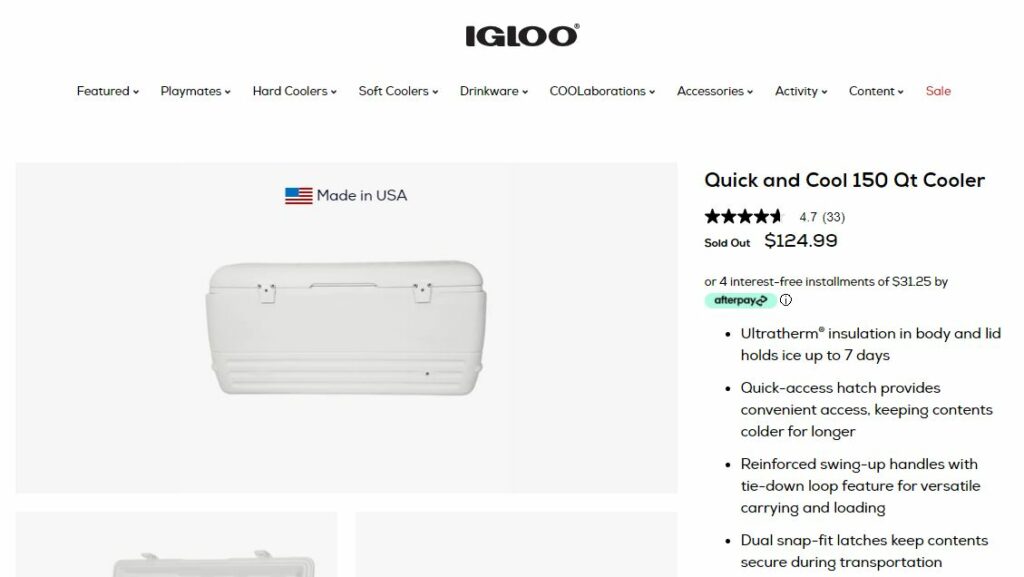 However, those 70 products are just a drop in the bucket compared to Igloo's entire product line, which contains over 500 SKUs. Also of note, we found zero soft-side coolers from Igloo that are made in the USA. That isn't as surprising though, since it's the same trend with other large cooler manufacturers – close to zero of them product soft-side coolers in U.S. manufacturing facilities.
Igloo's made in the USA coolers are reserved to hard-side coolers, their famous Playmate coolers, some water coolers, and a few other custom designs that we walk through in more detail below.
Popular American Made Igloo Coolers
Marine Coolers – A perfect choice if you're looking for a simple cooler for your trip. It's available in white and is one of the most affordable large coolers in the market.
Quick and Cool 150 Qt Cooler
Playmate Elite 16 Qt Cooler
Star Wars and Disney themed coolers
Retro Family Coolers
5 Gallon Seat Top Water Jug
6 Gallon Water Container
Legend 2 Gallon Water Jug
10 Gallon Handwash Station
Popular Igloo Coolers Not Made in the USA
BMX Series Coolers – made in China
IMX Series Coolers – made in China
Trailmate Wheeled Coolers
Legacy Coolers
All soft-side coolers
Related Articles