Parachute began as a direct-to-consumer bedding company in 2014. Founded by Ariel Kaye, an American designer, the brand was first available online only. After its founding, Parachute's popularity quickly increased.
From a sole online retailer to opening brick-and-mortar shops across the nation, the company has continued to climb the ladder of success. Their shops don't just sell goods…they also offer experiences. You can attend a mindfulness workshop or a yoga class at locations that offer community spaces.
Ariel Kaye knows home goods, and she also knows community. Establish a solid community, and you've got a loyal customer base. The brand puts a lot of effort into supporting people. This is clearly seen through their offer of a Mentorship Program for Black-owned businesses.
There is care in nearly every detail, from customer interaction to aesthetic and environmentally friendly certifications. Let's find out the level of care that Parachute puts into sourcing its products.
Verdict: Is Parachute Made in the USA?
No, most Parachute bedding and other products are not made in the USA. Parachute employs manufacturers around the globe for their products. Bedding and bath products are made in Portugal and Turkey, furniture is mostly made in India, and only a few products are made in the USA.
We spoke to customer service via the Live Chat option and got a very prompt and clear reply. This isn't always the case with brands, so it's great to see informed employees that offer quick answers.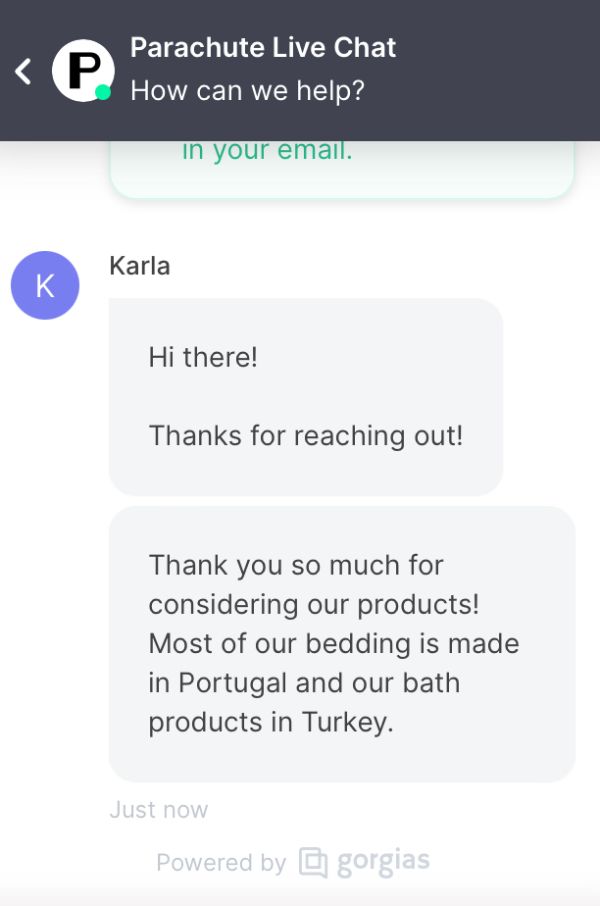 We continued the conversation and asked about items made in the US. The representative informed us that there are indeed US made items offered by Parachute. Every product listed on the website is labeled with the country of manufacturing.

Parachute manufactures its linen items in Portugal. This information is clearly displayed on the product page. Following details from the Linen Sheet Set: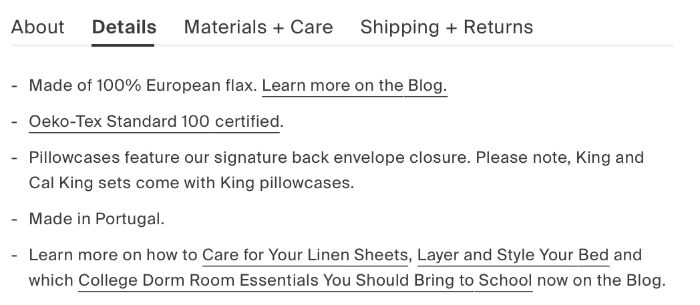 Though their bedding and bath products are mainly made in Portugal and Turkey, Parachute has items made in the USA. These items include duvet inserts, mattresses, and more.
The company goes a step further regarding items made in the USA by noting if the materials used were imported or not. This is helpful for shoppers that are more scrutinous of material sourcing. The following details are from the Down Duvet Insert: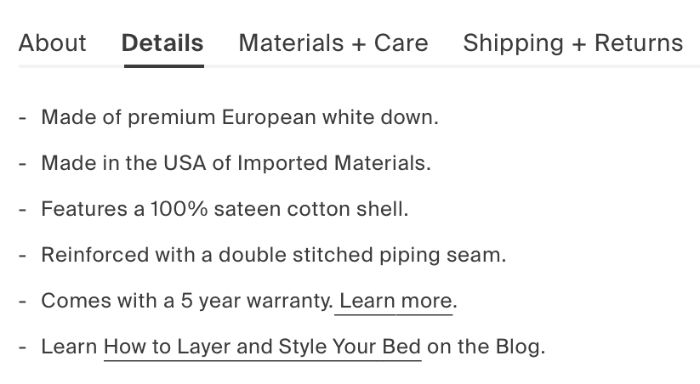 It's very easy to find where Parachute items are made. Simply check the Details section of each product! Thanks to clear labeling, you know exactly where you are shopping from.
Popular American Made Parachute Products
Eco Comfort Mattress
Down Duvet Insert
MATE x Parachute Thermal Top
*Most items use imported materials.
Popular Parachute Products Not Made in the USA
Grove Side Table
Linen Shower Curtain
Turkish Slippers
Related Articles