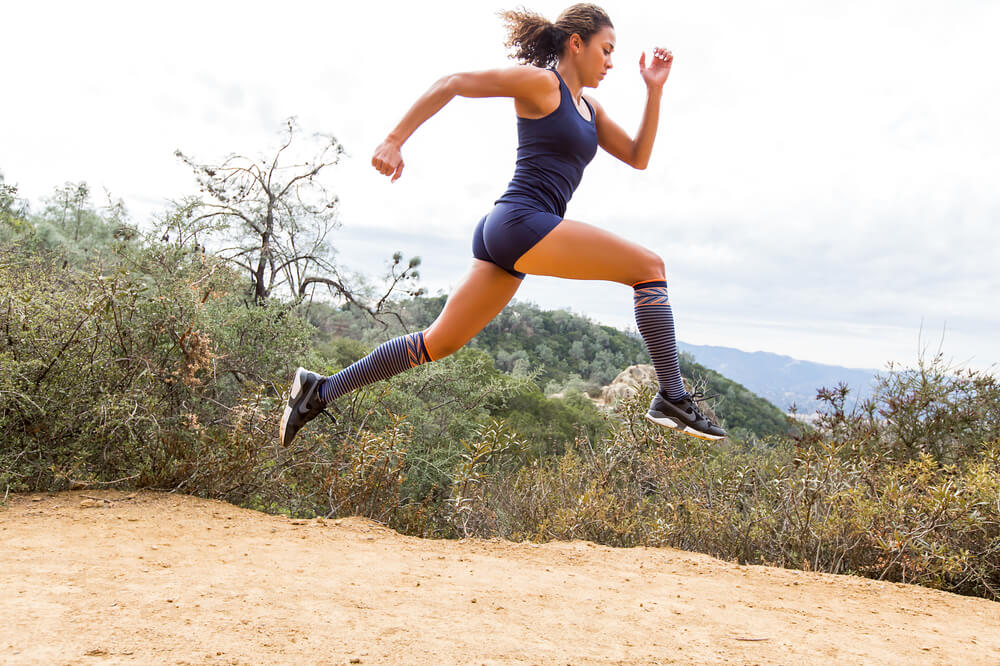 We discovered Lily Trotters when we were searching for socks made in the USA. After doing our research and testing their compression socks, we were blown away by the amount of heart and effort they put in to produce such high quality products right here in the USA. We reached out to them to hear their story in more depth, and here it is. Our questions are marked with an "AAO" label, and Lily Trotter's responses with an "LT" mark – straight from founder and designer Susan Costa-Walston. First things first before we get to the interview – a little bit about the history of Lily Trotters. Enjoy!
History and Company Overview
Lily Trotters is the only brand of designer and high-performance compression socks specifically created by and for women. An athleisure compression sock for today's busy woman on the-go. Wear them for athletic performance and muscle recovery, for long days of sitting and standing, for flying, or simply for overall vein health – without having to sacrifice a sense of style.
Lily Trotters was the brainchild of founder and designer Susan Costa-Walston, who fell in love with the way her legs felt while wearing a boring beige 15-20 mmHg medical compression sock on a long overseas flight in 2011. Seeking fashionable compression socks afterwards to wear while running and as a trouser sock, Costa-Walston couldn't find anything that hit the mark in design or comfort. Thus began her arduous journey to get her socks produced here in the USA.
By 2014, after much research, testing, and sock sampling, Lily Trotters conducted a wear-test with approximately 100 healthy women to determine the viability of and demand for compression socks as a non-medical, fashion + fitness sock. The results were overwhelming. Women of all ages and athletic abilities loved the socks and even used many of the same words to describe their experience: refreshed, rejuvenated, not tired, mini leg massagers, etc.
In August of 2015, Lily Trotters did a Kickstarter campaign to fund its first production run and to raise product awareness online. The campaign was a huge success and was fully funded in fewer than seven hours. Pre-orders poured in after the campaign ended and by December 2015, more than $64,000 of sock pre-orders were sold.
By May of 2016, the lilytrotters.com online store was launched, and in 2017 Lily Trotters started expanding into wholesale and e-tail. Today, Lily Trotters can be purchased online at lilytrotters.com, at amazon.com, and in many retailers across the USA.
AAO: Why did you start a compression sock company? What is your background?
LT: My background was in art and design, and I had a very successful 20+ -year career as a designer and Creative Director in D.C.
I took almost ten years off to raise my daughter, but as she got older I was ready for a second career. My inspiration came in 2011 when I was given boring beige medical 15-20 mmHg socks to wear on a 17-hour direct flight to Africa. I slipped the socks on as we closed our shades to sleep. I realized afterwards that I did not do what I normally did on long flights – get up, move around, shake my legs… Instead, I sat for almost 16 hours straight without moving. When I did stand up upon arrival, I was exhausted but my legs felt recharged and ready to go for a run…it was life changing! I decided I would never go back to regular socks, and I could NOT wait to get back to the US and find pretty ones.
When I started to search for better looking socks, I couldn't find any that I liked. I started to try the running/athletic compression socks that were coming out, but they were hard to get on and they were not stylish, at all. I wanted something cute and fashionable, comfortable, thin, and strong enough for long runs. When I couldn't find anything that I liked, I decided to try and make them myself, right here in the USA.
So began the beginning of this very long journey!
AAO: How did you name the company?
LT: That's actually a funny story. Often new companies name themselves with made up words (think Google) because everything clever has already been trademarked. All the cute "sock" names, like Sock-it-to-Me (a fun brand of non-compression) already existed, for example.
We threw around hundreds of ideas for months. Nothing was right. We (me, my BFF, my mom, and my daughter) were all desperate! Our ideas started to become increasingly ridiculous. Like "what about TOASTER?"… and I'd say "NO!", and we repeated that process over and over. One day as my daughter and I were running out the door, we ran past a little bird sculpture of a lily trotter that we had bought in Nairobi. My daughter Clare shouted "what about lily trotters?" – I shouted "NO" (a knee-jerk reaction at that point). But then I kept thinking about it…I ride and love horses, so of course trotting seemed good – and it suggests leg movement. Lily was the name I always said I would have named a second daughter, had I ever had one…it was feminine…so, check. And the bird has long legs…so it all just kind of came together. After a TM search showed it was available, we snagged it!
AAO: How many U.S. based employees do you have? Where are you based?
LT: Our core team of five unstoppable women includes three women in Baltimore and two in the San Francisco Bay area. Additionally, we presently have eight sales reps across the USA. Our socks are knit in North Carolina and warehoused in New Jersey.
AAO: Why do you choose to manufacture in the U.S.?
LT: I never once entertained manufacturing overseas, though I could have brought Lily Trotters to market two years sooner if I had. I really wanted to support our economy and jobs for American workers. I also wanted to make the best compression sock possible, not necessarily the least expensive produce. Furthermore, the research I did showed US mills adhered to higher testing standards to monitor quality graduated compression than overseas.
I was totally focused on making a superior and ground-breaking compression sock – a "fashion + fitness" athleisure sock for today's unstoppable woman. One compression sock with all the attributes women value; design and style, comfort, an EASY ON and EASY OFF weave, quality-tested graduated compression, cushioned heels, reinforced toes, moisture-wicking and antimicrobial finishes…all built into one marathon-strong high-performance athletic sock that fits into all women's shoes. One sock to keep women healthy in all aspects of their lives.
Their Products
Lily Trotters makes over 20 different styles of their compression socks – with more coming! As you'll read later in this article, they are launching a wider sock as well as a calf sleeve later this year. Here are some of their bestsellers as well as some additional details on their products, in their own words.
Bestsellers
Smitten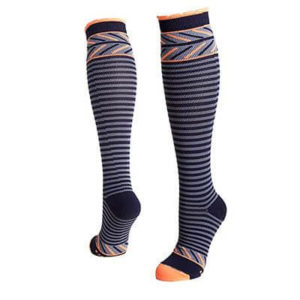 Four Kisses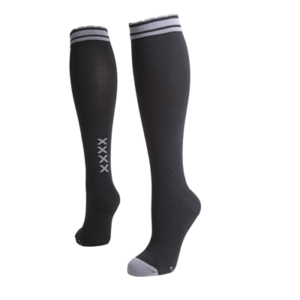 Om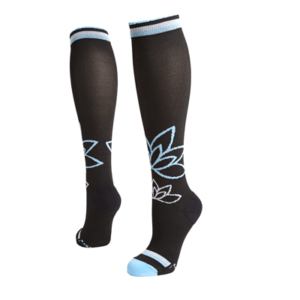 AAO: What do your customers love most about you and your products?
LT: The biggest raves we get repeatedly from consumers are a love of our designs, the comfort and ability to wear Lily Trotters for many many hours, and our EASY ON and EASY OFF weave (this is most appreciated by compression veterans, used to wrestling to get in and out of compression socks).
AAO: Why are compression socks so important?
LT: The bottom line is, you can wear moderate* compression to just feel good! But you can also wear compression to enhance athletic performance, speed up muscle recovery and reduce lactic acid, keep feet and legs from swelling during flights or pregnancy, and to promote overall leg health.
*moderate compression is 15-20 mmHg – the strongest level one can technically wear without a doctor's Rx. 20-30 mmHg (which is tighter) and stronger levels are used by doctors post-surgical procedures and to manage a host of health conditions.
AAO: How are Lily Trotters different than other compression brands?
LT: We are the only brand in the compression market dedicated to outfitting today's female athlete in style. There is no other compression sock brand specifically targeting women and offering sophisticated designs.
Additionally, though Lily Trotters have the same technology and features of other performance brands, our socks are thinner, more comfortable to wear for many hours, and our EASY ON and EASY OFF weave is a game-changer for women used to wrestling with other compression socks. Lily Trotters offer unique designs, longevity, performance technology, top-quality compression, and we are proudly Made (with love) in the USA.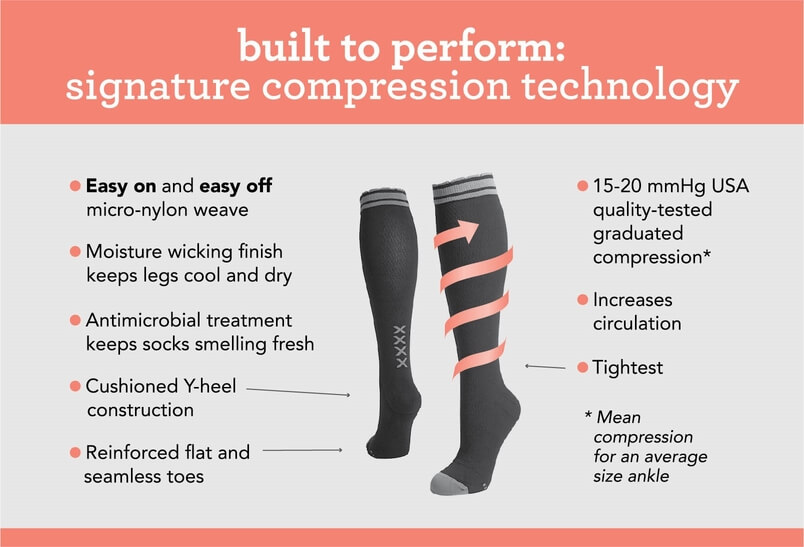 AAO: How long can someone safely wear compression socks?
LT: Anyone wearing compression socks for a health or medical issue should follow the direction of his or her doctor for safe length of use.
That being said, I personally wear 15-20 mmHg moderate compression all the time. Every day. I have personally been in my Lily Trotters compression socks for 36 hours straight – or more. And so have a number of our consumers who have written to us and shared their stories.
Running the Business
AAO: What does it mean to you to be a women-owned business?
LT: It means a lot to me! I love that we women developed a product for women, that they love. A product women didn't know they needed or wanted until they experienced us. We always say "to wear us is to love us" and that sure is true. It all starts with my amazing core team of super-bright, highly talented and 'unstoppable' women. I couldn't ask for more dedicated or more passionate teammates.
AAO: What's most gratifying for you?
LT: For me personally, it is hearing from actual customers that our socks are changing their lives. All I have ever really wanted to do was to help women, in all walks of life, to live better by simply changing their socks! I love how Lily Trotters has evolved to be way bigger than just about little ole me and my story.
The Future
AAO: Are you excited about the future? What can we expect from Lily Trotters?
LT: What's super-exciting for me is the enthusiasm with which our socks are received on a regular basis as more and more women try compression for the first time, and also when a veteran compression wearer discovers how much better they look and feel after changing to Lily Trotters. We are best known among and associated with runners, but we have many other types of athletes who love the brand! I hope to see a growing, robust, and multi-faceted Ambassador program that includes some of the professional and elite cyclists, equestrians, tennis enthusiasts, and golfers who presently sport and wear Lily Trotters. I really love seeing our brand exposure grow in such an organic and authentic way.
Regarding new products, we will be releasing calf sleeves later this year and are exploring the viability of other compression products. We definitely want to offer a third and larger 'wide calf' size so that even more women who need our socks can find something for themselves.
AAO: Will you be doing men's socks too?
LT: Someday, yes!
AAO: Is there anything else you'd like me to make sure readers know?
LT: I don't know…like Mikey said for LIFE cereal? "Try us, you'll like us"! Compression really is for everyone.
AAO: Thanks so much!
LT: Thank YOU!