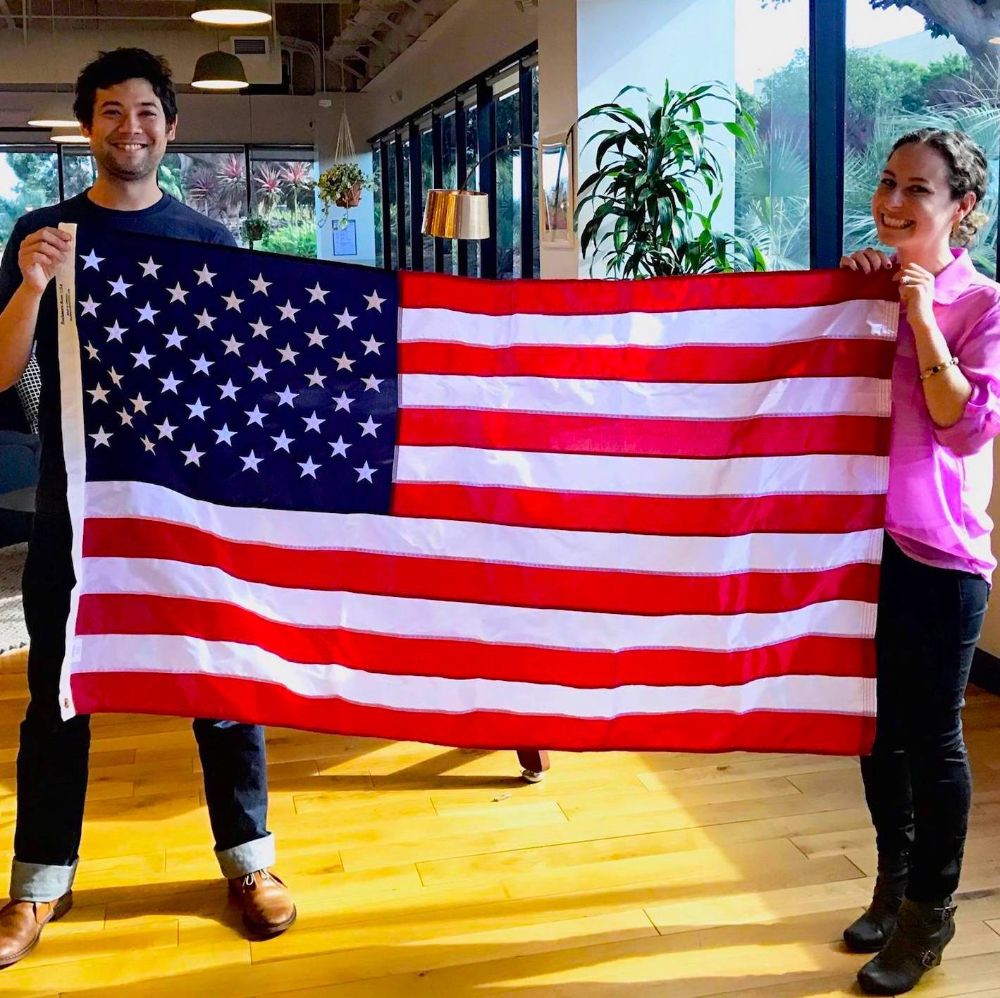 We do a lot of research around home goods and the bedding industry, searching for the best brands that are making their products 100% in the USA. While researching bedding and sheets about a year ago, we came across an amazing brand making their sheets from wonderful California grown Supima cotton – Authenticity50.
We tested their pillows, sheets, and towels and were immediately hooked. Since testing, I personally bought more, and now Authenticity50 pretty much owns my bedroom (sheets, pillows) and bathroom (towels). Those towels are sooooo soft, y'all.
Anyways, I digress…
We knew after testing that we had to reach back out to Authenticity50 to get the full story – how they got started, the people behind the products, what drives them to produce 100% in the USA, and what they are up to today.
Today, I'm very excited to share with y'all an exclusive interview with Steph MacDonald, who co-founded Authenticity50 with her husband Jimmy. We get into everything from their history to their future and take an exclusive look at their production process, from "Seed-to-Stitch" all right here in the USA. Our conversation is below! My questions are marked with "AAO" and Steph's responses with "A50." I hope y'all enjoy the Authenticity50 story as much as we did!
A Look Inside Authenticity50
AAO: Give us a look inside the history of Authenticity50. How did y'all grow up into the company you are today?
A50: First off, thanks for spotlighting us! We appreciate you taking the time to share us with readers of All American Reviews, and your support of our products.
Authenticity50 is the leading retailer of American-made premium home goods. We proudly offer heritage quality bedding & bath, ethically made 100% in the USA from Seed-to-Stitch®. Our mission is to make the best products we can, authentically in the 50 States, supporting small towns and communities from coast-to-coast.
When we first launched Authenticity50 a few years ago, we only offered our Signature Sheet Sets and Duvet Covers. But we've seen enormous interest develop, and over the years, customers have asked us to expand our product line. We now offer Essential Cotton Towels, Custom Comfort Pillows, Comfort Temp Duvets and new this year, Heritage Blankets!
After countless national press features, including a primetime ABC World News segment, it's clear to us that people are looking to spend a little bit more for high quality products that are ethically made right here. We've also cut out traditional retail and distribution costs, since we sell directly on our website authenticity50.com – so we're able to offer amazing locally-made home goods at prices that beat out overseas-made luxury brands!
AAO: What made you want to get started?
A50: My husband Jimmy and I co-founded Authenticity50 in 2015 via a successful Kickstarter campaign. We love supporting small businesses here and buying things that are made in the USA is important to both of us. We both come from entrepreneurial families with small businesses, so I guess you could say it's in our DNA!
When we got married, we wanted to begin our new life together by outfitting our home with high quality American-made items. We knew they'd be worth the investment; they'd last for years, and be superior in quality to items made abroad. However, we couldn't find a luxe set of sheets made here! We learned that the sheeting and textile manufacturing industry all but left our shores in the 80's, due to cheaper production costs overseas. We realized that the problem was bigger than finding the right set of bed sheets—jobs, communities, even whole towns were at stake.
So, we set out to deliver long-lasting, luxury products at an incredible value to customers— authentically made right here in the 50 states, from Seed-to-Stitch®.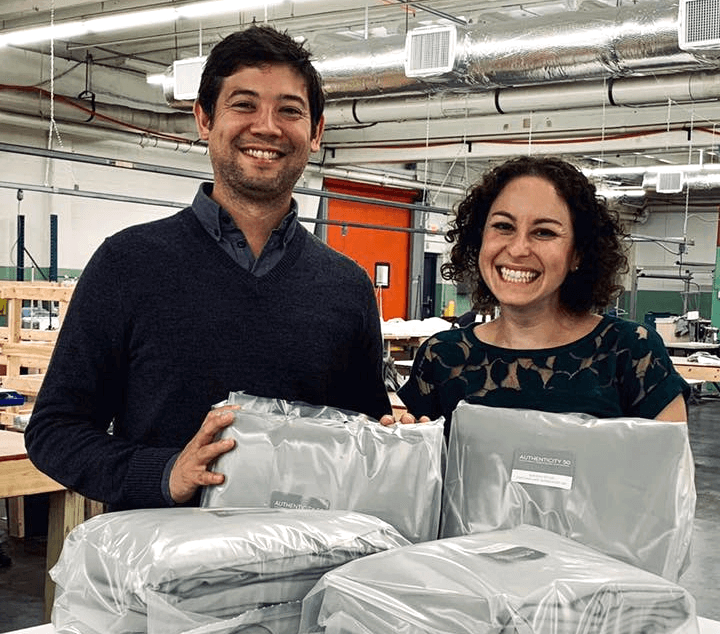 AAO: How many U.S. based employees do you have and in what locations?
A50: We're a small, family-owned business, with team members located around the country. Through our manufacturing partners, and our entire product line, we're supporting over 1,000 hard-working Americans in small towns and communities from coast-to-coast.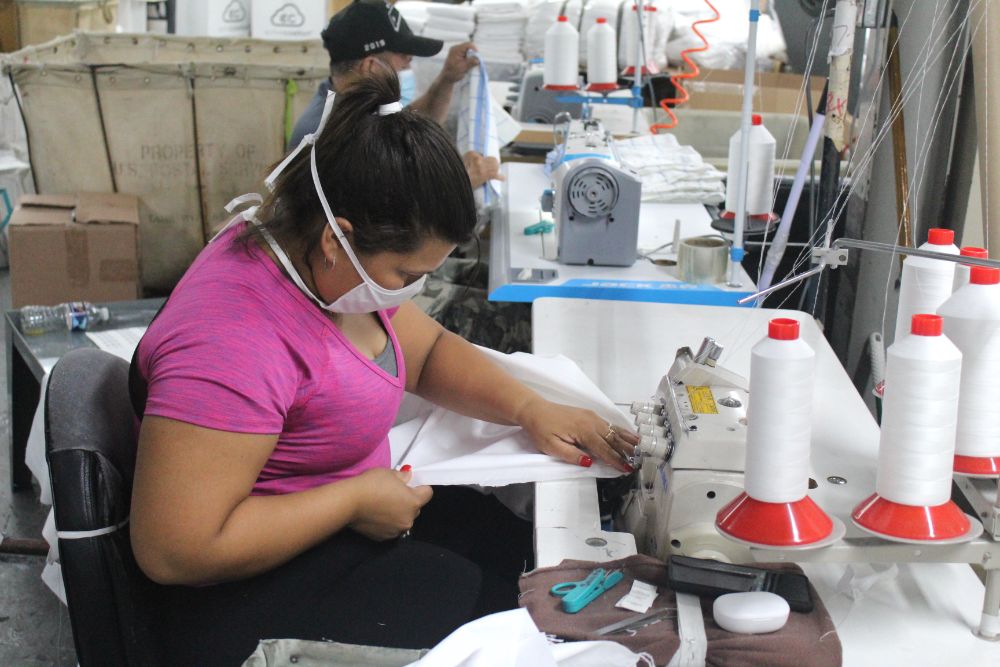 AAO: Why do you choose to manufacture in the U.S.?
A50: Our decision to manufacture our products 100% in the USA really boils down to two reasons. First we want to offer the best products – that are crafted with care, and mindfully made, with attention paid to the smallest details and components of every one of our products. We don't just manufacture the final product here, every single step of the production process happens locally in the USA – it's a process we call Seed-to-Stitch®. Our 100% domestic supply chain allows us to work closely with our manufacturing partners to ensure that our products are the best available on the market and durable to last years of use.
Secondly, is the fact that US-manufacturing has been on a steady decline since the 1900's due to off-shoring. We're working hard to reverse this trend. There was a point in time when more than 90% of textiles in American homes were manufactured here. Today, we are down to less than 3%. At Authenticity50, we take great pride knowing that with the help of our customers, we're able to support local communities and jobs so that skilled manufacturing workers can make a living wage and provide for themselves and their families.
Our Favorite Authenticity50 Products
AAO: Below are some of our favorite products from Authenticity50. They have just about everything you need for bedding and like I mentioned above, their towels are super soft and absorbent. Check them out!
Signature Sheets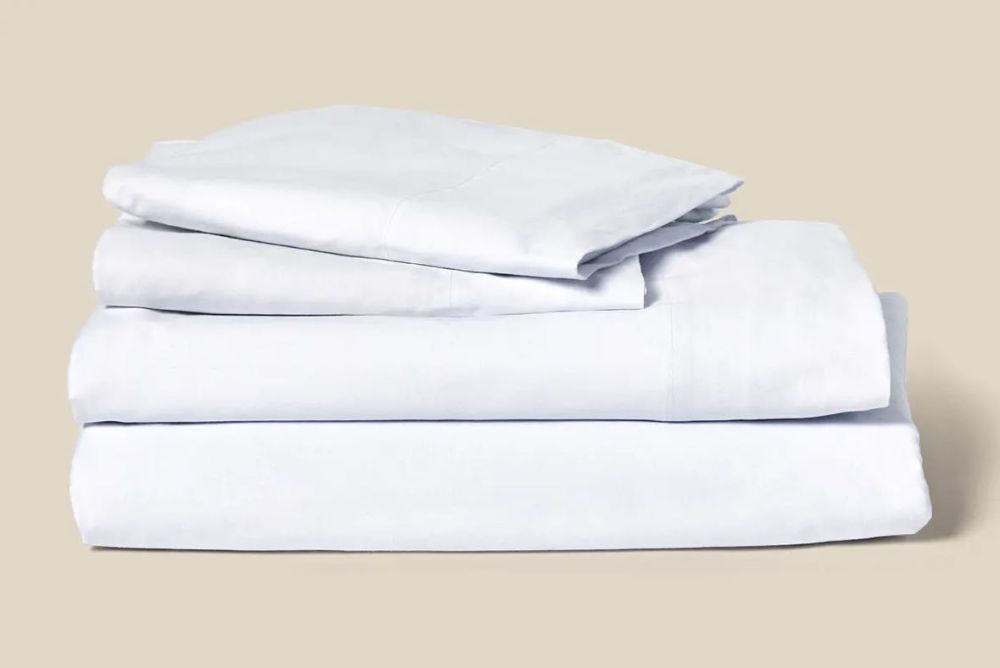 A50: The sheets that started it all. Light, airy, and better with time, our best-selling Signature Sheets are made from premium, California-grown Supima® cotton. Our percale weave provides superior softness and cool comfort for a luxurious night's sleep. Rest easy knowing your sheets were made in the USA—supporting local communities from Seed-to-Stitch®. Currently available in our Signature White or Carolina Gray.
Essential Cotton Towels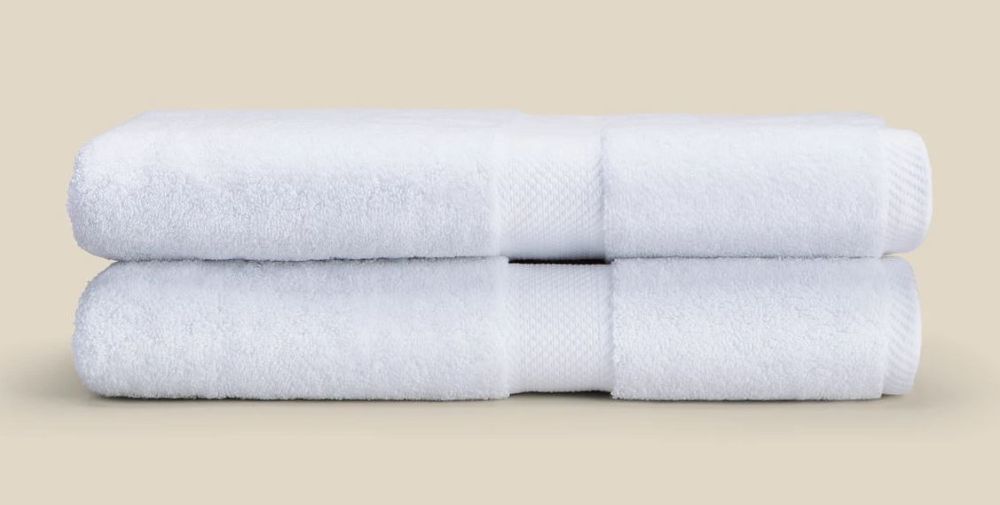 A50: Want that spa like feeling at home? Our thick, white, 100% cotton towels are designed from the ground up to be the softest, most comfy towel you've ever used. Ringspun Supima cotton loops and an over-sized design that you'll love every day. And proudly 100% Seed-to-Stitch® made in the USA – supporting local communities from coast to coast.
Custom Comfort Pillows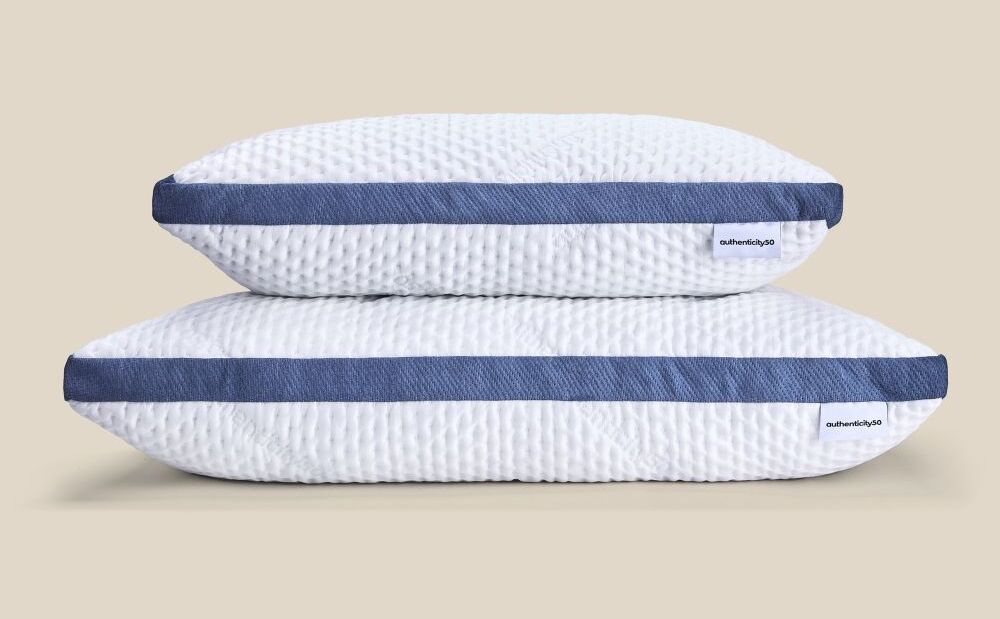 A50: Soft, cooling, and hypoallergenic, our hugely popular pillows are customizable – get the right fill and comfort level for you! A zippered side gusset allows you to add or remove fill to your liking for the perfect fit. Expertly made by hand in California, our pillows have a machine washable cooling outer cover and a shredded memory foam & microfiber blend fill that is CertiPUR-US® certified. Rest easy knowing your pillow is made with the best materials – better for you and the planet.
Comfort Temp Duvet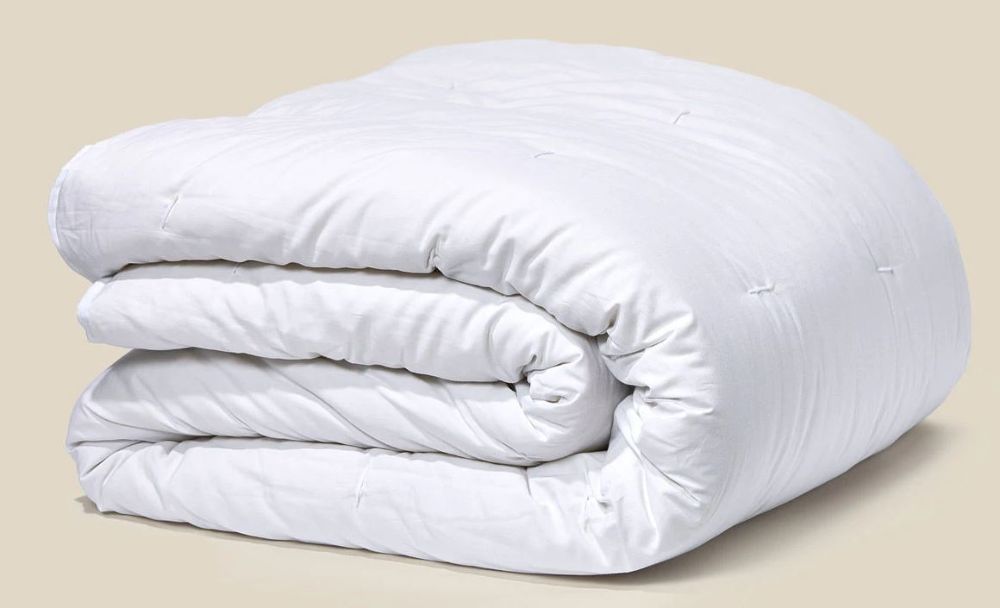 A50: Want to sleep at the perfect temperature night after night regardless of the time of year? Our Comfort Temp Duvet inserts use ethically-raised wool as the insulator for better temperature regulation. Perfect when one person sleeps hot and the other cold – no more fighting over the covers. Built to last, it's crafted by hand the good old fashioned way – utilizing our custom-made cotton ticking fabric and wool from climate beneficial sheep in California.
Community, Transparency & An Unwavering Commitment to Quality
AAO: What do your customers love most about Authenticity50 and your products?
A50: Our customers have a great appreciation for our ethical and transparent US-supply chain. There's a sense of satisfaction for our customers, they know that the products they are purchasing are made in an ethical manner with considerations for a cleaner environment. The highly skilled workers that make Authenticity50 products work in clean and sanitary environments and they are paid living wages. We invite you to take a look at our US-supply chain by visiting our website.
Our customers also love our sense of community. It's not just about purchasing a product when customers place an order with us. Through our community give back initiatives our customers are afforded opportunities to help support great causes. We created The 100K Mask Project, to manufacture and donate premium face masks to frontline heroes with our high quality sheeting fabric. Our customers stepped up to help us fund the production run, and to date, over 700 donors have helped us distribute 20,000 masks nationwide.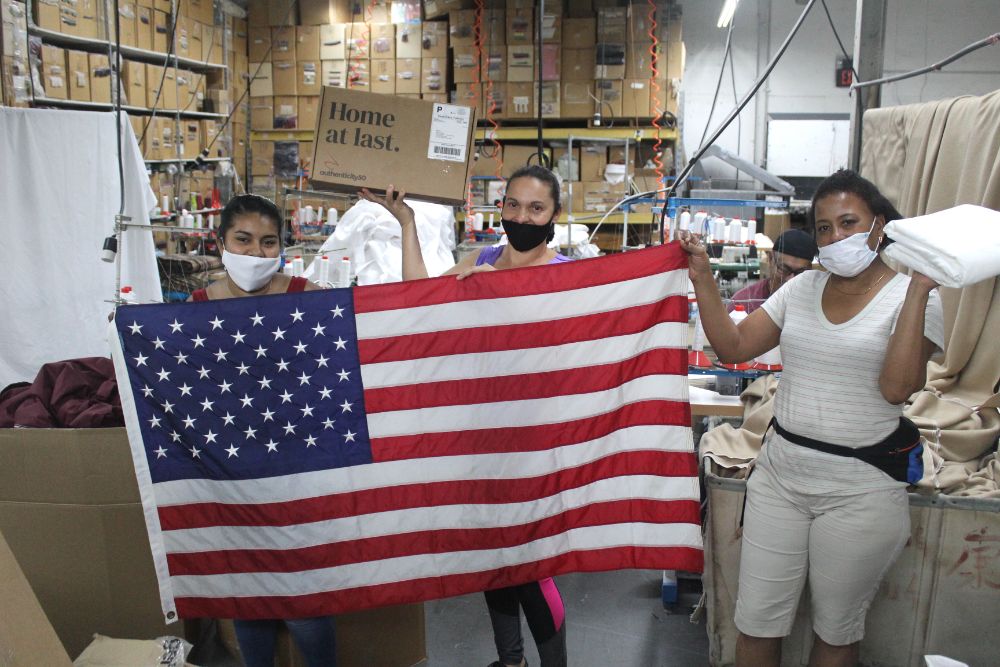 Another annual campaign that is absolutely loved by our customers is when we donate proceeds of every order to the EOD (Explosive Ordnance Disposal) Warrior Foundation, to support injured or fallen heroes and their families. Our customers love knowing that their purchases have a large and lasting impact in their very own community, and that they can help support these heroes.
AAO: What makes your products unique vs. the competition?
A50: When it comes to luxury home goods, there are few companies that authentically manufacture 100% in the USA – from their raw materials to the final product. What makes our product unique is the fact that we use only the very best components at every step of our manufacturing process to yield a much higher quality and longer-lasting product. When it comes to our Signature Bedding and Essential Cotton Towels, we only use American-grown Supima® Cotton – it's extraordinarily soft and absorbent, and considered the best cotton on the market. We don't compromise on values or quality, and we will never make things overseas.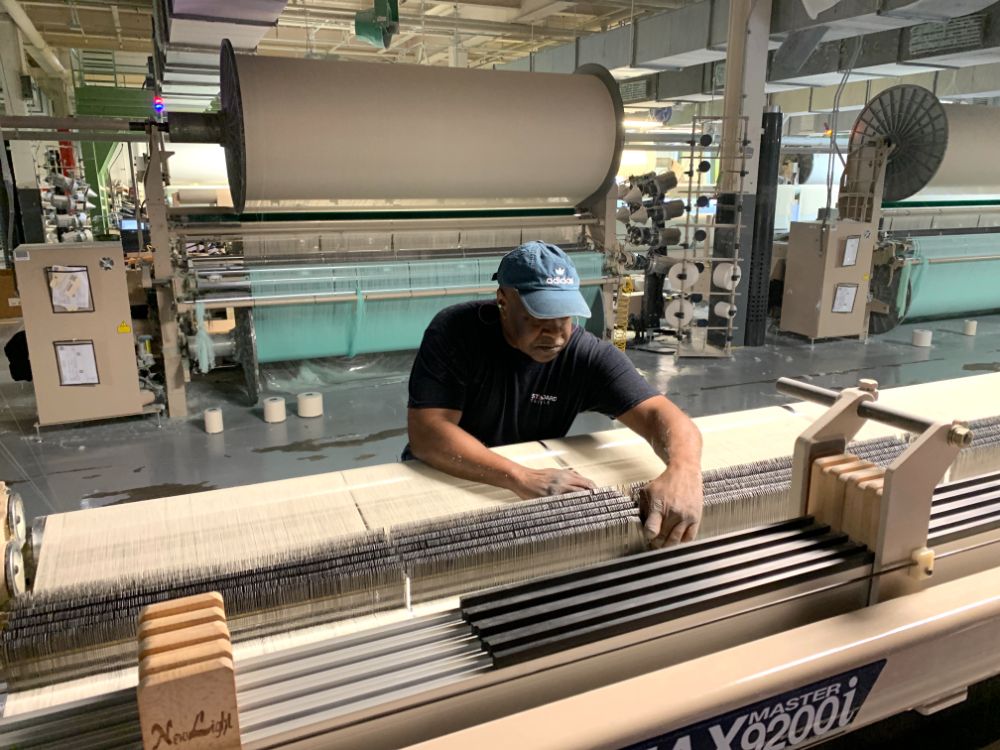 Another benefit of shopping with Authenticity50 is our 100 Night Sleep Trial policy. Customers have 100 nights to try our products out, and they get free return shipping and a full refund if they decide it's not for them. We stand behind our products 100%, and want our customers to be fully satisfied with their purchase. We know this policy makes them feel comfortable trying us out, and gives them confidence in making a purchase.
The Future
AAO: What gets you excited about the future of Authenticity50? Where are you headed?
A50: Since we started the company, we've seen a steady rise in interest from consumers for our premium products, which is very exciting! Now more than ever people are looking for American-made goods, and they also want to ensure that their hard-earned money supports businesses that do good things for their communities and planet. We're energized and inspired by our loyal customers who love what we stand for, and what we're trying to do, and keep coming back to us for their bedding & bath needs. As the leaders in this space, we'll continue to expand our offerings based on what our customers want, and continue developing the brand so that it becomes a household name! We invite everyone to join our community by following us on Instagram and signing-up on our website to receive our exclusive newsletter.

Thank you so much to Authenticity50 for sharing their story! We hope you enjoyed it and wish them the best of luck in the future.