With pieces of legislation like the All-American Flag Act gaining traction, more and more people are mandating that their American flags be made in the USA. We wholeheartedly agree and have compiled all the places to find flags that are 100% domestic. Below is our research, along with some tips at the end to help spot American-made flag manufacturers versus the ones who import their products from other countries.
Where to Find American Flags Made in the USA
---
YouTube Video: How to Find American Flags Made in the USA
---
How to Tell If a Flag is Made in the USA
FMAA Certified
The easiest way to tell if your flag is 100% made in the USA is by looking for an FMAA certification logo on the flag. Formed in 2003 by several manufacturers in our list, the FMAA is the Flag Manufacturers' Association of America and their certification process ensures that 100% of the materials and labor that go into each flag comes from the USA. Look for this badge on your flag: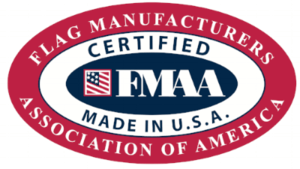 Other "Made in the USA" language
This tip seems obvious, but there are several different ways a manufacturer can message "made in the USA" without it being 100% true. For example, "made in the USA with global parts" or "assembled in the USA" means that only part of the process was accomplished in the states, using a domestic workforce to make the products, but not actually getting the materials from here. Look for clear and definitive language in their statement on the flag.
Look For a Country of Origin
U.S. Customs and Border Protection requires all products to display their country of origin. Look for it carefully on your flag! If you can't find it, look up the manufacturer online and do some research to see where their manufacturing facilities are. According to the U.S. Census Bureau, the large majority of imported U.S. flags come from China.
Read our full guide for more tips on how to find American made products.
Additional Resources