Ridge wallets have become very popular in recent years, capitalizing on the trend of switching to a minimalist, RFID-blocking wallet. The company was founded by Daniel Kane in 2013 when he launched Ridge on the popular crowdfunding website Kickstarter. Since then, the company has exploded to over $50 million in annual revenue and expanded their product line to pocket knives, key cases, pens, backpacks, and phone cases. Their claim to fame (outside of the minimalist look) is using anodized aerospace-grade aluminum, helping them withstand water exposure and high temperatures. They also offer carbon fiber and forged carbon material for many of their products. But, the question remains – is any of this stuff made in the USA? We did the research to find out. Our verdict is below.
Verdict: Are Ridge Products Made in the USA?
No, Ridge wallets and other goods are not made in the USA. They are made in Shenzhen, China.
There was zero information on their website about the country of origin for their products (I know, shocking…), so we reached out to the Ridge team to confirm their manufacturing locations.
Remember folks, sometimes a simple message can do the trick when you're looking at a specific brand.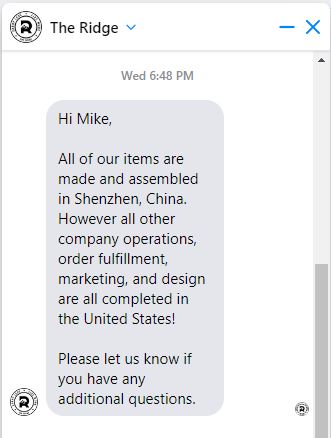 We aren't incredibly surprised about Ridge's lack of transparency on their website; that just seems to be the norm these days for a lot of new consumer goods startups like them.
Ridge preaches "quality materials" in all their marketing. I'm sure they are sourcing carefully, but especially with the types of metal they use, it seems like you can get better quality with U.S. suppliers.
Anyways, below are some of their most popular products and where they are made. I also listed some of our related research to find better American made alternatives for wallets and other goods.
Popular American Made Ridge Products
Popular Ridge Products Not Made in the USA
Wallets – China
Keycases – China
Knives – China
Pens – China
Backpacks – China
Phone cases – China
Related Articles