Bombas has exploded onto the scene in the apparel industry in recent years, getting it's start in 2013 and made famous on the hit TV show Shark Tank, where the founders (David Heath and Randy Goldberg) received an investment from Daymond John. They are headquartered in New York City and have a very mission driven story. For every pair of Bombas socks (or other product) that is purchased, they donate an item of clothing to a homeless shelter or charity. Since their founding, Bombas has donated over 40 million pairs of socks. In terms of their product lineup, they make socks for men, women, and kids in a lot of varieties – athletic socks, casual socks, dress socks, and more. They also recently started selling t-shirts. Just a few years ago in 2018, they passed $100 million in annual revenue. So, with all that success, are they supporting American jobs alongside their charitable donations? We dug in, our verdict is below.
Verdict: Are Bombas Socks Made in the USA?
No, the majority of Bombas socks are not made in the USA. They are primarily made in Taiwan and China, and their t-shirts primarily come from Peru.
This isn't incredibly surprising in the apparel industry and follows a sweeping trend over the last several decades of outsourcing manufacturing overseas. While we love that Bombas is fighting homelessness with their donations (a phenomenal cause, keep up the awesome work), we were disappointed to not see that same passion on supporting more local jobs.
Unfortunately, the country of origin is not readily available on their product details pages (see screenshot below). They have one help article on the topic, but it's rather vague.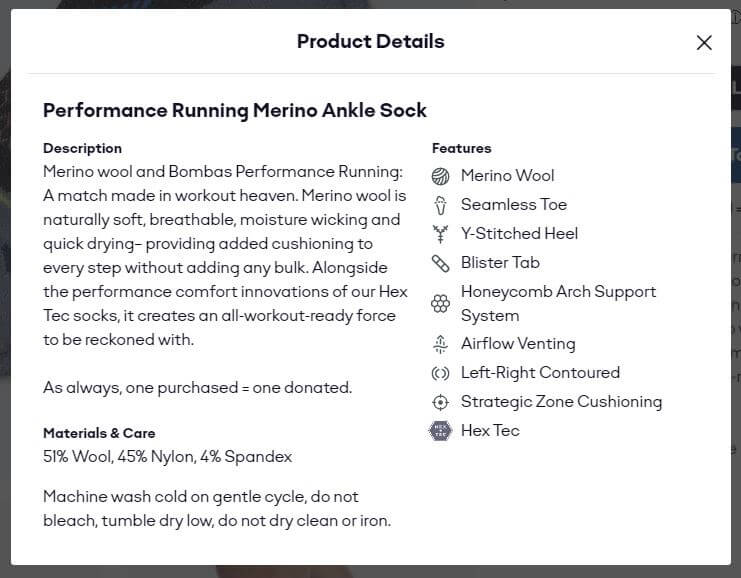 So, we did more research, some secret shopping, and messaged their support team several times to get the answers.
We only found one of Bombas's products that is made in the USA. More details about our findings are below.
Popular American Made Bombas Products
Merino Wool Dress Over the Calf Socks
Popular Bombas Products Not Made in the USA
Pima Cotton T-Shirts – Peru
Men's and Women's Performance Running Socks – China and Taiwan
Men's and Women's Merino Wool Calf Socks – China and Taiwan
Men's Dress Calf Socks – China and Taiwan
Baby Socks – China and Taiwan
Related Articles
Make sure to check out our YouTube video on how to find socks made in the USA as well, I mention our research on Bombas at the end of the video.