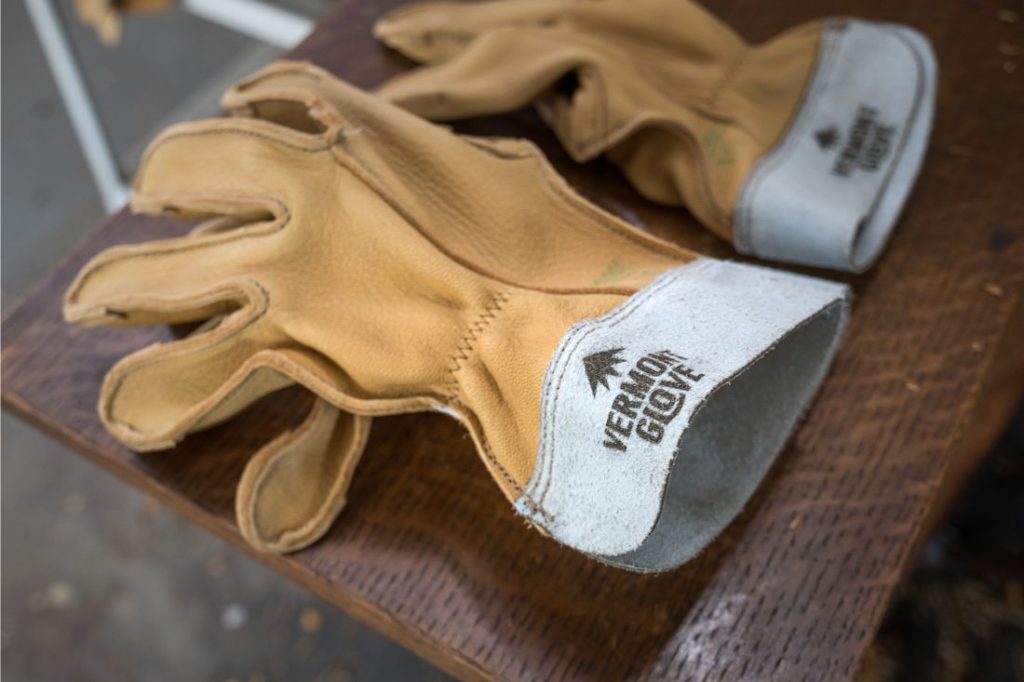 We first came across Vermont Glove mid last year, funny enough, right after we published our research on gloves made in the USA. After reading about their products, story, and American craftsmanship, we knew that we had to try a pair. So, we ordered the popular Farmer gloves and ended up tested them for several months (you have to give leather gloves like these time to break in). We LOVED them. So much so that we ordered a few more pairs for personal use! We knew after that moment that we wanted to get to know the team at Vermont Glove a lot better. So, we reached back out to them heard all about their story, their mission, and everything in between from their current owner – Sam Hooper. We really hope you enjoy this edition of our Spotlight Series! Our questions to Sam are marked with "AAO" and Sam's responses are marked with "VG".
History of Vermont Glove
AAO: Give us a look into the history of Vermont Glove. How did you grow into the company you are today?
VG: Founded in 1920 in Randolph, Vermont, Vermont Glove is deeply revered for our long heritage and history as a family-owned and operated company. We are stubborn as hell and committed to functional design and the highest quality materials and methods. We've always done things the right way rather than the quick and cheap way. For all 100 years of our history, we have been dedicated to hand stitching gloves right here in our small rural community of Randolph, Vermont, and we plan on being here for the next 100 years.
Originally, we started as a silk dress glove company. The current iteration of Vermont glove started in 1929 when founder Richard Haupt developed new designs of leather protectors and work gloves for electrical power line workers. Over the next several decades, Vermont Glove, then Green Mountain Glove, grew to be one of the largest suppliers of heavy-duty utility gloves for lineworkers across the country.
As the global trend of moving manufacturing overseas to cheaper labor markets, and a consolidation of the utility industry, Green Mountain Glove endured several decades of hanging on by a thread, while remaining committed to manufacturing in Vermont. Through booms and busts, world wars and the brink of bankruptcy (several times); we have persevered for many reasons and many people's efforts, but above all, our gloves have pulled us through.
I bought the company in January of 2018 with the goal of continuing to make the same bombproof gloves right here in Vermont, but introduce them to a new generation of consumers looking for a high-value work glove made in America by a socially responsible company.
AAO: What made you want to get started?
VG: My parents and grandfather both wore Vermont Gloves as I was growing up on the family farm. We make maple syrup in the spring, kept a small dairy, cut hay in the summer, and cut and split all our own firewood, among the other 5,000 things one does on a small homestead in Vermont. When I was old enough to be working long days on the farm but young and dumb enough to think I was saving money by buying cheap things, I wore generic hardware store gloves and would blow through 5 pairs every winter. I finally wised up and bought a pair of Vermont Gloves, and I couldn't believe my hands. They were soft, tough as nails, and I could feel my work while working with them on. To cap it all off, my first pair lasted two full years (To take a quick math detour, that's the equivalent of 10 pairs of hardware store gloves for ol' Sam).
Ever since then, I've had a pair of these gloves in my truck. When I found out that the company wasn't doing well, I dug in a bit and got to know Kurt and the history of the company. I couldn't bear to imagine the nightmare of this local company, in business for almost 100 years, making the best product in the industry just disappearing overnight. So, I took matters into my own hands, became an apprentice and eventually bought the company. Here we are two years later, with a fresh gust of energy in our sails and a whole lot of excitement for the next 100 years of business.
AAO: How many U.S. based employees do you have and in what locations?
VG: We currently have a team of eight people, who all work in our factory in Randolph, Vermont, where we have been located since 1920. Our current factory, which we've manufactured in since 1960, is a historic milk plant building, which has three stories of glass windows overlooking the original hardwood floors and historic sewing machines, which we still use. The factory has been converted to be net-zero in the last 2 years, with new insulation, solar panels on the roof and a wood pellet boiler.
Our historic, modern factory exemplifies both our commitment to actual sustainable business practices and our balance of honoring our history with our forward-thinking creativity that is the foundation of our company culture.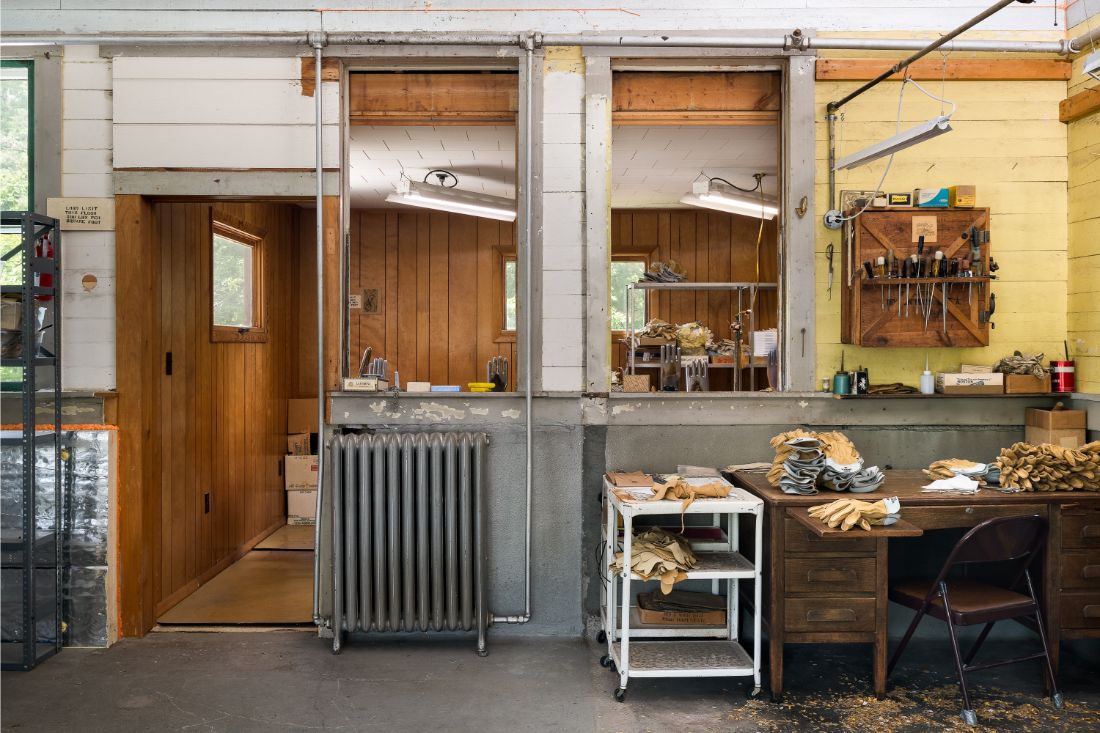 AAO: Why do you choose to manufacture in the U.S.?
VG: We manufacture in the US because it matters. The way for us to make the best gloves in the world is to make them ourselves. We are the stewards of 100 years of specialized craft knowledge of how to make the best goatskin work gloves, and we are committed to maintaining and building upon that equity, built by the 4 generations of the family who owned the company before us.
We manufacture in Randolph, Vermont because that's where we live, and where the company has lived for 100 years. By manufacturing in Randolph, we have an enormous opportunity and responsibility to positively contribute to the well being of the residents of Randolph and the town of Randolph. Our purpose is our mission, and by manufacturing here in Randolph, we are able to create jobs and illuminate our values everyday by supporting our community with a thriving, responsible business right here in town.
Featured Vermont Glove Products
VG: At Vermont Glove we think thumbs are pretty darn important, so we put a ton of energy and ingenuity into creating a unique pattern to allow your prime time fingers to kick some ass. We've engineered a way to keep the seams away from your high use areas, including a seamless pointer finger, and outseams that roll away from your fingertips with use. We have also reinforced the high-wear zones on the palm to make a unique Thumb Junction that is both tough and flexible. We know it works because we've been making our gloves this way for over 75 years.
Right now, in addition to our robust line of utility gloves, Vermont glove features three main products for consumers, all constructed with our signature thumbs: The Farmer, The Vermonter, and The Chopper.
The Farmer
VG: The Farmer is our bombproof heavy-duty glove for people who demand the most out of their gloves. The Farmer starts with the leather and finishes with the stitching. We use a heavier gauge goat hide for our Farmer to ensure it stands up to endless use and abuse. We ensure the stitches outlast the leather featuring a heavy-duty nylon thread. Like all of our gloves, we double stitch fingertips seams for added protection and durability. The farmer is capped off with a double-walled palm and rugged cowhide cuff. MSRP $100.
The Vermonter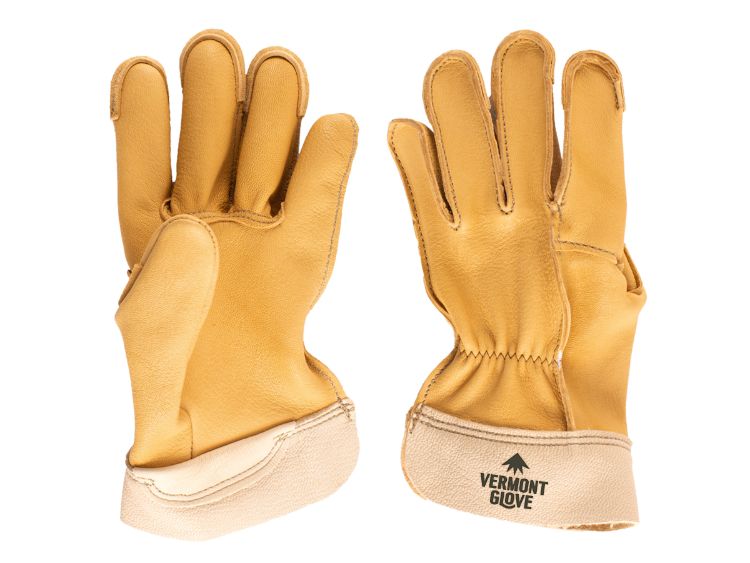 VG: This is the Farmer's more refined little sibling for everyday use that is for best use around the house, at the woodpile or in the garden. The Vermonter uses a buttery soft gauge goatskin leather and is built for comfort. Don't worry it doesn't skimp on the Vermont Glove details, it still features our signature thumb design and double stitching of all figure tips for durability and protection. MSRP $100.
The Chopper Mitt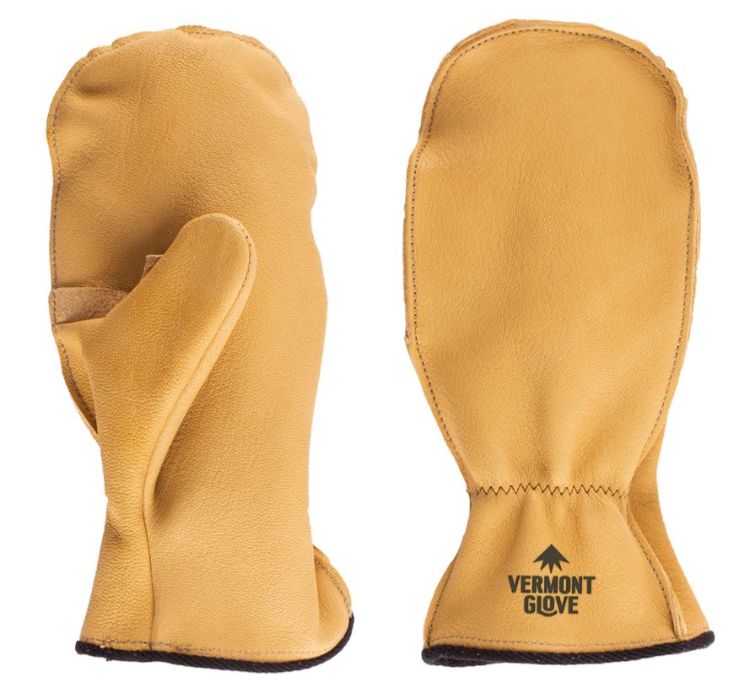 VG: It's freezing cold and you still need to get work done. This is the go-to mitt. Featuring all of Vermont Gloves touches including supple yet durable goatskin leather, our signature thumb design, and double stitched in heavy wear areas and outside seams for maximum comfort. This is the last mitten you will ever need. MSRP $85.
All three gloves work with our Wool/Poly blend liner for added warmth and wicking during the colder months. The liner is available for an additional $10 dollars.
More Than Just Gloves
AAO: What do your customers love most about Vermont Glove and your products?
VG: Our customers love that our gloves work really well for a really long time, plain and simple. Our gloves are excellent. More than that, though, our customers love that the Vermont Glove brand stands for something more than profit. We are deeply, actually committed to environmental stewardship, to social accountability and extreme quality. We put our money where our values are and invest in sustainable energy, high-value employees, and the most effective materials and processes to make our gloves. This results in a premium product that works really well and makes our gloves reflect our high values of everything that goes in, from our supply chain to the hands that make our stitches.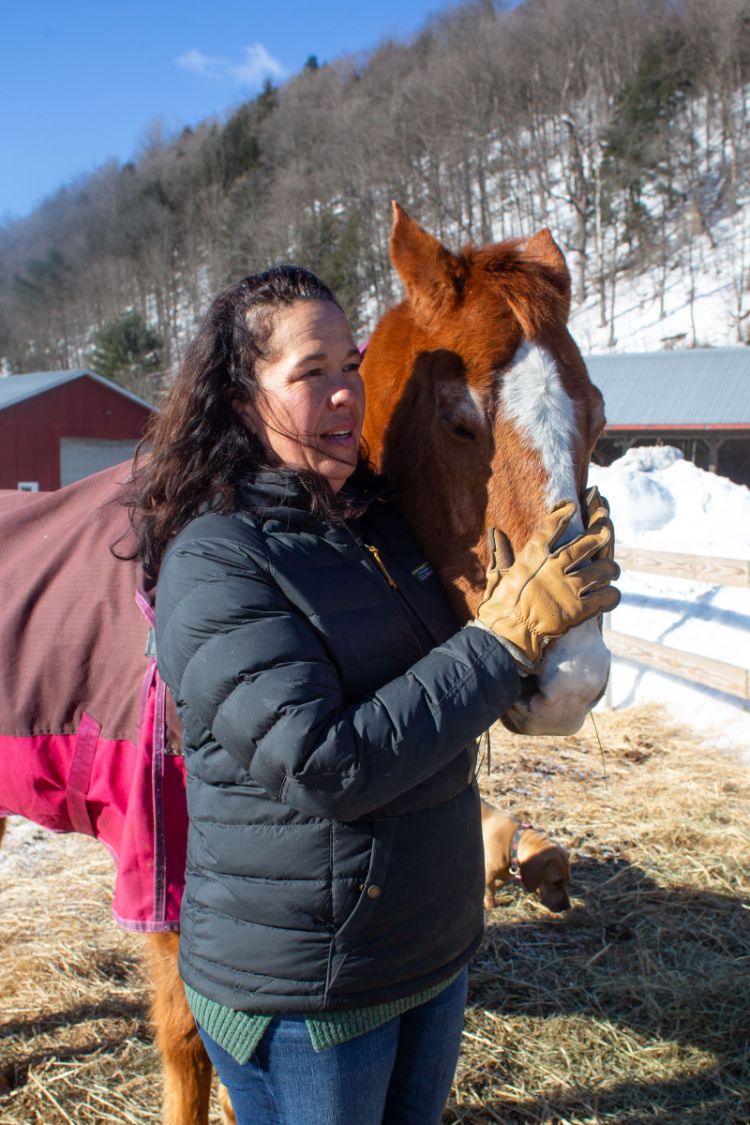 AAO: What makes your products unique vs. the competition?
VG: First and foremost, we've been around for 100 years, making the same excellent product. We haven't been swayed by the trends and tides. Our gloves have always been made out of goat leather, and have always been made right here in Randolph, Vermont. Our gloves are designed for trade professionals, and that means they'll work for everyone. Our product and process are driven by quality, not cost. That means that our gloves are a premium product, and that's because they perform better than most. They are high-value gloves, and you get what you pay for. Finally and importantly, we are a values-driven company. Our brand stands for quality, heritage, hard work, and creativity. We are proud to be a company that constantly strives to make a better, longer-lasting glove, without sacrificing our values or our customers' experience.
The Future
AAO: What gets you excited about the future of Vermont Glove? Where are you headed?
VG: At Vermont Glove, we are motivated by our purpose, not our profit. That means that as a modest company, we are having a modest impact. As we grow, we will create the opportunity to magnify our impact and advocate for sustainable business practices, invest in our supply chains, innovate in our operations to create more opportunities for working with natural materials, advocate for adequate and creative employee compensation, and contribute more to our local community. We have lofty aspirations to express our values through our business and hold a high standard for how we as a company can be a responsible and thoughtful members of our local, statewide, and national communities.
We thoroughly enjoyed our conversation with the folks at Vermont Glove and wish them all the best in the future!