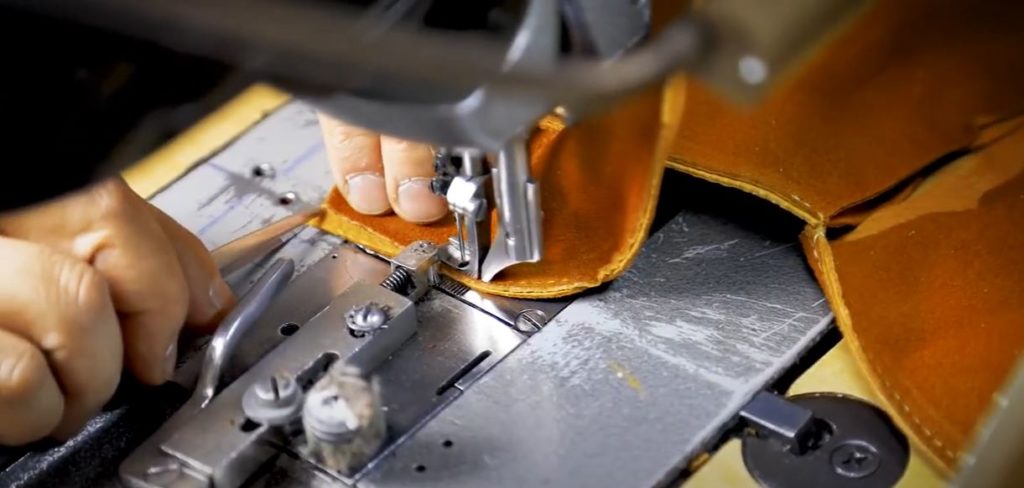 Glovemaking is somewhat of a lost art in the US. Manufacturing, much like many other industries, had a mass exodus overseas in the late 20th century, but a few great glovemakers remain. One of the great companies we found during our American made gloves research was Sullivan Glove.
We immediately fell in love with the amount of care they put into hand-stitching every glove and the intentionality of their domestic material sourcing. So, we reached out to them to see if we could hear more about their story and the people behind the gloves.
We were thrilled when we heard back from the owner of Sullivan Glove, Jake Peterson. As you'll learn below, Jake bought the company four years ago and has been on a mission to tell its storied history and offer some of the best gloves on the market today.
Below is our conversation with Jake. Our questions are marked with "AAO" and his responses have the "SG" initials next to them. We hope you enjoy this behind-the-scenes view of Sullivan Glove as much as we did.
Behind the Scenes of Sullivan Glove
AAO: Give us a look inside the history of Sullivan Glove. How did y'all grow up into the company you are today?
SG: Sullivan was founded in 1941 by Ed Sullivan during WW2 supplying gloves to US Naval yards. When the war was over, he relocated to Bend, Oregon, due to the availability of deer hides and a community of Scandinavian sewers that were present.
Until the 1980s, thousands of small hide houses received hides and processed them into gloves for the local community. As manufacturing began to be outsourced overseas, these small hide houses dried up, and only a few remained.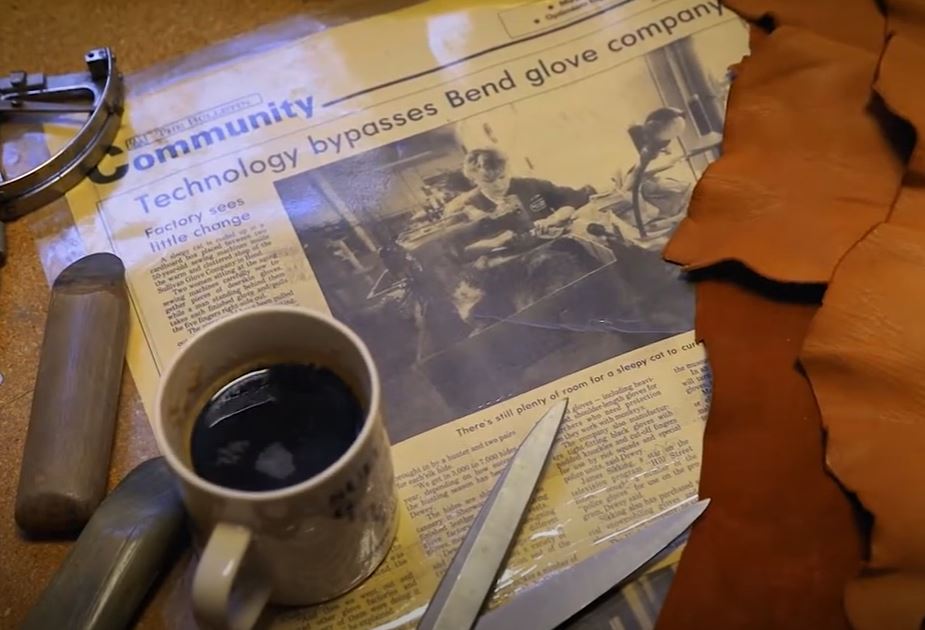 Sullivan began to focus on the Western Wear market supplying small shops with high-quality deerskin gloves across the country. In the 1990s, as western fashion faded, the focus shifted toward motorcyclists who were willing to pay the price for premium products instead of accepting cheaper imported goods.
Today, Sullivan is one of the last US glove makers, and we are actively telling our 80-year history, connecting with motorcyclists, ranchers, and durable good enthusiasts.
AAO: What made you want to get started?
SG: I bought the company four years ago after approaching the owners, who had let the company become mainly a cut-and-sew operation for other brands. I saw an 80-year story to tell, and that is what we are all about now; partnering with like brands to private label for them, but our main focus continues to be on growing our own line of heritage gloves.
AAO: How many U.S. based employees do you have and in what locations?
SG: We only have one location in Bend, Oregon, and employ seven people.
Here's a look inside the facility.
---
AAO: Why do you choose to manufacture in the U.S.?
SG: It is very hard to find labor here, and it is tempting to outsource and go the way of everyone else, but that is not our brand. The story and heritage would unravel if we chose to do that. So whether we are big or small, we stay true to making gloves in the US.
Our Favorite Sullivan Glove Products
Here are some of the most popular styles from Sullivan Glove Company and a few details about each one.
Gold Elk Roper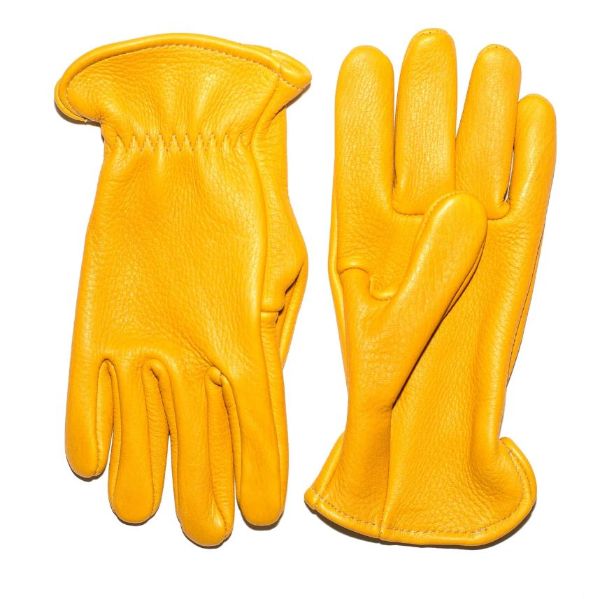 Made from 4-5oz American elk. Dyed in the United States and made at Sullivan Glove headquarters in Bend, Oregon.
View on Sullivan Glove website
Brown Buffalo Roper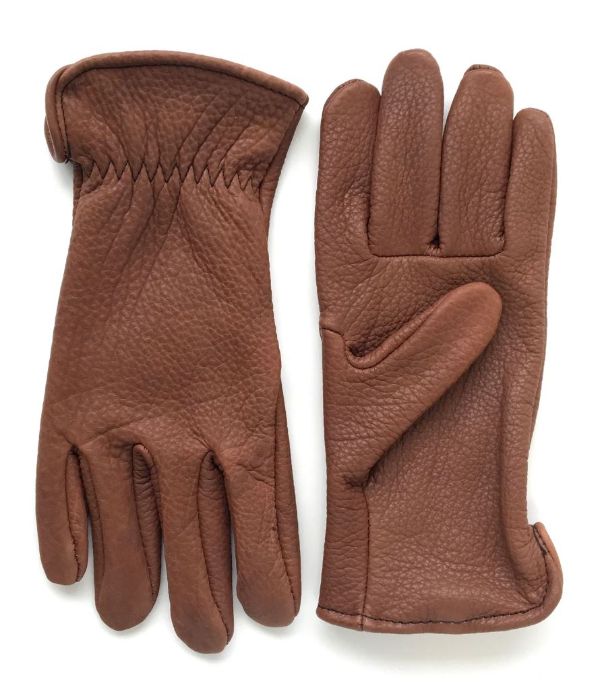 Made from heavy-duty 4-5oz American buffalo leather. They take a while to break in, but once they do, they are a hard-working glove that will last you a long time.
View on Sullivan Glove website
Saddle Deer Shorty Vintage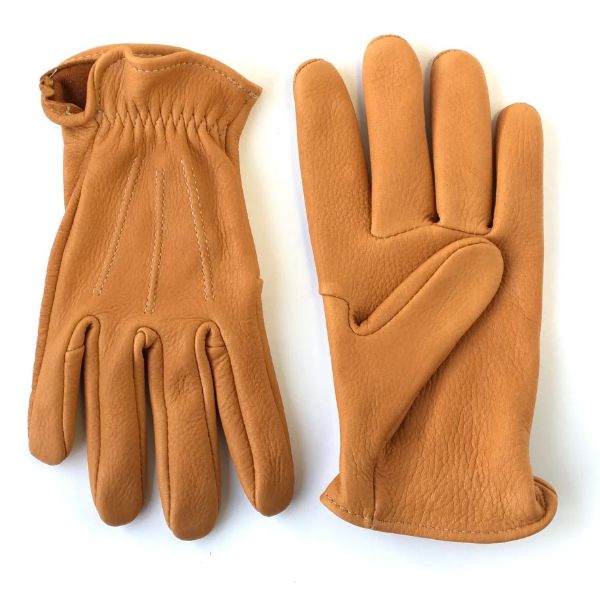 Made from soft, lightweight American deerskin. These gloves have a beautiful finish and vintage-inspired stitching on the top of the glove.
View on Sullivan Glove website
Deerskin Gauntlet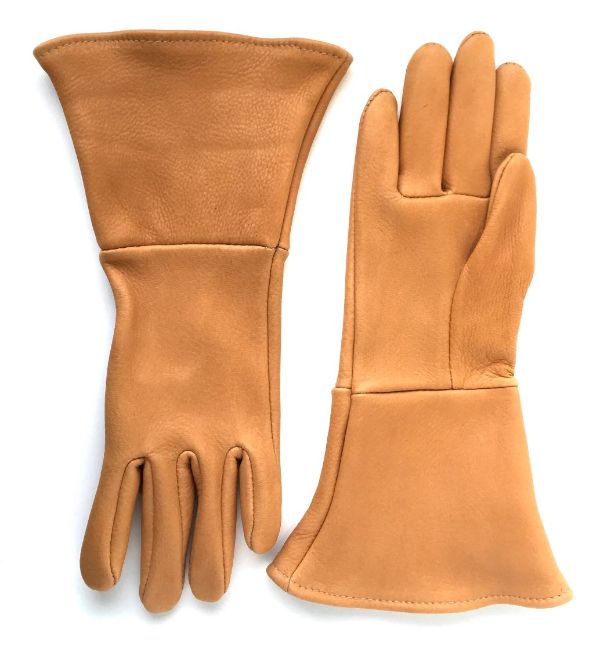 The extended cuff on the Deerskin Gauntlet gloves goes over your jacket for a warmer fit. Everything is cut and hand-sewn to order.
View on Sullivan Glove website
Time and Battle Tested
AAO: What do your customers love most about Sullivan Glove and your products?
SG: We don't have the capacity to make fancy, microstitched gloves like they do in China or Pakistan. We stick to time-tested, simple patterns and use quality hides only available in the US. The feel and the durability are like nothing you'd experience from an imported glove.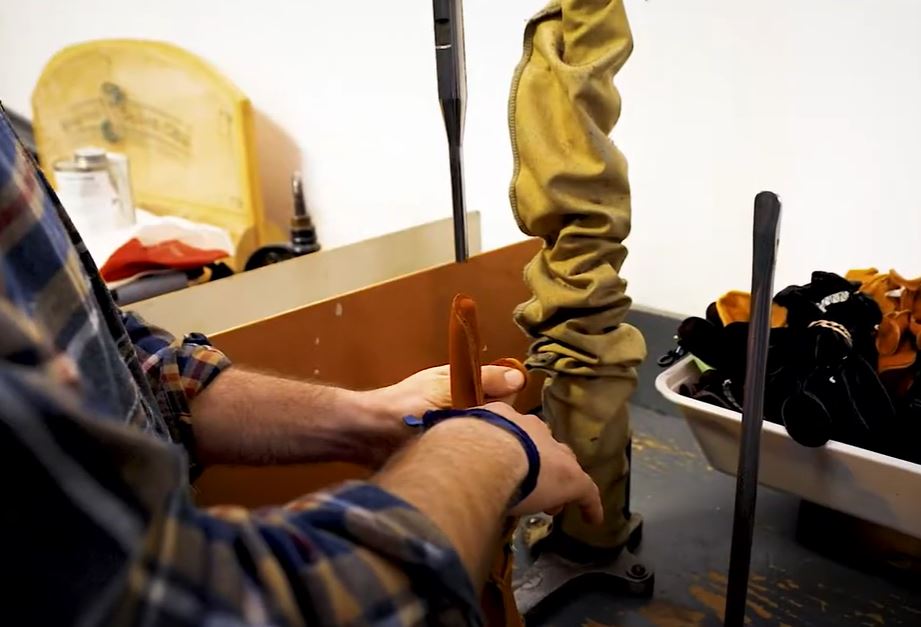 We also do limited runs if you subscribe to our email list, where we release limited items like the Moose Roper, Horween Horse Hides Gloves, or gloves with special branding like our Liberty and Justice or Western Boot Bug designs.
AAO: What makes your products unique vs. the competition?
SG: Quality leathers and construction, limited releases, and gloves that can be used in a wide variety of applications.
The Future
AAO: What gets you excited about the future of Sullivan Glove? Where are you headed?
SG: As we get our story out there, it is resonating with people all over the world; just today, we shipped three orders to Australia. We frequently ship to Scandinavia, Australia, and Japan. People want to connect with something real that exists for something more than just profits; it stands for the values of work done right, people committed to craftsmanship, and honoring where you've come from.

We wish Jake and Sullivan Glove all the success in the world! We really enjoyed hearing their story.