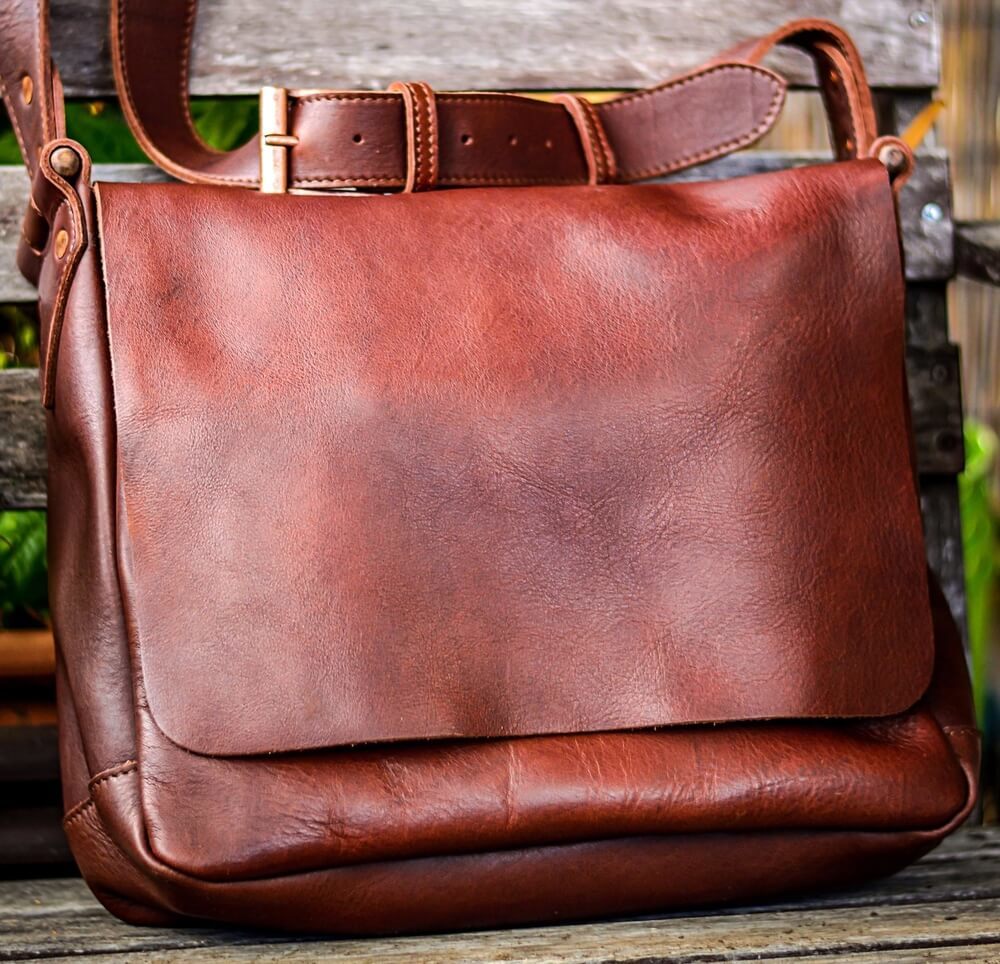 We came across Kámen Road for the first time when we were searching for handbags made in the USA and were super impressed by their American made Weekender Bag. Since then, we've had a chance to speak with Kathleen Murphy, their founder, on more than one occasion, who has been an absolute inspiration to talk to about her journey with Kámen Road. We talked with Kathleen about their history, production process, popular products, the future of Kámen Road, and much more. Check out the entire conversation below! Our questions are marked with "AAO" and Kathleen's answers are marked with "KR" for Kámen Road.
Brief History of Kámen Road
The word "Kámen" is Czech for stone, which is a perfect fit for how Kámen Road approaches their business – natural, sustainable, slow fashion. They really take the time to research how nature and their materials function, so they can produce the highest quality bags in a sustainable way. Kámen Road works with individuals and small production partners in the U.S. that share those same values and standards as well. The end results are super unique partnerships with very talented artists from across our great country, giving them a platform to express their ideas and talent, while also making some pretty awesome bags in the process. Here is Kathleen with Kámen Road's history in her own words.
AAO: Give us a insider look at the history of Kámen Road in your own words.
KR: I always had a nagging need/desire for one bag that I could carry everywhere for any purpose. I didn't want a suitcase. When I had my daughter, I was looking to make a career change from non-profit work. It was the time to realize what I wanted for myself and other people – designs for one-bag travel.
In 2012, I hired an industrial designer to sew a prototype of my design idea. In 2014, I released my first weekender bag and produced a small run outside of Los Angeles. The weekender was all about nailing the perfect size for carry-on travel in the most durable natural material. I chose full-grain leather. Within six months, I was working on my briefcase bag for people who asked for a bag that organized their items – laptop, clothes, shoes, etc. I worked from an idea that I got from the Portland Museum of Art in Oregon.
Five years later, I have found my focus – the right size bags for carry-on travel in all natural materials with the design goals of serving many purposes to eliminate the need to buy more stuff and to create job opportunities for artists and artisans through collaboration in the United States. I now work with one designer who is equally committed to my belief in nature as our design guide. I have a small group of advisers who I work with around what I call my "pillars of commitment": 1) natural materials; 2) no waste; 3) artists and artisan employment in the United States; and 4) sourcing through fair trade suppliers and through the Fibershed, which is a network of regional producers and suppliers in the United States.
AAO: What made you want to get started?
KR: My search for the perfect travel bag never went away, and I was always dissatisfied with what I bought. You hear this story often. I thought that I had found the perfect size. It was made in ballistic nylon. It was compact and strong. I did not love it but I was getting closer. Then, I'm walking through the Charlotte airport with my six-year old and "snap" – the screws of the handle just pop off – and I'm scrambling to pick up the pieces on the floor. That is what finally made me get started. I didn't know how but I knew exactly what I wanted.
I also think it started as a young child and traveling with my parents and three brothers. We traveled throughout the United States and camped everywhere in a van that my dad changed with a built-in cabinet and a piece of plywood that became a makeshift bed. We each had one small box for our clothes and it worked. I loved and still love that simplicity. I don't want stuff to distract me. I want to discover beautiful places as vast as the Grand Canyon and as intricate and extraordinary as the cliff dwellings of Mesa Verde. I really started to support an experience of travel that was simple and deeply personal. That you didn't need to carry everything; just the select few. Bags are a necessity and I want to be sure that we think through every possibility for people.
AAO: How many U.S. based employees do you have and in what locations?
KR: I employ people in Arizona, California, and New Jersey right now. I am always looking for partners throughout the country that align with our approach.
AAO: Why do you choose to manufacture in the U.S.?
KR: I live here, so I want to create opportunities for people here. I also want a great working relationship with my partners. I want to meet them and get to know them. From the beginning, my goal was to have all of my production in Northern California, but I could not find a manufacturer that could produce my bags in the way that I wanted and in the numbers that I needed. I then looked for partners throughout the United States that offered what people call "artisan or small scale" production. This can be very difficult to find, so I called tack shops and worked with a saddle maker. I posted in shoe making guilds and in leather workers guilds throughout the country. I believe so much in the importance of the personal in creating a product for people. The personal to me is creating opportunity for people in different craft areas – wool, leather, metal, textiles, wood – and also small businesses that care about quality and ethics. This is why you and your readers are so vitally important.
Featured Kámen Road Products
As you can probably tell from Kathleen's stories above, Kámen Road only makes a handful of products – but they make them damn well. Below are descriptions for each of them (straight from Kathleen) along with where to get them. We are particularly hyped about the new Coyote Thunder Field Bag, a collaboration with renowned author Obi Kaufmann.
The Coyote Thunder Field Bag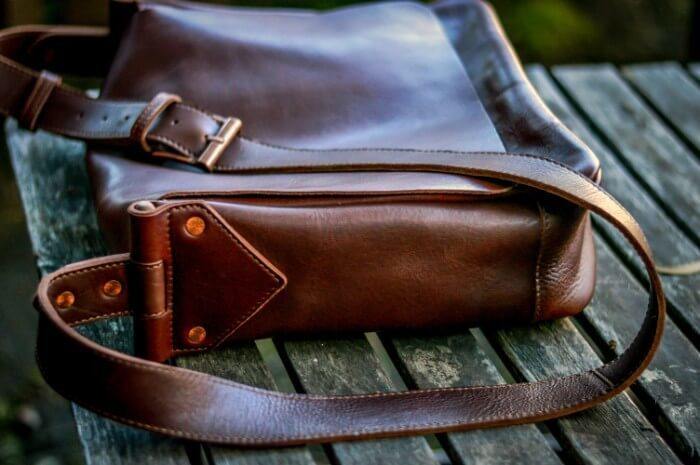 KR: In December of 2018, we completed our first artist collaboration with the author Obi Kaufmann. I discovered Obi's book The California Field Atlas and reached out to him to talk about how to promote his art. What he needed was a bag, so we created the Coyote Thunder Field Bag together. He named the bag Coyote Thunder after his social media handle. I found this amazing Horween leather called Essex. I had also been researching this idea that I had of incorporating woodworking techniques into our hardware design. With this bag, I had an opportunity to test it. I employed a leather artisan in Kansas and a furniture maker where I live to test different prototypes. It worked. The walnut wood is beautiful and the attachment minimal that also allows easy repair and custom work.
Exclusive Discount: Use the code ALLAMERICANREVIEWS to get $100 off the Coyote Thunder Field Bag!
The Weekender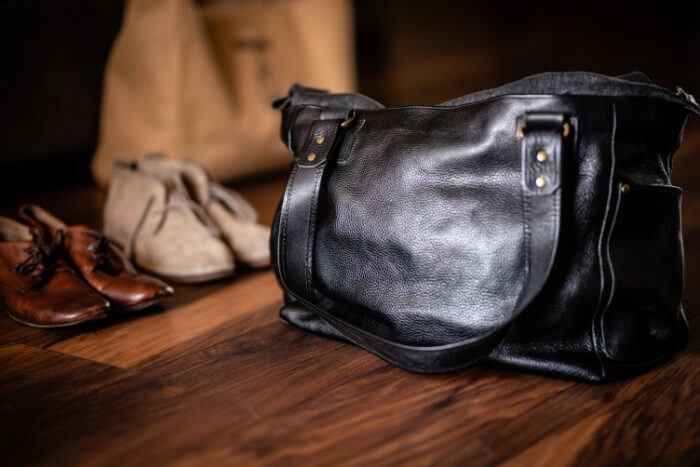 KR: Our first signature weekender offers the power of what is simple and strong with the most space for one-bag travel. I love the interior lining that is a blend of recycled hemp and organic cotton duck. I also chose a hemp denim for the top closure for our black leather weekender and a taupe hemp canvas for our British Tan leather.
The Briefcase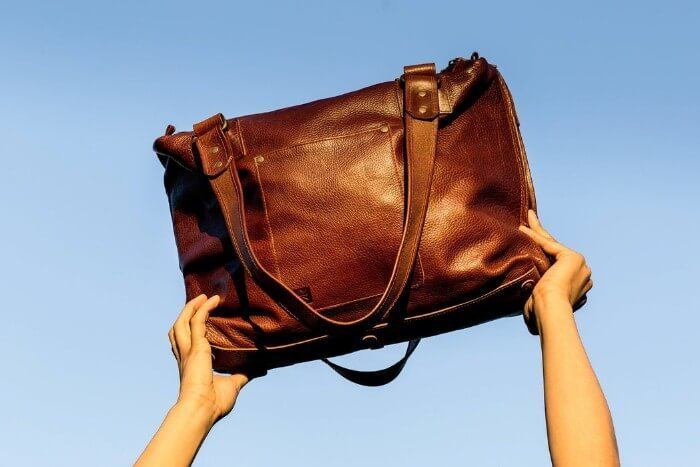 KR: My briefcase is the bag for the organized traveler. I want pockets to integrate into the body of the bag when they can. This bag has a side pocket that fits a 13″ laptop. The pocket is padded with 100% wool felt and the way it is sewn on the side divides the interior of the bag into two separate compartments so people can pack their belongings as they wish. This bag is what I love to carry for business and personal travel. My shoes go in the side pocket and I carry four to six items along with my laptop. We have the classic black leather right now, and I am rethinking some parts of this bag, which will be produced again in the fall.
KR: By June of this year, I hope to have my touring bag ready, which will have some functionality that I am very excited about. I am working with the most amazing leather maker whom I met last year who works about two hours from my home.
Bags Designed with Quality and Purpose
AAO: What do your customers love most about you and your products?
KR: I think the quality and our integrity. People always love the quality of the sewing and the quality of the materials. They can see the value. They also become very interested in the decisions that I make behind the design and the production. The material selection is also key. It has taken me years to find the right "temper" of leather, the weight, the finish. My search will never end. I use full-grain leather, but I am also looking for vegetable tanned leather with a finish that is natural as well as protective. They love that what I am creating is about making something that I love and want for myself and what I am choosing for them is the best possible.
AAO: What makes your product unique vs. the competition?
KR: That is a great question that people ask me all the time, especially marketing people. When you look at my bags, they look simple. They are not adorned with extra hardware or branding. This is intentional. I have realized that our difference is in the layers and layers of our decision making. We do not rush to market if the design and the materials are not right. We choose natural materials because of how natural material lasts and ages. When I look at synthetic materials, I recognize the value of the durability and weight but I also see the breakdown that is completely different from natural, which cannot be replicated in the unique and beautiful changes that emerge over time.
We also question everything. We are not looking at fashion trends or for ways to expand our collection. We love bags (and jackets and shoes!) but I only want to focus on bags. Bags are a necessity that matter. I don't want to just sew on straps and call it a bag. I want to think about all the possibilities of that attachment, its placement, and everything that is possible in terms of its function. Sometimes, the best answer is to sew on the straps in that way, but I think what makes us different is this love of research and the desire to create opportunities for other people through our design process.
The Future
AAO: What gets you excited about the future of Kámen Road? Where are you headed?
KR: I am very excited that we are getting closer to sourcing our leather for a new design from a family-owned tannery in the United States, which has taken almost three years. If I can do leather; then, maybe in the future, we can move into sourcing wool, linen, canvas, and hardware from small farms in this country through the regional fibersheds that I mentioned before. This would be a huge achievement and worth all the set backs, time, and investment. I am truly grateful to you and your readers who understand and appreciate what it takes to make here and how we can all make a difference in people's lives by supporting their skill and talent. Thank you so much!
We were truly humbled by our conversation with Kathleen – she is doing it right with Kámen Road! We wish her and her great American business the best of luck.