Plumbing has come a long way since the 1800s, and American Standard was part of pioneering the way into modern times. In 1875, the brand was known as the Standard Sanitary Manufacturing Company.
They're responsible for groundbreaking innovations like the one-piece toilet and built-in tubs. It wasn't until 1967, after the brand merged with a radiator company, that the name changed to American Standard. Today, they're owned by the LIXIL Corporation, a tech company that harbors many brands.
American Standard is still one of the top-producing plumbing manufacturers in North America. They employ over 60,000 people in more than 150 countries. Their headquarters is based out of Piscataway, New Jersey. The brand has been operating for over 150 years and continues to grow to this day.
With a name like American Standard, we could hope that they do all their work in America. But, with big-time business players, you never can tell. So, let's find out.
Verdict: Are American Standard Toilets Made in the USA?
American Standard products are made in Mexico, China, and the US. Their toilets are made in Mexico and China.
This knowledge wasn't gleaned from the website, but was swiftly answered by a customer service representative through email.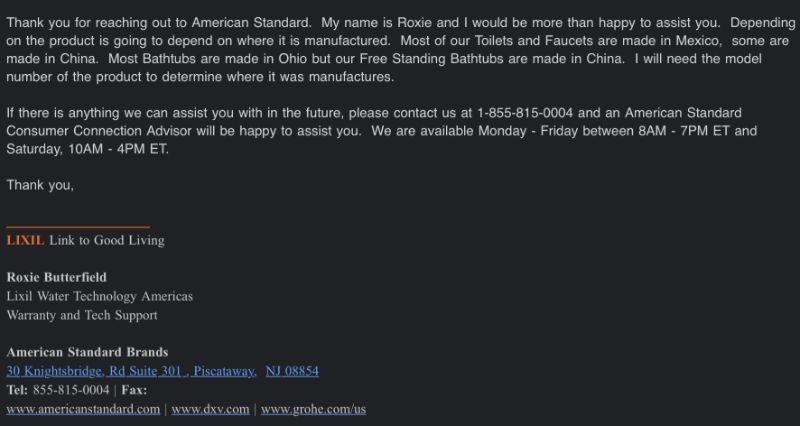 According to the rep, the majority of toilets and faucets are manufactured in Mexico and China. Bathtubs, aside from the Freestanding tubs (China), are made in a US facility based out of Ohio.
Non-freestanding tubs are a minority in the large array of products that American Standard offers. If we're talking about their bathroom fittings specifically, you'll see seats, bidets, showers, enclosures, faucets, sinks, consoles, and furniture. The brand also offers products for kitchen and commercial use.
American Standard has made so many bifurcations as a company, it's difficult to pin down any significant information about the brand ethos. The bathroom fittings industry floats around $70 billion, and American Standard is in the top tier of performers.
When shopping American Standard products, keep in mind that their only items made in the USA will be select bathtubs. The customer service employees seem very knowledgeable, unlike other brands, about where their products are made, and the information is given freely.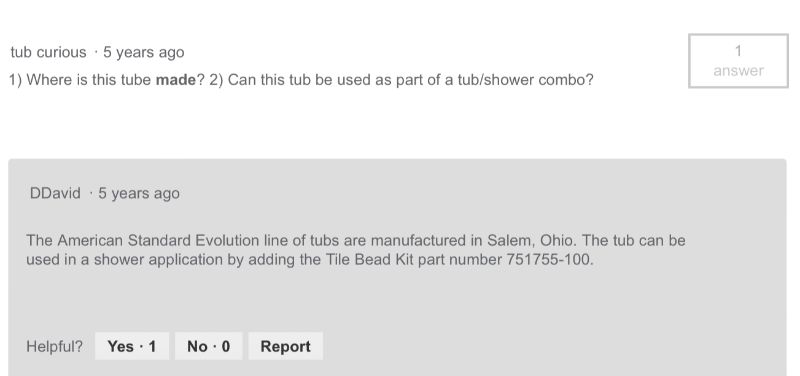 In summary, the majority of American Standard products, toilets included, are made in China and Mexico.
Popular American Made American Standard Products
Evolution 60×36 nice Deep Soak Drop In Bathtub
Town Square 60x 42 inch Drop In Bathtub
Popular American Standard Products Not Made in the USA
Tropic One Piece 1.28 gpf/4.8 Lpf Chair Height Elongated Toilet
Townsend 68x36inch freestanding Bathtub Center Drain with Integrated Overflow
Avery Touchless Single-Handle Pull-Down Dual Spray Kitchen Faucet