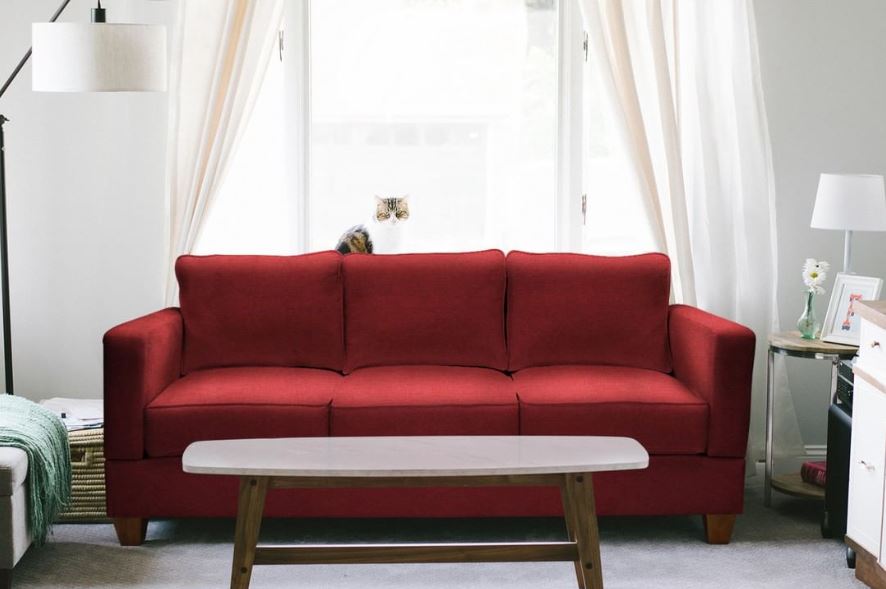 The furniture industry has a storied history in American manufacturing and we do a lot of research on all types of furniture. We first found Simplicity Sofas a couple of years ago when we were doing our research on American made sofas. As you'll read below, Simplicity Sofas focuses on making furniture pieces for small apartments that can fit through narrow doorways. Immediately, we knew that we had found a furniture company that truly cares about the quality of their pieces and the American based workforce that they support. Since featuring them, Simplicity Sofas has grown over the last couple of years and been recognized with some awesome awards (which Jeff touches on below). So, we wanted to reach back out to Jeff Frank (the founder) and team to get an update from them on how they are doing and get their entire story.
Below is our interview with Jeff Frank, their founder. Our questions are marked with "AAO" and Jeff's responses have an "SS" next to them. We hope you enjoy the Simplicity Sofas story as much as we did!
A Look Inside Simplicity Sofas
AAO: Give us a look inside the history of Simplicity Sofas. How did y'all grow up into the company you are today?
SS: Simplicity Sofas opened its High Point, NC factory in 2007, two weeks before the official announcement that the U.S. had just entered a Recession.
During Simplicity Sofas' first four years (2007 – 2010) 40% of all U.S furniture manufacturing workers lost their jobs.
The Recession was not Simplicity Sofas' only problem. The company's furniture could not be sold through retailers for several reasons. The only alternative was the Internet. At that time, furniture sales through e-commerce were just beginning. Amazon and Wayfair had not yet become major furniture sellers.
There was another problem. E-commerce has never been a good way to sell expensive custom furniture. Even today, Amazon and Wayfair's average furniture sale is approximately $600. They offer thousands of expensive pieces, but those rarely sell.
Simplicity Sofas started off slowly. In the beginning, a few brave customers, with impossibly small doors or stairways, took a chance on the new, unknown company. Every one of these early customers was so delighted with the product and the 24/7 customer service, that they recommended the company to friends and family.
Simplicity Sofas survived and grew, based primarily on word of mouth marketing. This was supplemented by extensive use of free marketing opportunities, including numerous articles, published both online and off. One of the early articles, about the company's struggle to survive the Recession, was published by the Wall Street Journal. That exposed the company to many new prospective customers.
One of the first questions asked by nearly every prospective customer was (and still is), "Where can I see your furniture?" Simplicity Sofas furniture cannot be seen in any retail store and there are no company showrooms.
But the company did have very satisfied customers. Many were eager to help Simplicity Sofas survive. They volunteered to show off the Simplicity Sofas furniture in their homes to new prospects who lived near them.
Simplicity Sofas established a network of customers who volunteered to show off our furniture in their homes. 50% of all home visits resulted in a sale.
During its early years Simplicity Sofas was completely unknown to the rest of the furniture industry.
That changed in the 6th year (2012) when I received a phone call from the editor-in-chief of Furniture Today, the primary trade publication for the furniture industry. His first question: "Who the heck are you guys?"
Furniture Today's national headquarters is located 10 miles from the Simplicity Sofas factory. The reason for the editor's call was that a press release had come across his desk announcing that Simplicity Sofas had been awarded the $20,000 grand prize in a nationwide competition for America's Most Innovative Small Business. Prior to that press release, nobody at Furniture Today's headquarters had ever heard of Simplicity Sofas.
Dimarmel, Inc. purchased the Simplicity Sofas brand in 2017. Dimarmel's owner has been in charge of Simplicity Sofas' manufacturing operations for 10 of the 14 years since Simplicity Sofas was founded. He is a fanatic about quality. I have stayed on with the company to run the sales and marketing.
Since being acquired by Dimarmel, the superior quality of Simplicity Sofas seating has been recognized by several major home furnishings blogs and independent review sites, including major home furnishings blog The Spruce, which named Simplicity Sofas one of The 8 Best American Made Furniture Companies of 2020.
AAO: What made you want to get started?
SS: I recognized a major void in the furniture industry. Upholstered furniture in the U.S. has been growing larger and more comfortable over the past 50 years. Most modern sofas and sleepers will not fit through doors or stairways smaller than 30″ in width. Millions of U.S. homes built prior to the 1950s have smaller doors or stairs that are too narrow for current sofa and sleeper styles.
IKEA solved this problem for inexpensive sofas. Ready to Assemble (RTA) furniture fits through very small spaces. That works fine for sofas selling for $299 – $799. When I first came up with the concept that turned into Simplicity Sofas, nobody in the furniture industry believed that customers would be willing to pay more than $1000 for a sofa they had to assemble themselves.
Simplicity Sofas was established to design, manufacture and sell top quality sofas, sleepers and sectionals that fit through extremely narrow spaces where other high quality seating cannot go. Prices range from $1,800 for a basic sofa to $10,000+ for large sectionals.
AAO: Why do you choose to manufacture in the U.S.?
SS: Simplicity Sofas furniture is custom-built, one piece at a time. That works best with fast deliveries of raw materials from local suppliers.
Approximately half of our furniture is built with 99% USA sourced components, including fabrics made in North Carolina. Only the wood legs are imported. The other half includes imported fabrics. When imported fabrics are used, our furniture is 90% – 95% locally sourced, depending on the cost of the fabric.
Our Favorite Simplicity Sofas Products
AAO: Here are some of our favorite pieces from Simplicity Sofas. As you can see, they make everything from your modern full size sofa to chaises, wrap-around sectionals, and more.
Lorelei 80″ Full Size Sofa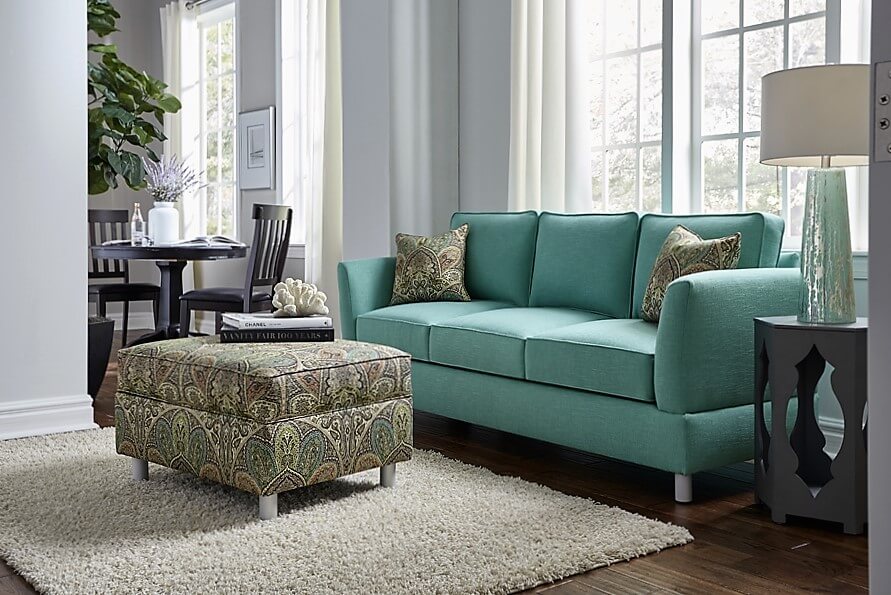 7 Seat Sectional with Bumper Ottoman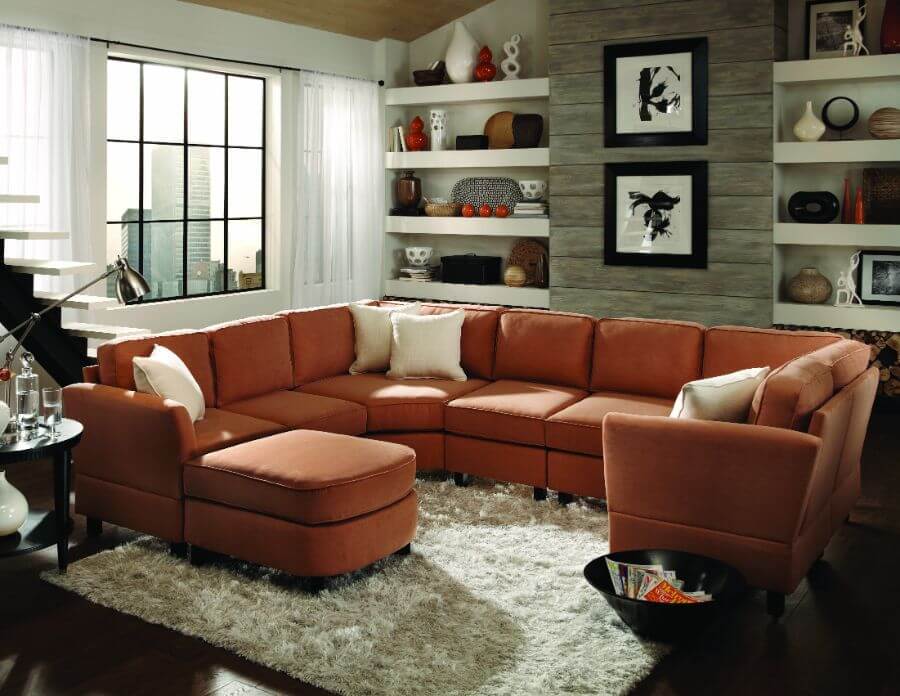 Ashton 82″ Leather Sofa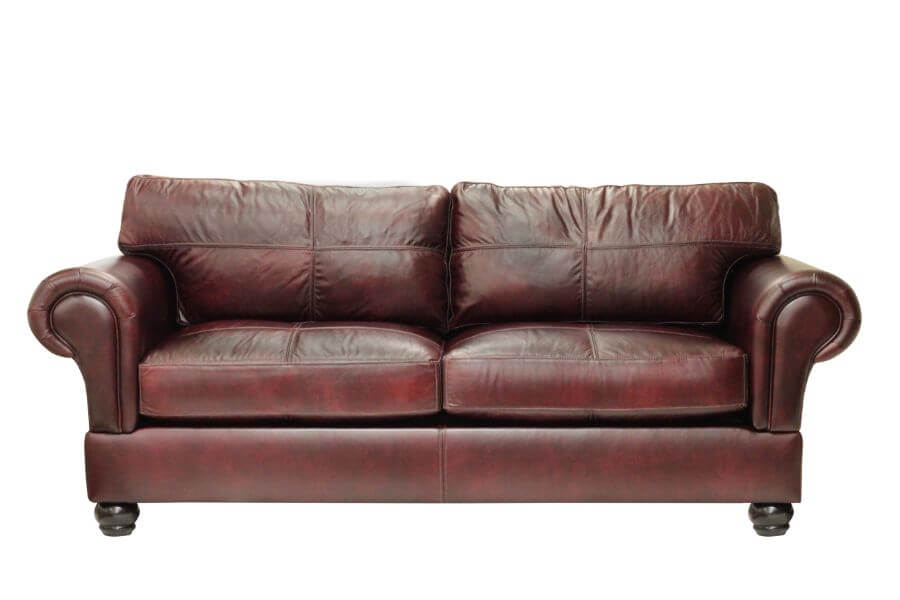 Brandon 78″ Sofa with Chaise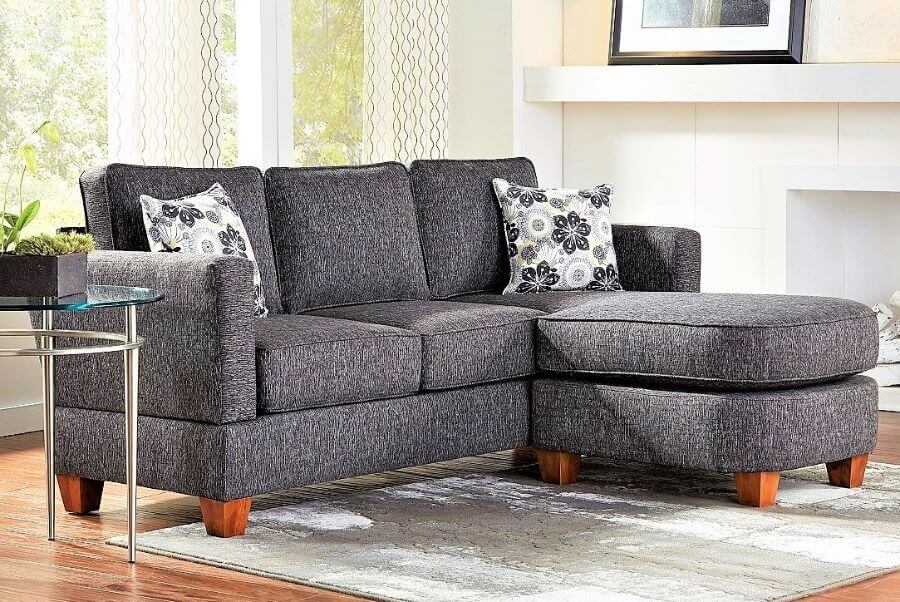 Handcrafted Quality That Is Built to Last
AAO: What do your customers love most about Simplicity Sofas and your products?
SS: The quality, durability, beauty and comfort of the furniture we build.
Simplicity Sofas' hand-crafted furniture is custom built in High Point, NC, one piece at a time. Our master craftspeople use only the highest quality materials.
We build our own frames using kiln dried Select grade solid oak lumber. Select is the highest lumber grade. It has almost no splits, cracks, knotholes, warpage or other imperfections.
Each cushion is individually fabricated by hand, in our factory, using top quality 2.5 density foam that lasts at least twice as long as the standard cushions found in most furniture stores.
Customers are amazed by the care we take to make our furniture easy to maintain. For example, all cushions have hidden extra-wide zippers that run all the way across the back and part way up the sides. This makes it easy to remove the covers for cleaning or replacement.
Simplicity Sofas makes exquisite slipcovers. Unlike most furniture manufacturers, our slipcovers are not loose and baggy and do not go over cheap muslin base fabrics. They are tightly tailored and fitted over our fully upholstered sofas. The sofas are fully functional with or without the slipcovers.
Half of our slipcovers are sold with new furniture as extra protection that can be easily removed for cleaning. The other half are sold many years after the original purchase. Slipcovers can make old sofas look brand new again. Here is an example of a slipcovered sofa.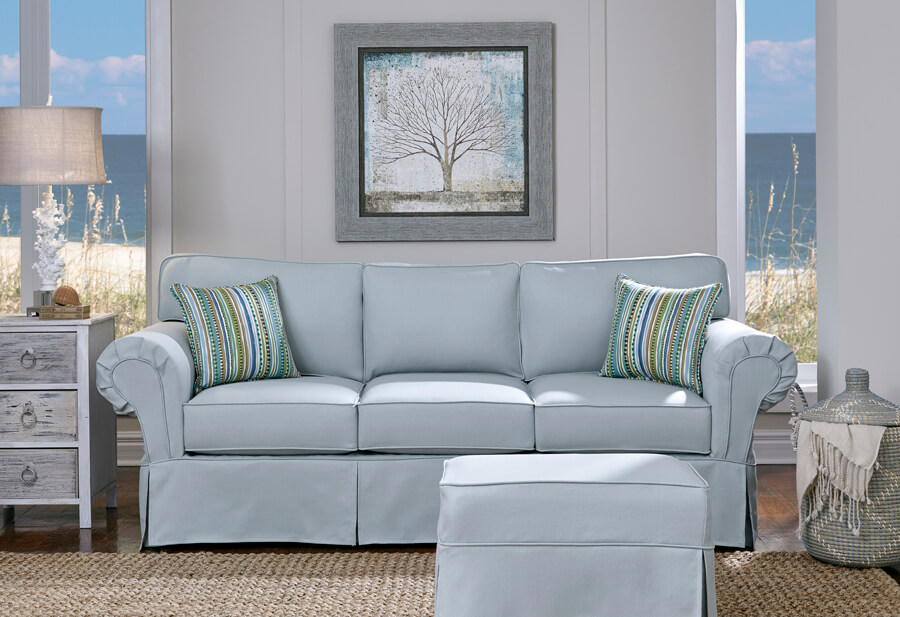 AAO: What makes your products unique vs. the competition?
SS: Simplicity Sofas is sold exclusively online, direct to the public.
Bypassing retailer markups allows us to sell our high quality custom built furniture at prices that are competitive with better quality mass produced products.
When Crate and Barrel or Restoration Hardware sells a sofa for $2,000, that sofa was originally purchased from a manufacturer for approximately $1,000. The actual manufacturing cost for that sofa was around $750 with an additional $250 added for the manufacturer's profit.
Simplicity Sofas also sells $2,000 sofas. Our costs are closer to $1,500. Because there is no retail middleman, we can sell this sofa direct to our customers for the same price as Restoration Hardware sofas that cost half as much to make.
The Future
AAO: What gets you excited about the future of Simplicity Sofas? Where are you headed?
SS: After 14 years, Simplicity Sofas still has no competition for high quality custom seating that fits through narrow doors and stairways.
Three years ago, most of our customers needed furniture for small spaces or tight entranceways. Over the past two years, our customer base has changed.
At least 50% of our current customers simply want top quality American made furniture. Most do not have narrow doors or stairs, and are not looking for small scale seating.
Several major home furnishings blogs and independent review sites have recently named Simplicity Sofas one of the Best American Made furniture companies. This has resulted in a flood of new customers. The company plans to gradually increase production capacity without compromising our quality standards.

It was awesome talking to Jeff and team at Simplicity Sofas and we wish them nothing but the best in the future!