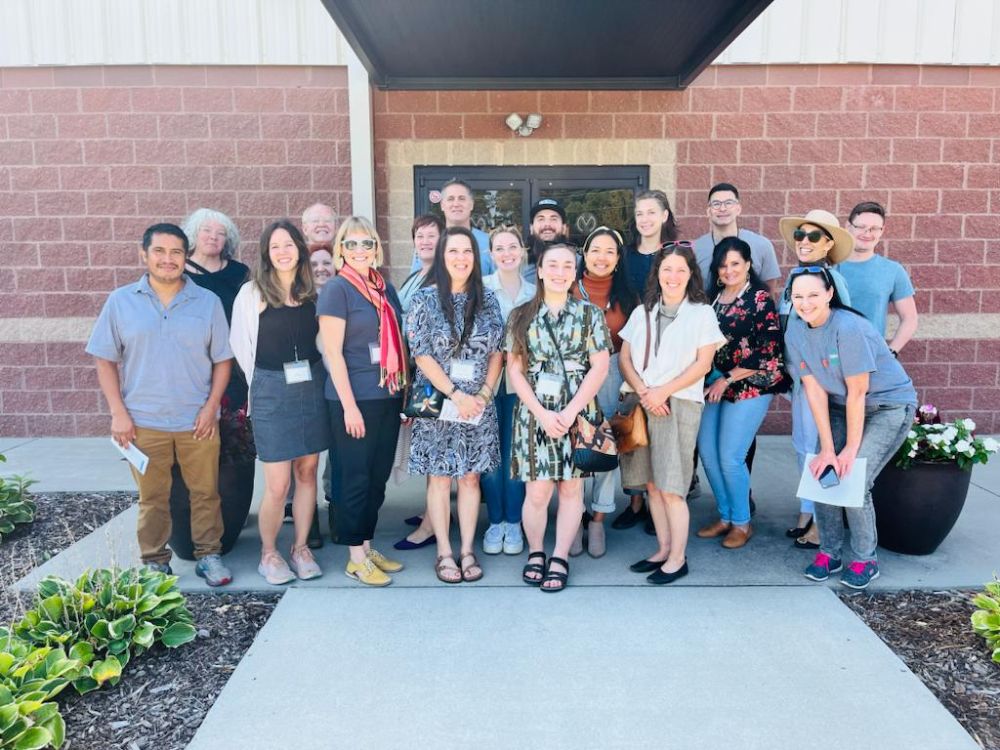 Gratitude and excitement.
Those are the two words that came to mind after attending the Carolina Textile District Fall Gathering last week in Morganton, North Carolina.
Let's start off with a little context:
Carolina Textile District is a member-driven organization in my region of the country that is focused on making an impact on domestic manufacturing and supporting great textile businesses and communities around the area.
AllAmerican.org joined as an affiliate member this year to help support the group and this was my first in-person event with everyone!
It was a special event, so I wanted to take some time to jot down my thoughts and reflections, and what it means going forward.
A Collaborative Morning Session
It was just an amazing day. I drove up to Morganton around 6 a.m., an easy drive from Charlotte.
The sun had just risen. I hop out of my truck at The Industrial Commons (CTD headquarters where they hosted the event) and see Becca and Catherine from Carolina Textile District starting to set up.
I knew it was going to be a great day. We grabbed coffee and a little breakfast. They catered in a local pastry shop, which was absolutely delicious.
Catherine started us off with some remarks for the day just to reflect on Thursday afternoon and evening, which unfortunately I missed, but I heard was a great start to the Fall Gathering.
She also covered what Carolina Textile District has been up to year to date in 2023. They do a ton of amazing work in the community. You can visit their website to see all of the different initiatives that they have going on, and I'll list a few in this article as well.
From there, we had Aaron Dawson, Director of Workplace Development at The Industrial Commons, lead us in a coaching supervision workshop.
He was there remotely. He couldn't be there in person, but it had just as much impact. It was an amazing session going through listening to employees and empowering them to solve problems.
And then we went into a problem-solving workshop led by Catherine where we split off into small groups and talked about problems that we're facing in each of our respective businesses.
I paired up with business owners at Tsuga and Rite of Passage, two wonderful brands local to the mountains of North Carolina.
It was great to be a part of that collaborative environment and really get to know a lot of the members within Carolina Textile District and maybe even some of the ways that we can work together or I can help. After that, we left The Industrial Commons and took an amazing tour of Meridian Specialty Yarn Group.
Behind The Scenes of a Textiles Innovator
Meridian is a dye house in the neighboring town of Valdese.
We took a tour of their facility and I was blown away by the level of commitment they have to their workforce.
They embrace modern technology to advance the textiles industry, but still stay true to who they care about most – their workers and the community.
And they have an amazing lineup of products and are constantly innovating. It was an eye-opening tour, and unfortunately, I can't get into a ton of details, but they are certainly at the forefront of what they do.
More Connection & Winding Down
We headed back to The Industrial Commons after the tour of Meridian and had a wonderful lunch catered by JD's Barbecue – they brought in the works, and let's just say I definitely had to have a little caffeine for the drive home to Charlotte 🙂
During lunch, I got more time to connect with other amazing made in the USA business owners around the region and hear their stories.
Catherine came up and gave her final remarks after lunch, and that concluded the Fall Gathering.
Final Reflections
As I said – gratitude and excitement.
Grateful for all of the amazing people and companies that I met and the passion that they all have for American manufacturing, their people, and their missions as companies and organizations.
Grateful for Catherine and Becca and everybody at Carolina Textile District who put together that wonderful gathering together and just the organization as a whole.
Overall, it is an amazing group full of really talented individuals who have come together to truly help one another out and make an impact in our region.
And I'm excited about the future of textile manufacturing and reshoring in the Carolinas because of the people who are leading the charge, like these great folks of Carolina Textile District.
CTD is doing incredibly impactful work. Here are just some of the programs they are leading to help business owners grow their operations and create new opportunities in textiles. You can learn about all of them on their website or by contacting their team.
Sewn Goods 101
Crafted Production
Industrial Sewing Program
Immersion Trips
Material Sourcing Library
Qualified Sourcing
Find-a-fit
There are more collaborations to come between us at AllAmerican.org and these great members of Carolina Textile District. Hopefully, we can make a really strong impact on their businesses, and I'm excited for continued connection and growth together.
I'm eager to follow up with all of the wonderful leaders that I met at the event and hope to do more in-person gatherings like this in the future.
I think it's an amazing sign for the revival and the reshoring of textile manufacturing in the region, and I'm really giddy about what the future holds for this industry and these people.