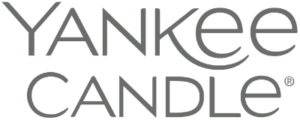 Not many businesses are started by teenagers. But in 1969, Yankee Candle began when sixteen-year-old Mike Kittredge melted down a handful of crayons to make his mother a candle. 
It's the American dream: start with something handmade and scale it from there. That's exactly what Mike did. After making a few crayon candles, his father helped him grow the business in their kitchen, and they eventually bought a shop together. 
Fast forward a few decades, and Yankee Candles are sold in over 35,000 retail stores worldwide. Pretty impressive for a high school sophomore. 
Staying true to their genre of home aroma, Yankee Candle sells fragrancing products like diffusers, sprays, oil warmers, car clips, and of course…candles. Today, they employ over 6,000 people across the globe and are owned by Newell Brands.
Yankee Candle also offers "premium" brands, likewise acquired by Newell, which include WoodWick, Chesapeake Bay Candle, and Friday Collective. They are headquartered out of South Deerfield, Massachusetts. We know they employ people worldwide, so now let's find out where they make all those candles.
Verdict: Is Yankee Candle Made in the USA?
The majority of products made by Yankee Candle are made in the USA. We are still waiting on clarification from their team on the sourcing of some ingredients, however. All of their non-candle products are made in China.

All American: Hello, I'd like to know where you manufacture your products?
Yankee Candle: we make our candles in Massachusetts.
AA: ok, what about your diffusers, wax melters, and other items?
YC: those are made in Massachusetts too.
AA: so, everything you make is made in America?
YC: yes, that's correct.
This customer service rep was surprisingly vague and gave us reason to suspect she may not be telling the whole truth. According to a Business Journal article from 2013, only 70% of the company's products are produced in the Massachusetts factory.
So, we reached out again, this time through an email, to ask the same question. Here is the response we received: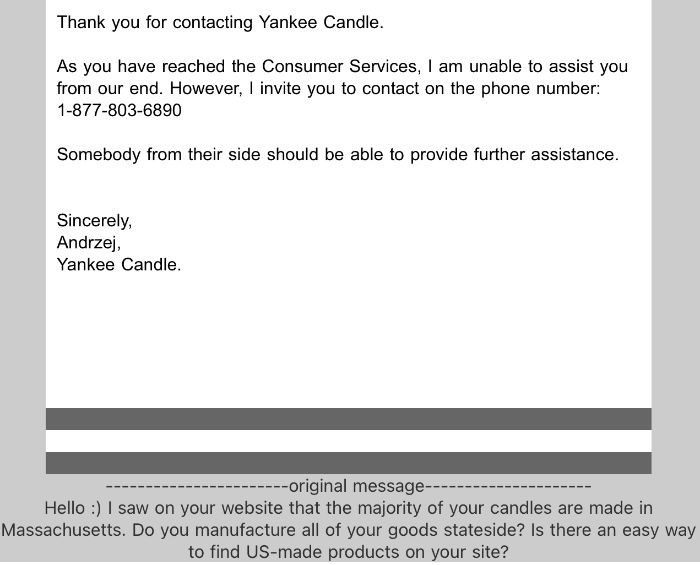 Quite unhelpful. Especially considering that our inquiry is a very basic question. Once again, we dialed the number for their customer service, hoping to speak to someone more knowledgeable.
All American: Hello, where are your candles made?
Yankee Candle: they are made here in the United States.
AA: Where in the United States?
YC: Let me check
placed on hold
YC: our warehouse is in Ohio and that is where our candles are made.
AA: Ohio? Ok. What about your other products like the diffusers and oil warmers?
YC: yes, US.
AA: They're made in the US?
YC: yes, everything is made in the US.
AA: well, I read an article from your founder that said only 70% of your items are made in the US, so I'm just trying to find out which ones?
YC: …oh ok, let me verify.
placed on hold
YC: ok, I don't know what article is that, but from what I see here "most of our candles are made by master candlemakers in Massachusetts.
AA: yes, I read that from your website too. But Most doesn't mean All? So where are the other items made?
YC: I don't know that information.
At the end of the conversation, we left our email with the customer service rep after she offered to find more information regarding our question.
We reached back out later that week and got a clearer response on non-candle products – all of those are made in China. We are still waiting on some clarification around ingredient sourcing for their candles.
Popular American Made Yankee Candle Products
Snow Globe Wonderland Candle
Crisp Fall Night Candle
Warm Luxe Cashmere Candle
Popular Yankee Candle Products Not Made in the USA
Sleep diffusers
ScentLights
ScentPlug
Room sprays and dispensers
Related Articles