Featured In:
About
Recently, we were lucky enough to have the folks at Vinarmour send us one of their gorgeous wine travel cases. After using it several times over the course of a few weeks, I can safely say I'm even happier than when I first unboxed it.
As a bit of background, Ian and I have a bit of a wine habit. Though we haven't been back since COVID hit, we typically make an annual trip to Napa for a week to try new wineries and revisit several of our favorites. For the last few years that has sadly been replaced with wine club shipments, but we'll get back out soon enough. In the meantime, we still enjoy bringing wine when we get together with friends, and our trips home to visit family typically involve packing a special bottle to open while we're there. In both of these scenarios, the Vinarmour has really been able to shine.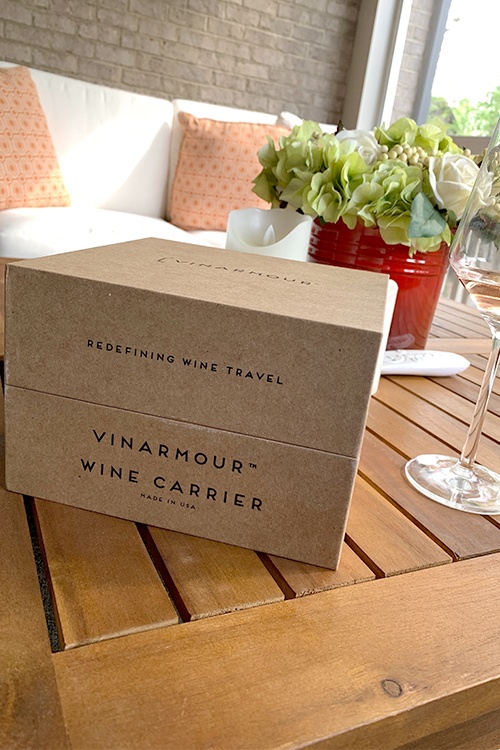 Local travel
While it didn't involve a suitcase, the first time we used the Vinarmour was in taking a bottle of wine over to a friend's house to enjoy before dinner. The protection elements weren't really needed for this little outing (unless Ian dropped it.. which – not impossible.) However the style and thermal protection were both on full display.
To start off, this case is just gorgeous. In this instance, it was an immediate conversation starter and met with a "What is that?" The waxed cotton allows the carrier to fold down when not being used, and both looks and feels fantastic. And, this being AAR, the case is naturally made in America.
The carrier also helped keep our white wine cool over the course of the drive. This is infinitely better than the previous cycle of taking the wine out of the wine fridge, traveling, then it's warm by the time we get there, asking to toss it back in the fridge and waiting. Who's got the patience for that? Also the back and forth isn't particularly good for the wine, either.
The real test
A few weeks later, we were heading back home to visit family and meet our new nephew. Given the occasion, we decided we should bring a nice bottle to celebrate. Normally we had left this task to one of the plastic bags with bubble wrap inside and a prayer. This time, we were infinitely more confident that we weren't going to open a suitcase to the smell of cabernet and ruined clothing.
It's hard to imagine something going wrong with this carrier. The fabric is built to absorb impact (plus it was also packed in amongst clothing.) The material also includes Kevlar, so even if a bottle were to somehow break, the glass isn't going to puncture the sides. It would take a lot to cause an issue with this travel case. I'm not one to under-estimate the wonderful folks at American Airlines, but… it seems like this could handle their worst.
It feels anti-climatic, but this is one of the cases where no news is good news. The Vinarmour worked perfectly, and even after a bit of a bump flight and who-knows-what with baggage handling, the bottle arrived unscathed. We were able to introduce our family to some new wine, celebrate the newest addition, and all was well.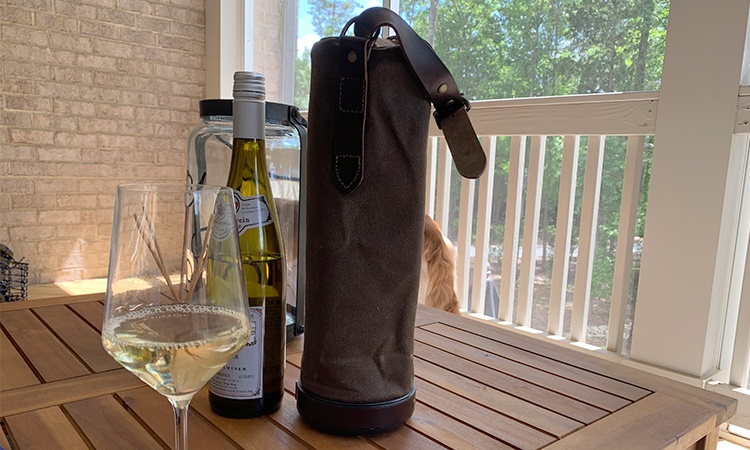 You can always count on Hordor to get himself in a photo.
The sole drawback
So – I love this wine carrier. There is, however, one drawback – the cost. Coming in at just shy of $300, this isn't really a carrier for a $20 bottle of wine. I mean, you could (and we did for the purposes of taking photos to go along with this review) but that would be… a little excessive. However, if you are buying higher end wine and enjoying them anywhere that isn't your home, the Vinarmour is a fantastic choice. Whether you're packing a special bottle into a checked bag, or just bringing wine to a restaurant or friend's home, the combination of function and style is hard to beat. If either of these sound like something you routinely do, check out the Vinarmour shop for the current options. Happy sipping!