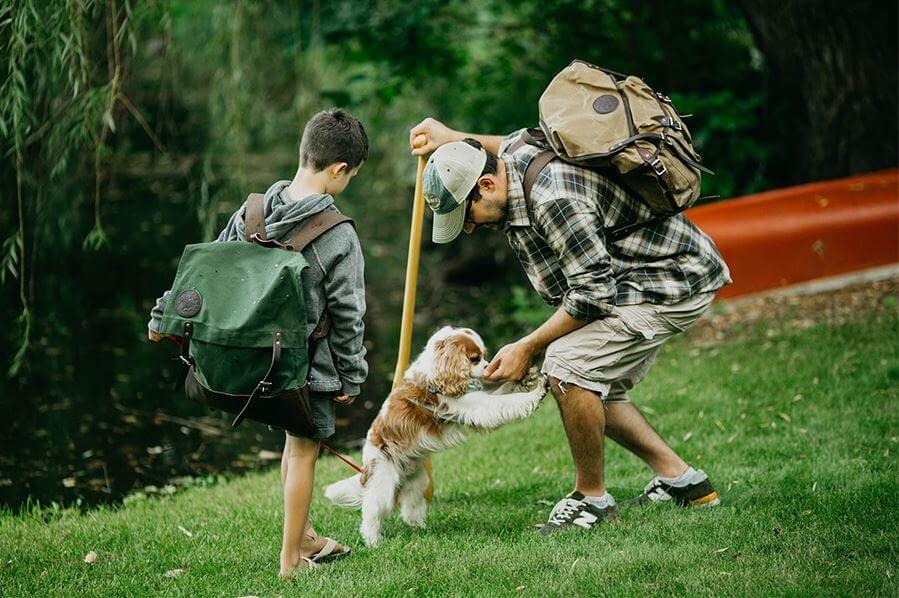 We first came across Duluth Pack when we were researching bags and backpacks made in the USA. Once we tried their double shell bag and learned a little bit more about their company, we knew these people were doing things the right way. So, being naturally inquisitive, we reached out to them to learn even more about their company and people that are making bags that will last a lifetime out of their Duluth, Minnesota factory. Below is our conversation with the Duluth Pack team. Our questions are marked with an "AAO" and Duluth Pack's responses with "DP". Hopefully you enjoy learning about their history and story as much as we did, they are truly a great American brand.
History of Duluth Pack
The story of Duluth Pack is fascinating, stretching all the way back to the 1882 when the founder Camille Poirier (a French-Canadian immigrant) patented the first "C. Poirier Pack Sack" and set the wheels in motion for the company that Duluth Pack is today. In 1911, Poirier sold the business to Duluth Tent & Awning Company, which grew into Duluth Pack.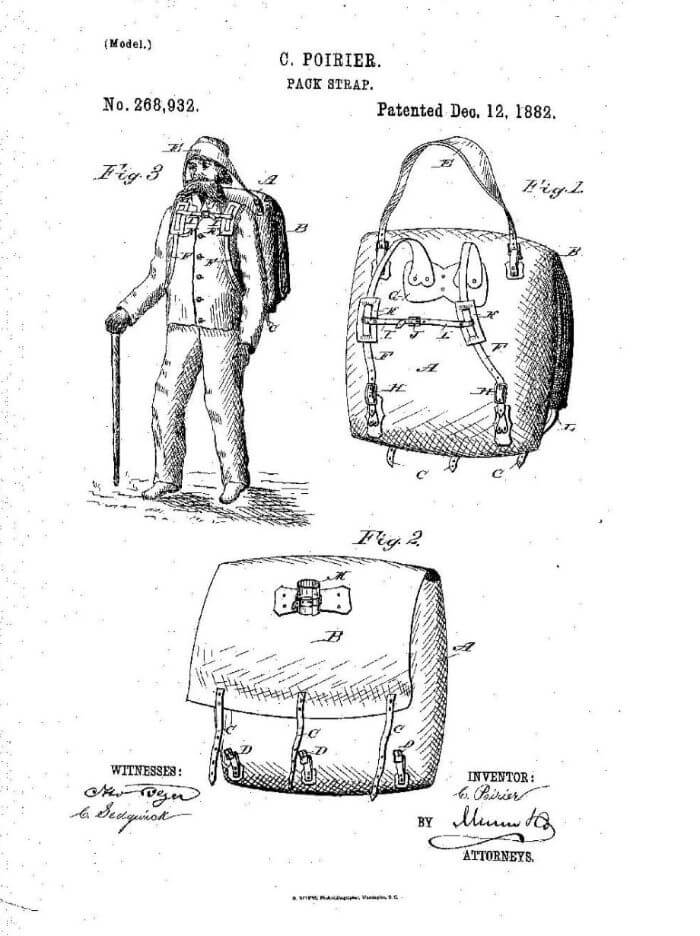 In 1911, Poirier sold the business to Duluth Tent & Awning Company (eventually known as Duluth Pack). Since then, the company has grown tremendously, expanding sales internationally and employing over 100 people in their Duluth, Minnesota headquarters. With all that growth though, Duluth Pack has had an unwavering commitment to their core values and American-made tradition. Here's the Duluth Pack story in their own words.
AAO: Give us a look into the history of Duluth Pack. How did you grow into the company you are today?
DP: 138-year-old Duluth Pack is the oldest canvas and leather pack and bag manufacturer in the USA. Duluth Pack was founded by Mr. Camille Poirier when he was commissioned to build a rugged packsack for timber cruisers in northern Minnesota. From that point forward, Duluth Pack has continued to listen to their loyal customers' needs and has expanded to offer roughly 350 styles of bags, packs, and accessories, offering them in 15 canvas colors and several leather and wool options. Duluth Pack currently distributes products through three channels, its flagship retail store, global web site and this wholesale network of dealers and corporate customers.
AAO: What made you want to get started?
DP: Tom Sega became passionate about the Duluth Pack brand through being a loyal customer and knowing that a quality brand like Duluth Pack needed to branch out from a regional pack maker to a global brand. With core values of 1- Quality, 2- Premium Products, 3- Made in America, 4- Lifetime guarantee on craftsmanship and hardware, we believed that Duluth Pack can become so much more than it had been.
Editor's note: Tom is the current President at Duluth Pack. We spoke on the phone with the Duluth Pack team a couple of weeks ago and absolutely loved this story about how Tom got involved with the company. He was a long-time customer before becoming an employee. That passion for the brand and their products seems to bleed through in the way he manages Duluth Pack operations.
AAO: How many U.S. based employees do you have and in what locations?
DP: Duluth Pack employees 100+ local employees. Duluth Pack has always manufactured its products in Duluth, Minnesota and there are no plans to change that model. We manufacture all of our bags, packs, and accessories in the same building since 1911. We believe that Made in America products are of the highest quality and why change something that works so well?
Featured Duluth Pack Products
Below are some of the most popular American made products from Duluth Pack.
Shell Purse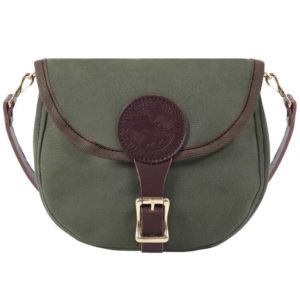 The Shell Purse is a classic staple of any closet. Made with rugged 15-ounce canvas, a leather shoulder strap, and a leather flap strap with a buckle on the front. Great for everyday use.
Boot Duffel
A large duffel that is perfect for traveling. Made with durable 15-ounce canvas, rolled leather handles, and a cotton web shoulder strap. It has two large compartments that can easily fit everything you need for a weekend trip.
Wanderer Pack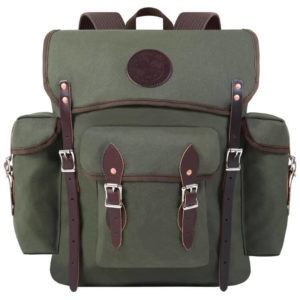 A great pack for everyday use or your next hike. Made with 15-ounce canvas, hand-cut leather straps, and a nylon handle. The exterior pockets are great for easy access and the straps feel comfortable on your shoulders.
A Strong Dedication to Craftsmanship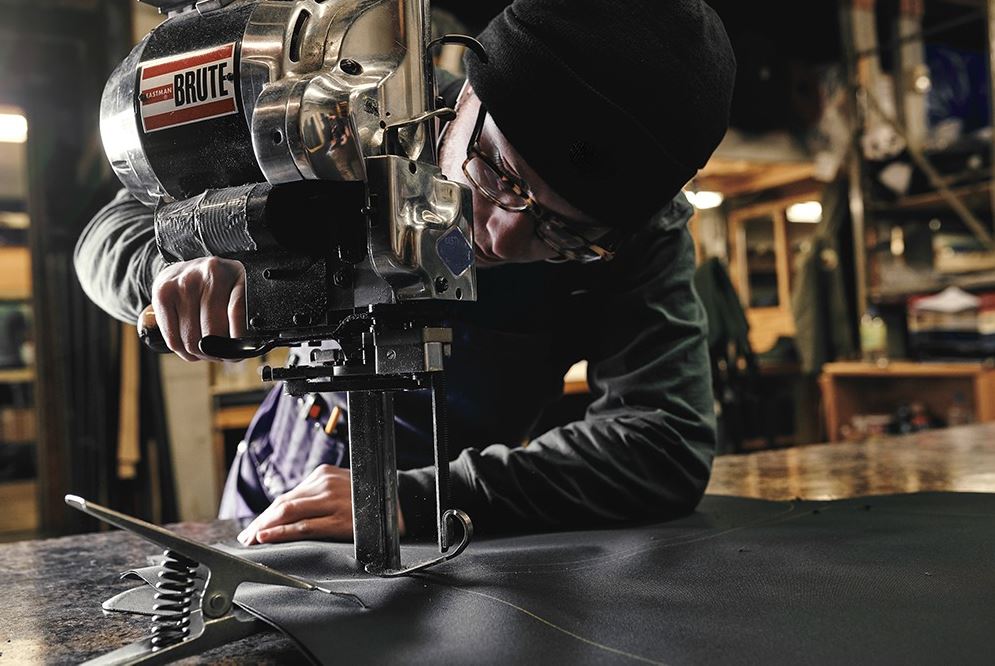 AAO: What do your customers love most about you and your products?
DP: Our customers expect us to stick to our core values of 1- Quality, 2- Premium Products, 3- Made in America, 4- Lifetime Guarantee on craftsmanship and hardware. The products become family heirlooms and are passed down through generations.
AAO: What makes your products unique vs. the competition?
DP: The strength and ruggedness of our products that allow them to last generations. This fits in with our core values. Duluth Packs' depth of style offering, and color options far out exceeds competitors.
The Future
AAO: What gets you excited about the future of Duluth Pack? Where are you headed?
DP: We are so excited about the future growth of the Duluth Pack brand and story. We believe that our web business and dealer/corporate business is just at its cusp of rapid growth as society continues to look to sustainable high-quality products that last. We have invested heavily in human capital and these loyal Duluth Pack employees that will allow us to reach an ever-growing base that is seeking high-quality American Made products.

We had a great time getting to know Duluth Pack and many of their awesome employees. They are truly making some amazing American made products up in Minnesota and we wish them nothing but the best!