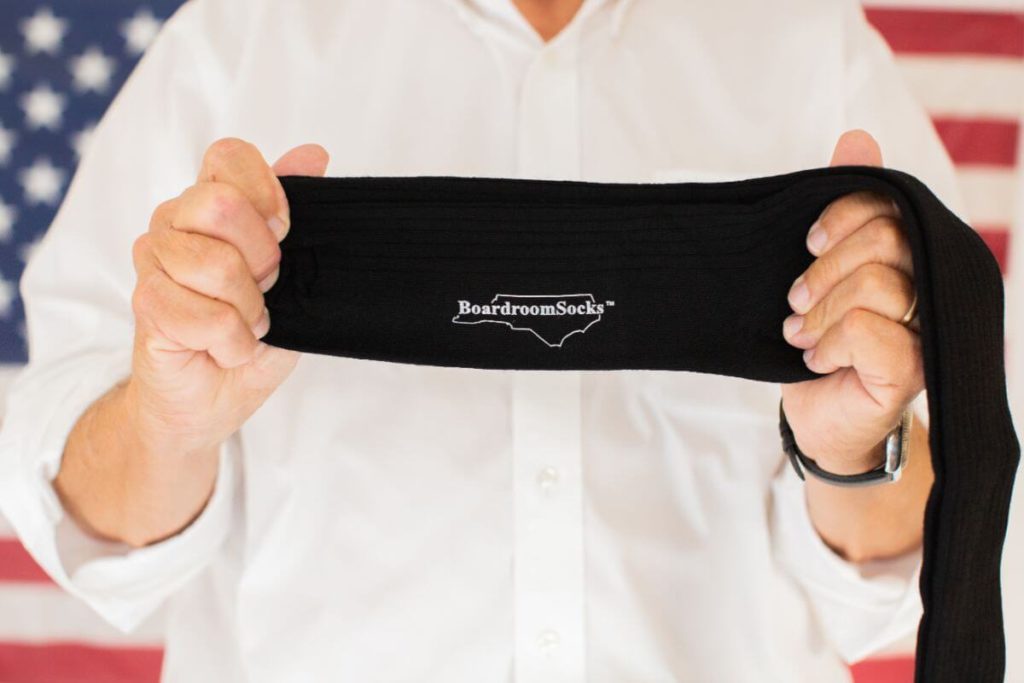 Our adventure with Boardroom Socks has been an interesting and fulfilling one thus far. Admittedly, they actually didn't come across our radar in our initial research of socks made in the USA. They focus solely on men's dress socks, making a variety of patterns, fits from several different materials. Their President (who you'll meet a little later) reached out to us a few months ago and spoke about their journey and approach to American manufacturing, and from then we knew we had to investigate more. So, we did our usual due diligence and reviewed several of their products. After testing, we were really impressed by the quality and value you get with Boardroom Socks. Check out our YouTube video review of a couple of their pairs of socks.
Since then, we've developed a great relationship with the folks at Boardroom Socks and talked a lot more extensively about the history of the company, their products, values, and where they are headed. Below is one of our conversations with their President, Nathan James. Our questions are in bold marked with an "AAO" and Nathan's responses are marked with an "NJ". We hope you enjoy their story as much as we have!
History of Boardroom Socks
As you'll read below, Boardroom Socks comes from a long line of American textile manufacturing. Nathan started the company in 2010 and has made amazing, intentional efforts to keep production local and create jobs in his native North Carolina. Alright, enough from us, here is a look into the history of Boardroom Socks in Nathan's own words.
AAO: Give us a look into the history of Boardroom Socks. How did you grow into the company you are today? What made you want to get started?
NJ: When we first got started back in 2010, Boardroom Socks was created as both a natural extension of our family's textile expertise and to fill a void in the marketplace. Our family has been involved in nearly all aspects of the textile and hosiery industries tracing back to 1837; seven generations ago, our family's first fabric mill was opened in rural North Carolina and every generation since has been involved in the industry.
Developing our own brand was a logical evolution by combining all the relevant aspects of our experience, particularly in yarn sourcing, sock design and knitting. We felt that the offshoring trend of the late 90's and early 2000's left an opening in the market for a US-based producer of premium men's dress socks. We wanted to support our local industry and believed that consumers would get behind that.
For me personally, the initial motivation with Boardroom Socks was to carry on our family tradition in the industry. As the business has grown and evolved, my motivation has now shifted to supporting local jobs. Even though we're a small business, it is amazing to witness the economic impact that we have.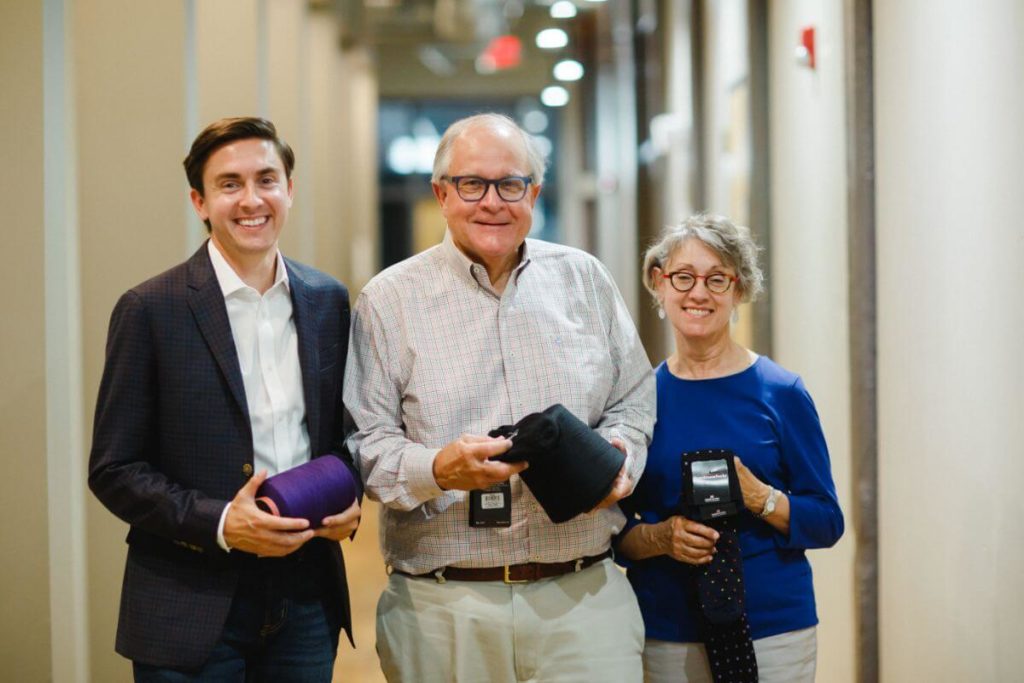 AAO: How many U.S. based employees do you have and in what locations?
NJ: We are based out of Charlotte, NC and all of our operations are conducted within a 75 mile radius of our offices. As some of our work is contracted, it's hard to put an exact figure on the number of jobs that we touch. Our knitting operations run in two locations here in North Carolina while all our finishing, packaging and shipping is handled in a third location in Hickory, North Carolina. Across these three locations, it's safe to say that we support dozens of local jobs. If you step all the way back and take into consideration every vendor that we work with including marketing firms, photographers and others, the local impact is even greater. As our business grows, we look forward to continuing to invest in our local community.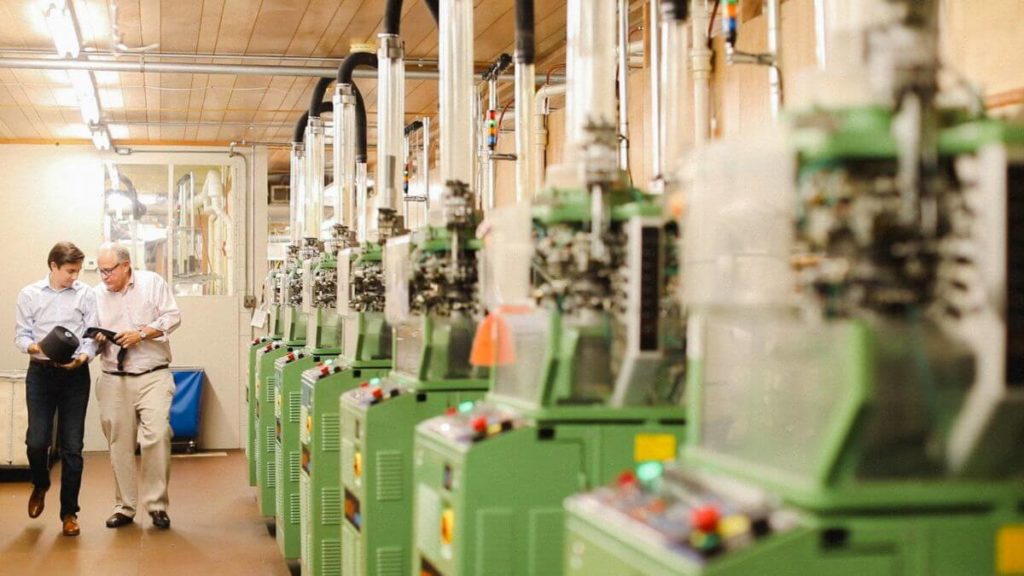 AAO: Why do you choose to manufacture in the U.S.?
NJ: We choose to manufacture in the United States because there is incredible hosiery expertise in America and because it aligns with our values as a company. Our manufacturing team is comprised of individuals who have been producing socks for generations; the knowledge and experience that they bring to the table are, in our opinion, unrivaled anywhere else in the world.
In terms of alignment with our company values, we choose to manufacture here to support our local economy and the region's textile traditions. North Carolina, where we are based, has long been a hotbed of hosiery, apparel and furniture manufacturing. The offshoring trends of the late 90's and early 2000's absolutely decimated jobs, companies and even entire mill towns here. Even though we're a small business, we want to do our part to keep these local mills running.
Video Tour of a Boardroom Socks Knitting Mill
Featured Boardroom Socks
Below are just a few socks designs that we want to highlight from Boardroom Socks. Nathan added a little color to each one as well.
American Flag dark navy Merino wool mid calf dress socks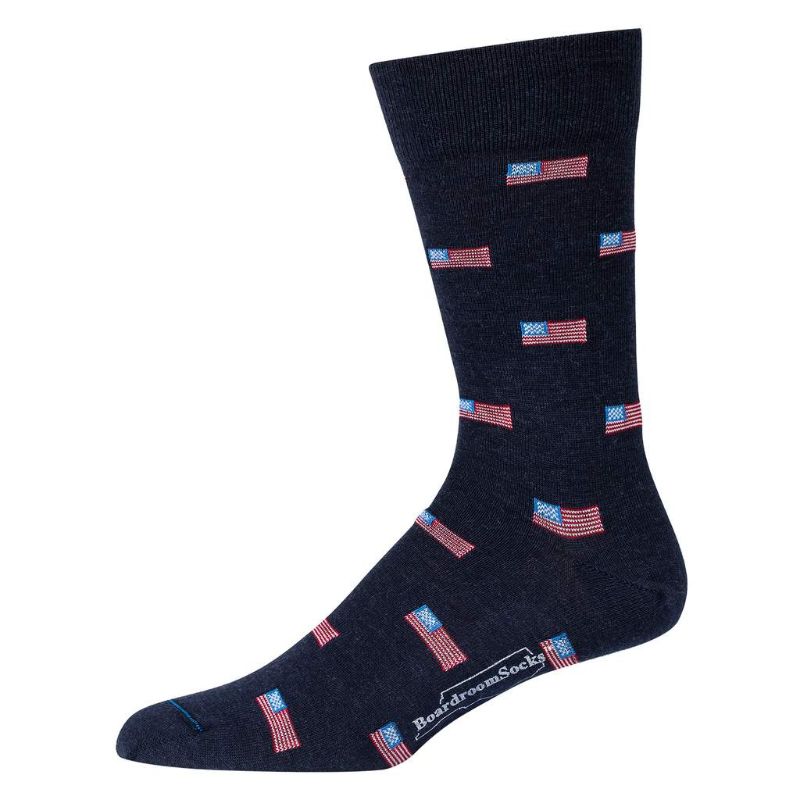 NJ: These socks are extremely soft and exceptionally comfortable. These are knit with merino wool that is soft and breathable. We finish the sock with a linked toe, creating a "seamless" feel typically only found in much more expensive dress socks. The small American flags add a subtle pop of color while remaining very tasteful.
Charcoal merino wool over the calf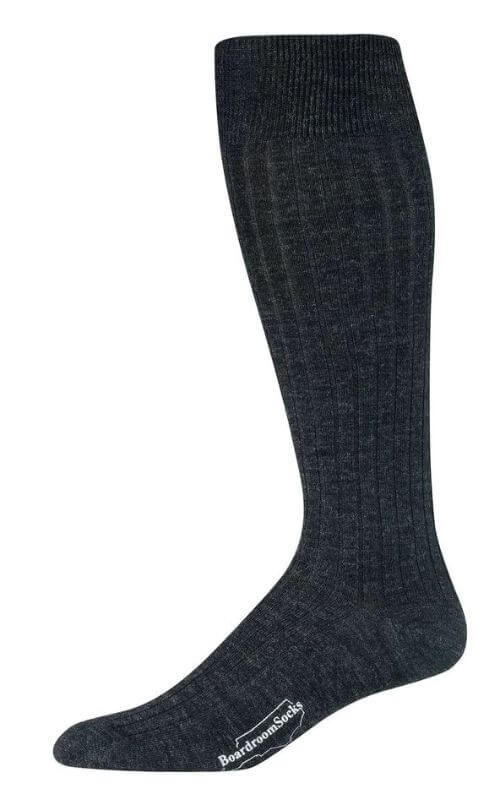 NJ: This sock is beautiful heathered shade of charcoal, enabling it to pair with just about anything in a man's wardrobe. We use a fine, breathable merino wool to keep you comfortable in both warm and cool weather. Every gentleman needs a pair of these in his sock drawer.
Olive merino wool mid-calf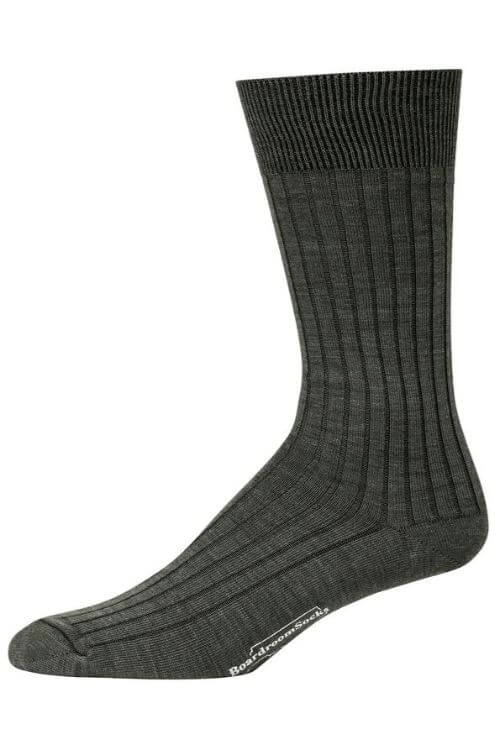 NJ: For gentlemen who prefer mid-calf dress socks, our olive shade in merino wool is a great option. Similar to the charcoal, our olive is a versatile heather that will look great with denim, khaki trousers and plenty of other options.
Classic Style at a Great Value
AAO: What do your customers love most about you and your products?
NJ: From a product perspective, we want our customers to always feel like they are receiving tremendous value from us. We make a quality product using premium materials and sell it for a reasonable price, which I believe our customers recognize and really appreciate.
Also, from a product perspective, we offer classic dress socks that have become increasingly difficult to find. True over the calf socks that stay up and dress socks that aren't "wild" or excessively colorful are a rarity in many retail outlets. Lots of our customers are businessmen that love being able to find these classic styles and they love the consistency of our quality.
Customers also appreciate our commitment to American manufacturing and the friendly, personalized service that we offer.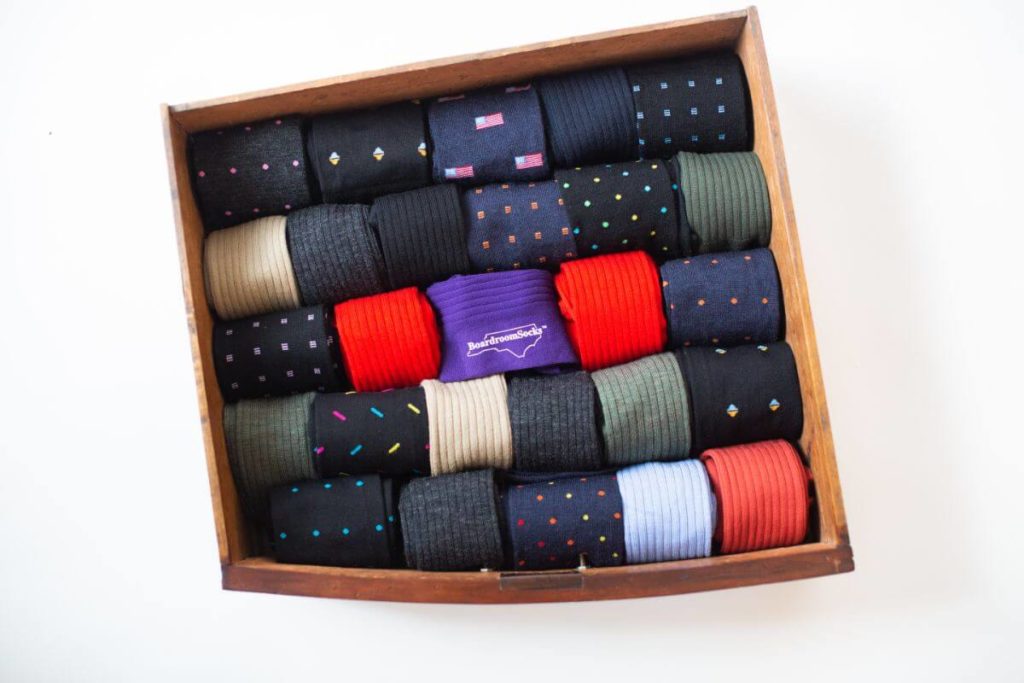 AAO: What makes your products unique vs. the competition?
NJ: I think what makes us unique is our deep understanding of yarn, hosiery design and knitting. The generations of expertise in our family enable us to find the highest quality yarns at the best prices. At surface level, our business sounds very simple; however, hosiery manufacturing can be extremely technical and complex. The experience that we bring to the table gives us a leg up and enables us to control costs.
I use the word "value" quite a bit, but the value our products deliver is what truly sets them apart in the crowded men's hosiery market. The quality of craftsmanship, materials and design in our socks is unrivaled at the price point that we offer.
The Future
AAO: What gets you excited about the future of Boardroom Socks? Where are you headed?
NJ: We are most excited about building the Boardroom Socks brand and growing our local team. As the business has grown, we've been able to bring on more team members and we are tremendously excited to continue this process. We're also doing quite a bit of work on expanding our product line in 2020, which will include new categories and address the needs of customers that we've never catered to before. I can't share too much more at this point but be sure to check in regularly on the new styles we're releasing!

We've really enjoyed getting to know Nathan and the other fine folks at Boardroom Socks. They are truly running a great American business and we wish them luck as they continue to grow!